A Multicultural Affair: The Many Ways Seattle U Students Spend the Holidays
While some individuals feed into the capitalistic flurry of the "most wonderful time of the year" as they come together to get Black Friday deals and check gifts off their list, there are others who use their religious practices to bond with people of similar traditions.
Coming off Thanksgiving break and back into the bustle of not only the end of the quarter, but the start to the holiday season, students gather for the ever-popular and very merry Christmas Tree Lighting at Seattle University. Whether it is members of the Chapel Choir delivering a joyous rendition of "12 Days of Christmas," first-years apprehensively jamming with their new best friends, or students looking on from inside their study sessions in the library, the tree lighting offers a chance for the Seattle U community to gather and ring in the holiday season in true communal and Christmas spirit.
---
Students gather at the Christmas tree lighting outside ceremony the library, last Friday.
---
The tree lighting, however, is not the only vehicle of holiday expression for the Seattle U student population. Following the Center for Community Engagement's annual tree lighting, Campus Ministry hosts the Jewish Student Union's Hanukkah Party just a few paces away.
"We have a Hanukkah party every year. There is a Passover dinner… At the start of next quarter, we want to do a new year bagel smooze kind of thing, so that way we can get people to come in and see what we're about," Hannah Cohanim, President of the Jewish Student Union, said.
Cohanim also emphasized the casualness and closeness of the club.
"The club is fairly small. We don't try and say, 'Hey everyone come join the Jewish Student Union.' It's more of a socializing experience with people. You can have easier conversations with people you share faiths with," Conhanim said.
During their meetings, it's more about building community than structuring specific programming.
"There's no pressure on 'Hey, let's plan an event,' it's more of a 'Hey, maybe we should plan an event so people can get more involved and understand things.'"
Seattle U is known for the diverse rich culture that it possesses within the student body. Founded back in 1891 as Jesuit institution, the university has been recognized as one of "the most diverse universities in the Northwest" according to the school's statement on diversity.
The question remains whether or not the university supports the different religious and cultural clubs that are currently active.
---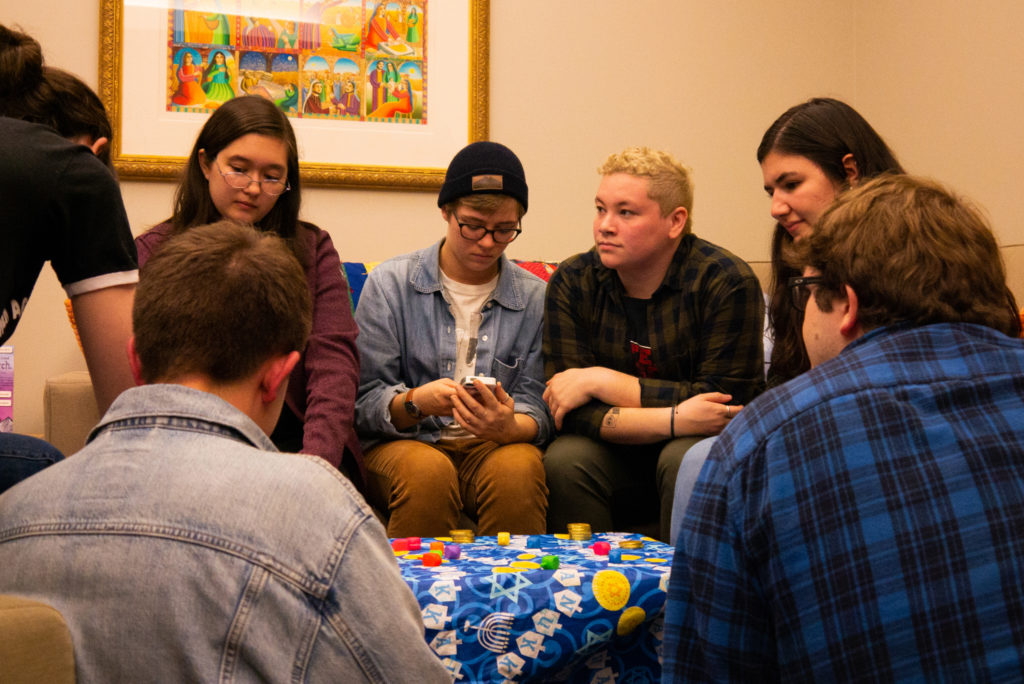 Students play Dreidel in the School Ministry center during their yearly "Hanu-chaos" celebration hosted just before Hanukkah begins.
---
Marie Johnston, assistant director of the International Student Center (ISC), explained what the office does for international students during their non-western religious holidays and how to make international students feel more included at Seattle U.
"Specifically, in regards to the tree lighting and the Christmas holidays, we have done an event in the past that featured holidays around the world," Johnston said. "We did kind of take a different approach to our own event that was pre-the-tree-lighting festivities where we wanted to allow our students the opportunity to enjoy family foods [or] holiday foods that they would enjoy back in their home countries."
Johnston expanded upon how ISC supports student clubs during the rest of the year..
"Our office does no programming around identity-based months or days or holidays. We often work with student groups who are interested in doing something like that. We've worked with student clubs who want to host Diwali for example, we've provided material support in forms of money, presence, collaboration, but we don't actually hold any of those programs ourselves," Johnston said.
Seattle U continues to emphasize their desire to support a diverse array of individuals in their statement on diversity: "The University has determined that emphasizing diversity as a matter of institutional policy is an integral component of educational excellence. Students learn better in a diverse educational environment, and they are better prepared to become active participants in our pluralistic, democratic society once they leave such a setting.
The Office of Multicultural Affairs [OMA] is another department on campus that offers program and support for students of all identities.
"We view ourselves as being in a place of empowering and supporting students for whom that's important," Jimmy McCarty, director of OMA, said. "We focus on longer term identity development programs and partnering with students who are actually interested in that."
While there are some religions that have their own practices, there are those that fall under the wide variety of Christianity that still have their own culturally-informed twist to their holiday celebrations.
"There's a lot of tribes, so we all don't practice the same thing," Hanna-Marie Lucero, president of the Indigenous Student Association, said. "I can't speak for the other members, but I know that we all have traditional practices outside of Christianity, because some were assimilated into Christianity and some were for other religions, so it's kind of a mix between the two."
Like other students, the Christmas that is celebrated in the weeks leading up to break, and the Christmas celebrated at home, varies greatly.
"I know back home, we celebrate Christmas, but we still have our traditional dances and it's more native based," Lucero said. "So, we just remind ourselves when we practice the big holidays that we are still native and there is this native aspect to it that we have to keep in mind because of who we are as people."
---
---
Because Christianity hails as the most prevalent religion in the world, people cannot help but to notice and begin to pick up on these practices. Roughly 70 percent of the United States population identifies themselves as Christians. Western religions have taken over and we lose sight in non-western religions.
The holiday season has also become commercialized for businesses to make a quick profit. The origin of Christmas revolves around the celebration of Jesus Christ being welcomed into the world through the Virgin Mary.
Ibrahim, president of the Muslim Student Association [MSA], feels that Seattle U and the U.S. are not aware of other religious practices and this therefore creates the assumption that everyone celebrates Christmas.
"In general, the U.S. is very Christian-centric, and I think that a lot of people don't understand or don't fully know that not everyone celebrates Christmas," Amina Ibrahim, a senior communications and media studies major, said. "I'm a different religion, I have my own practices."
"The way that we do accommodations with religious events… it's kind of as they come. As we enter in Ramadan for example, we may have conversations with Muslim students about how to navigate… finals week, midterms, exams, and things like that while Ramadan is happening," Ibrahim said. "[MSA has] conversations and suggestions about dates and conversations with community partners, just to see what we could best do to support students during that season."
MSA also partnered with the Indian Student Association during Diwali to help them to celebrate the festivities.
While Christian holidays and festivities will continue to hold a prevalent space for celebration on campus, Seattle U recognizes the importance in embracing those who celebrate other practices.
Caylah may be reached at
[email protected]