Men's Week In Review
Basketball
It was a big week for the Seattle University Men's Basketball team, taking on Northwest University on Nov. 28 and Eastern Washington University (EWU) on Dec. 1.
Wednesday was a high-scoring win for the Redhawks, with a final score of 107-72 against Northwest. The top scorer was Redshirt Sophomore Terrell Brown with 26 points. Brown also grabbed 14 rebounds and dished out six assists. A total of six members on the team scored in the double figures on the night, and all 13 suited Redhawks got to play in the game.
The team carried the momentum into Saturday's game against EW U, the school that Redhawks Head Coach Jim Hayford coached at from 2015-2017 before coming to Seattle U.
Early on, it looked as if Hayford's former team might run away with a win, as the Eagles were in the lead with eight points to the Redhawks' one after the first four minutes.
Seattle U soon kicked it into gear, and after several good plays— including two three-pointers by redshirt Junior Matej Kavas, a jump shot by redshirt Junior Delante Jones, and a layup by Junior Morgan Means—the Redhawks reached an 18-11 lead. They never let go of their lead, continuing on to a final score of 88-68.
---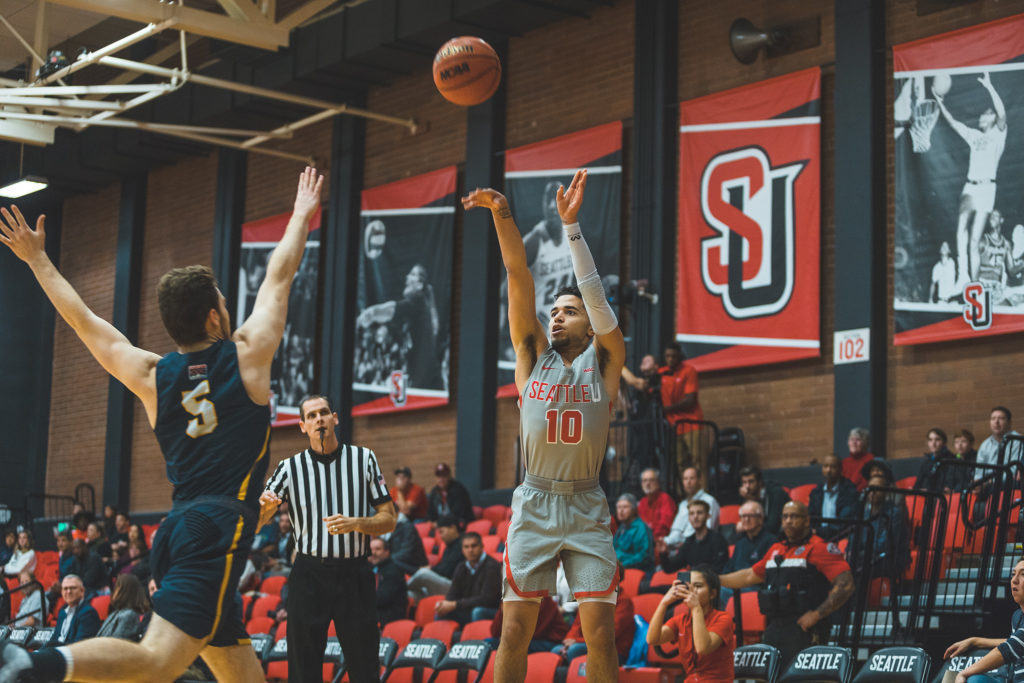 Sophomore Aaron Nettles with the quick release ahead of the Northwest University pressure.
---
"For the most part, I think we did a really good job of holding them and not letting them get those looks that they really wanted with those great shooters on that team," Means said.
Means added that to stay on their game, the team will set different goals during timeouts.
"When we get into timeout, and we are building on our lead, we will say that they're not going to get past 60, and then we'll try and hold that standard so that way we always are trying to get better and we're not getting complacent."
The night ended in a season-low of five turnovers, and Coach Hayford was proud of the win, but always pushes the team to do better.
"We are thrilled with the win— to beat another Division I school by 20 points, that's a good day," Hayford said.
Seattle U now holds a fivegame winning streak and an 8-2 record. On Thursday, Dec. 6, they will take on Omaha in the Redhawk Center at 7 p.m.
Swimming
The Seattle U Men's Swimming team competed last week at the Husky Invitational on Nov. 30, Dec. 2. The team saw some nice success with record best performances and a win in the 200-yard relay medley.
The relay was a team of Ryan Shaw, Jack Neton, Greg Raper, and Isaac Parker. The final time was 1:32.31, and Neton had his personal best time in the 50-yard breaststroke with 26.23. Seattle U ended up winning the meet as a team.
Bailee may be reached at
[email protected]
Leave a Comment