Students With Disabilities Navigate a Campus That Excludes Them
"An unfriendly place"
Some may interpret Seattle University's choice to co-host the Special Olympics this past summer as a step towards creating a more inclusive environment. Members of the disabled community on campus, however, are left wondering what measures Seattle U is taking to make the campus and the culture around disability accessible to its students this year.
"Campus is not a very friendly place for people who have trouble getting around," sophomore computer science major Hailey Dice, co-director of Students for Disability Justice (SDJ), said.
Ramps and door openers are aspects of accessibility that many able-bodied folks on campus may think of when considering issues of accessibility on campus. However, there are other facets to the issues of disability injustice, such as the lack of providing basic physical access to buildings, even when planned ahead of time for events.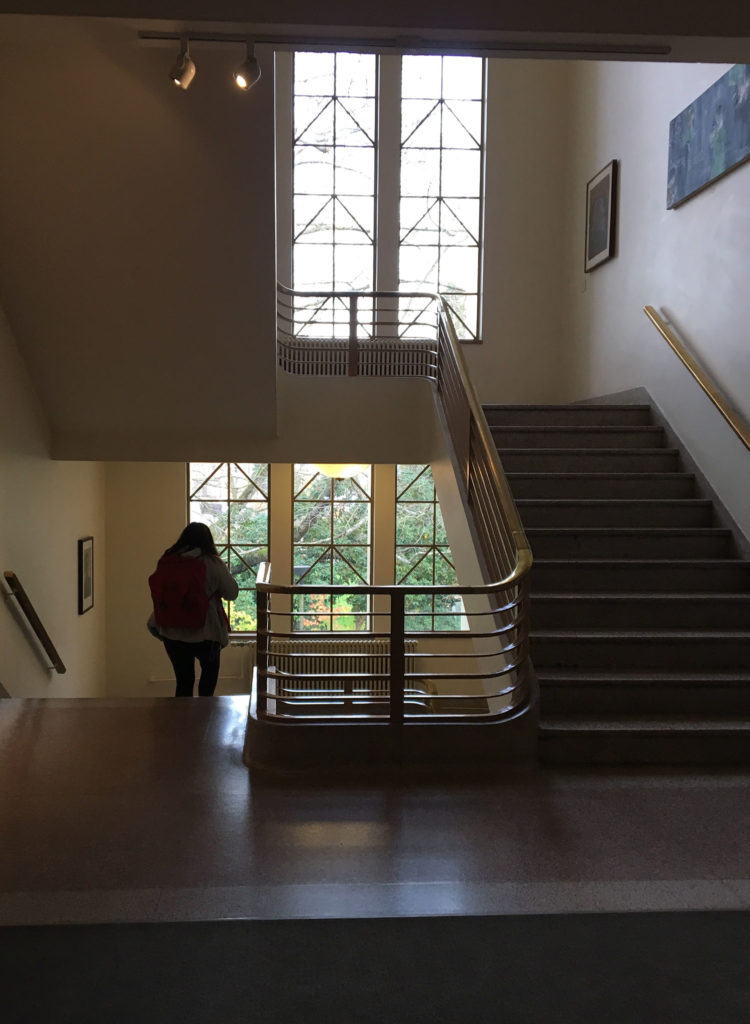 The Administration Building is just one of the areas on campus that pose challenges to students with disabilities.
"I've written to facilities, I've written to several people in different colleges every time we have an accessibility issue in a building to let them know, 'hey, you know that we have this population of people coming, this is what happened' and [failures in accommodations] always continue to happen," senior Molly McCabe, president of the Best Buddies Seattle U chapter, said.
Best Buddies is a global organization that seeks to support folks with intellectual and developmental disabilities. The organization provides access to break social, physical, and economic isolation in the face of institutionalized segregation.
Between the Special Olympics and the Best Buddies Seattle U chapter, it appears that Seattle U is at least inclusive of disability-related needs. However, Seattle U does not admit students with certain intellectual and developmental disabilities, including Down's syndrome.
These apparent conflicts in Seattle U's inclusion practices have sparked debate and frustration in the disabled community about what access and accommodations mean.
---
Access to resources: CAPS and Disability Services underfunded
Disability Services (DS) is Seattle U's center for people with disabilities to request accommodations, and continue to implement past accommodations, that are needed to ensure the student's success.
Theresa Earenfight, program director of the women and gender studies program and history, described how valuable a resource DS was when she first started to address inaccessibility in her classroom. It continues to support as more concerns over accommodations occur.
"I really rely on the Office of Disabilities a lot, and they have been just a tremendous resource," Earenfight said. "They're better now than they used to be, but they're still seriously underfunded and there are still serious misperceptions about what disabilities are and what forms they take."
Student Government's Students with Disabilities Representative Sadie Reich stressed the degree to which Disability Services and Counseling and Psychological Services (CAPS) are underfunded and understaffed when, she says, they are the most important resources on campus.
"CAPS is scheduled so far out, it takes so much effort to reach out for help. If you don't hear back right away, that can sometimes be it."
Reich continued by expressing concern about how the lack of transparency in the budget raises questions about the funding resources students with disabilities receive.
"Why do we need a huge bronze hawk statue that costs I don't know how much? It doesn't matter how well our school looks if our students aren't doing well mentally or physically."
---
"Are we actually true to our Jesuit values?"
"Last year, I was driving home one day and there were signs everywhere with balloons that said 'Seattle U hates disabled people' or 'Seattle U discriminates against disabled people' and I haven't officially heard anything about it, but it's pretty obvious when you look around," Dice said.
Many members of the disabled community at Seattle U feel that the institution does not meet their needs.
One of the questions for disabled people is when it is worth it and responsible to speak up and when it seems pointless and too exhausting to try.
"When do you stop to educate someone and when do you not?" Dice said.
Dice wishes Seattle U's able-bodied people could become more adaptable to different people and different situations.
"Be more flexible and being able to adapt to people, adapt your language and way of teaching, being able to change and be there for people who are different than you," Dice said.
President of Gender Justice Center Anab Nur said that part of this change is getting Seattle U to show transparency in its budget and initiatives, and the progress of those initiatives.
Ash Vera, who worked as a desk assistant at the Murphy apartments over the summer, reported that Housing told desk assistant's to say "it's in progress" if residents asked about accessibility issues in the complex.
Vera also believes that when initiatives take place, they need to include the disability community.
"They never pose the question 'should we do this?' and then ask the steps to do it. They're just like 'we're doing this as a response to demands that you listed…it's happening—we're not going to tell you the process or how it's happening, but just telling you that it's happening, '" Vera said.
Earenfight called on the Provost to embed accessibility into all aspects of the university's pedagogy for similar reasons.
"We need to have an understanding that an accommodation by definition sets you apart and yet it also provides a kind of understanding of what it is that a person needs to learn," Earenfight said.
A Jesuit education cites its mission as educating the whole person for a just and humane world.
The conversation on accessibility does not consider all bodies and abilities, and appears to contradict its holistic goal.
"'I think we should go through the things we want to do as a full initiative and be like 'are we actually true to our Jesuit values?'" Nur said.
The conversation around accessibility draws into question the validity of mission statement: if the university is inaccessible, is the education reaching the entire student body?
---
"Let me tell you what I had to go through just to get into this building"
McCabe led a Best Buddies Talk in Wyckoff Auditorium last year when apparent shortcomings in accessibility were noted.
One of the speakers at the event could not enter the building because the button to open the door was out of order, and was unable to open the door. When somebody finally came by and opened the door for her, the speaker went up the elevator to Wyckoff.
Then, the next elevator to the Wyckoff stage was broken. It was unable to be fixed, it and the speaker had to give her speech from the back-left corner of the room.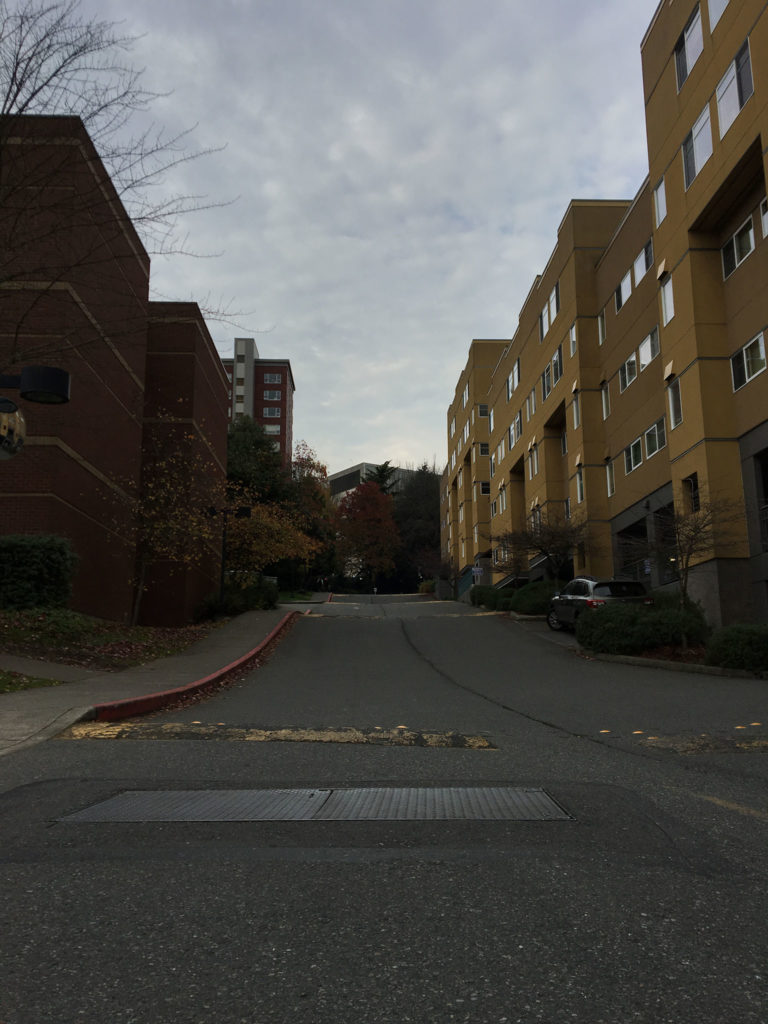 Someone with a physical disability may view even an inconspicuous hill very differently than an able-bodied person.
Seattle U, McCabe pointed out, fails to make its spaces accessible even when it is expecting people with disabilities to occupy these spaces for a limited amount of time and accommodations are explicitly asked for.
"I was mortified," McCabe said. "One of our other speakers took a moment to say, 'yep, this is what I have to go through, let me tell you what I had to go through to get into this building.'"
Earenfight said she has mentored many students with disabilities and worked a lot with Disability Services, learning over time where Seattle U does and where it does not meet the accessibility needs of its students.
"I realize how unfriendly the campus is for disabilities of any kind… just the architecture, the layout, the fact that people say 'oh, well this is not a big hill' and it's like.. 'oh, yeah?' Everything is designed for [able-bodied] individuals and that's not helpful," Earenfight said.
Reich described going through the State of the Undergraduate Student Survey (SUSS) when she first began her term as SGSU. The SUSS is a yearly 80 question survey administered through SGSU to hear about the experiences of their constituents, the undergraduate students.
She said that students have reported basic problems like gravel in walkways making it dangerous to walk with a cane.
Reich also recalls a story where the Murphy's lack of elevators hindered one of her friend's ability to move in.
"My friend broke his leg right before school started and moving in was awful, and he's on the second floor."
---
"It's not just a handful of people"
Academic accommodations are put in place for those with disabilities, and can be obtained through Disability Services.
In addition to academic accommodations, Disability Services also provides accommodations related to housing, meal plans, and more.
Some problems that come up in Students for Disability Justice often, Dice said, are the lack of advertisement about the extent of services Disability Services provides.
The note that professors are required to have in their syllabi is one of the only continuous—and still limited—notifications about the resource.
"The language they use in [course syllabi] makes it seems like [accommodations] are only for learning disabilities or if you need help with something school-related," Dice said. "Disability Services does so much more and there's just not enough advertising as to what kind of help you can get."
Dice said there are also barriers when it comes to getting into Disability Services in the first place.
"Once you're in with Disability Services, it gets a little better," Dice said. "But there is a lot of pushing that you have to do and just having to seriously advocate for myself. A lot of people aren't comfortable doing that."
Most disabled folks agree that disabilities are much more prevalent than they are is perceived to be by the able-bodied. Anyone could become disabled at any point in time.
Earenfight feels that accessibility should already be built into our institutions because of this pervasiveness.
"It's so clear that it's not just a handful of people, that everybody has an experience of this in some way or another—some permanent, some long-term, some short-term," Earenfight said.
---
"Provided that the accommodation does not create an 'undue hardship'"
Institutional access, or accessing Seattle U at large, is another barrier that people with disabilities in the world and the on-campus community struggle with.
While Seattle U tries to be inclusive, it falls short of doing so on an institutional level, many in the disabled community said.
"I'd say that for what a lot of SU does, they have a good start, but they're not going as far as they should," Reich said.
In Seattle U's Section 504 and American Disabilities Act (ADA) Policy and Appeal Procedure handbook, it uses ADA's definition of a disabled person's right to reasonable accommodation: "provided the individual, 'with or without reasonable accommodation, can perform the essential functions of the employment position that such individual holds or desires,' and provided that the accommodation does not create an 'undue hardship' for the employer.'"
McCabe said that Seattle U does not have the resources to be able to provide for students with intellectual disabilities. The larger issue for that community is the lack of access throughout higher education. However, she said it has serious consequences as it pertains to Seattle U's community and its students who have intellectual disabilities.
"If SU students don't see those students on campus, they don't think about those people at all," McCabe said.
Dice expressed skepticism about Seattle U's overall commitment to long-term improvement for students with disabilities.
Another policy that has been viewed as harmful is the sexual misconduct policy. It states: "Consent cannot be obtained from an individual who is incapable of giving consent because the person…has a mental, intellectual, or physical disability…"
Many members of the disability community or those involved in the community expressed concern over this warning and concern over how easily ableist language is accepted.
"It's troubling in its vagueness. When I had my ACL repaired four or six years ago, I would have qualified [as physically disabled], when all it was was knee surgery and a crutch," Earenfight said.
The University of Washington's sexual misconduct policy and the Washington State legislature both discuss inability to consent in terms of "mental incapacitation" rather than disability as a general phenomena.
"They're assuming that there is a mental incapacity predicated on a mental, intellectual, or physical disability," Earenfight said. "So it could be anything from situational depression to psychosis."
The policy, Earenfight said, was meant to protect people, but it demeans more than it protects.
"I think it sucks that it has to be used for you," Dice said. "You can't just choose what people say about you."
The managing editor may be reached at
[email protected]