Still Saying Charleena Lyles' Name at Moral Mondays
Since the murder of Charleena Lyles at the hands of police in 2017, her cousin Katrina Johnson has taken action to address police brutality in the city of Seattle, working personally with police precincts and helping draft legislation that will be on the ballot this November.
To kick off their series of Moral Mondays events for the year, the Office of Multicultural Affairs (OMA) brought Johnson and her work to Seattle University on Oct. 29.
---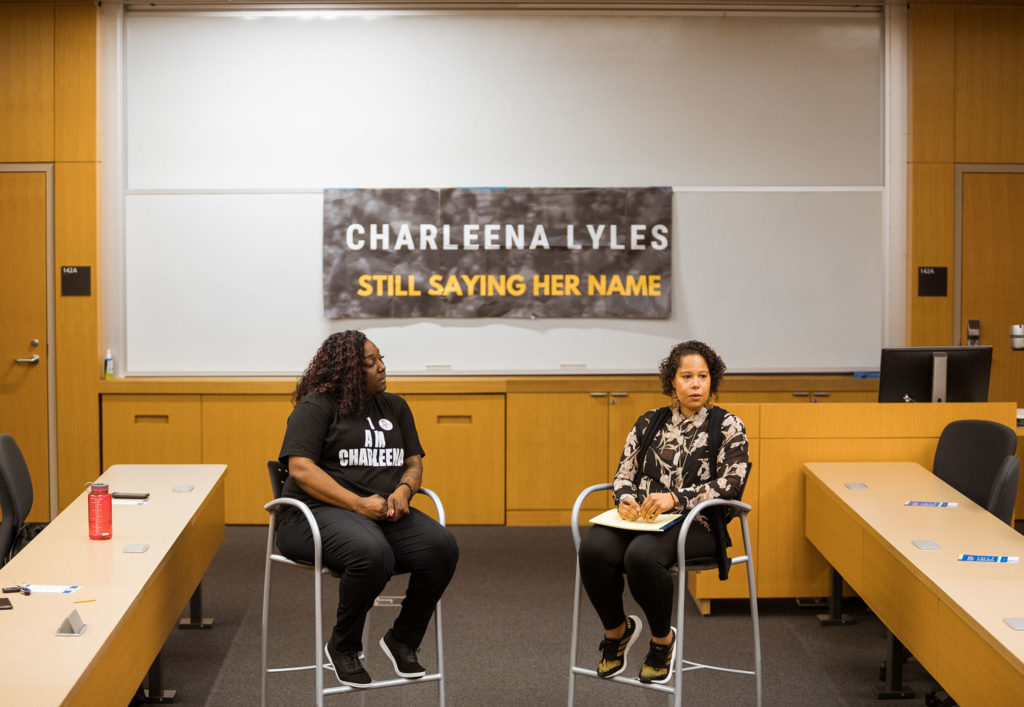 Katrina Johnson, cousin and family spokesperson of Charleena Lyles, accompanied by activist Nikkita Oliver, speaking on Lyles' life, legacy, and impact on the Seattle community.
---
These events consisted of a personal conversation in the OMA lounge in the afternoon, as well as a larger event featuring former mayoral candidate Nikkita Oliver in the evening.
Beyond those two events, Johnson also spoke with the university administration about how to ensure that Seattle U engages with its surrounding community as positively as possible.
At the afternoon event, Johnson talked about the work she does to both address what happened to her cousin as well as how to ensure that it doesn't happen again. In her work, she collaborates with police to come up with solutions to police brutality and allot resources for the police to improve their work.
"I think it takes people on the outside-in fighting for change, and sometimes it takes people on the inside out fighting for change," Johnson said. "I'm gonna be on the inside-out, fighting to tear down a system that historically has been in place to oppress people."
Johnson has also worked on Ballot Initiative 940, which will give police officers training in first aid and mental health, as well as change some Washington-specific legal language that she argues allows officers to escape accountability when they kill civilians. Under current law, officers have to have previously planned to shoot a civilian in order to be convicted of deadly force—Washington state is the only state with this stipulation.
In working with police brutality, Johnson spoke to the importance of reaction versus response.
"They expect you to be reactive and they'll trigger that response or that action on purpose so that no one's actually paying attention to what you're really trying to say, but only what you're actually doing," Johnson said. "When you don't react to something, it shows the power and the genius within yourself that you can hold a response that is actually going to be completely different from what they expect you to do."
Director of OMA Jimmy McCarty also spoke to the power of language in these conversations.
"The north precinct killed your cousin. Your cousin was murdered. I've heard that language used," McCarty said. "Often what we see in news reports is 'there's been an officer-involved shooting,' and so we don't hear that someone has been killed or murdered, and we don't have an agent of that action. It's all passive language."
McCarty said that an important part of the conversation around police brutality is shifting the narrative to voice that tragedy, and he pointed out how Johnson deliberately used that language.
"Call a thing a thing. Murder is murder is murder is murder. If the first two shots were in my cousin's back, you've murdered her," Johnson said. "I just take ownership in that, and I'm unapologetic about it."
As far as how this event previews the work that OMA does throughout the year, Assistant Director Tyrone Brown said that it brings Seattle U into conversation with the community around it.
"Seattle University is a microcosm of Seattle," he said. "There are progressive and liberal things that it does and then there are other things that are like 'okay this is just about the status quo and it's as much about white supremacy and racism and oppression'…that all exists here on campus."
In this way, Seattle U students can engage the racism and hatred they encounter on campus as a way to engage with the city as a whole.
To continue this engagement throughout the year, OMA will host Moral Mondays throughout the year, as well as a new Queer Prom and Queer Thanksgiving. Beyond events, OMA plans to start a food pantry and offer more services both for undocumented students and students with disabilities.
Ultimately, Brown said that everything OMA does ties into its end goal of pushing the university to live up to its social justice mission.
"We advocate, we educate, and we connect," Brown said. "It happens through the trainings, workshops, and panels that people ask us to do…so in that context, we're really about supporting our social justice mission, and Moral Mondays is a reflection of that."
Josh may be reached at
[email protected]
Leave a Comment