Khaled Hosseini, an internationally acclaimed author, and Razia Jan, the president and founder of Razia's Ray of Hope, brought a full house to Seattle University's Pigott Auditorium to speak about the activism they have contributed to Afghanistan. The conversation was moderated by Sonora Jha, the associate dean for Academic Community of the College of Arts and Sciences.
Hosseini has written "The Kite Runner," "A Thousand Splendid Suns," and "And the Mountains Echoed." His novels are all at least partially set in Afghanistan, where Hosseini himself was born.
In addition to sharing his writings, Hosseini spoke to the audience about his philanthropic efforts in Afghanistan with Razia Jan. As the founder and president of the Razia's Ray of Hope Foundation, Jan aims to empower girls and young women through education in Afghanistan.
---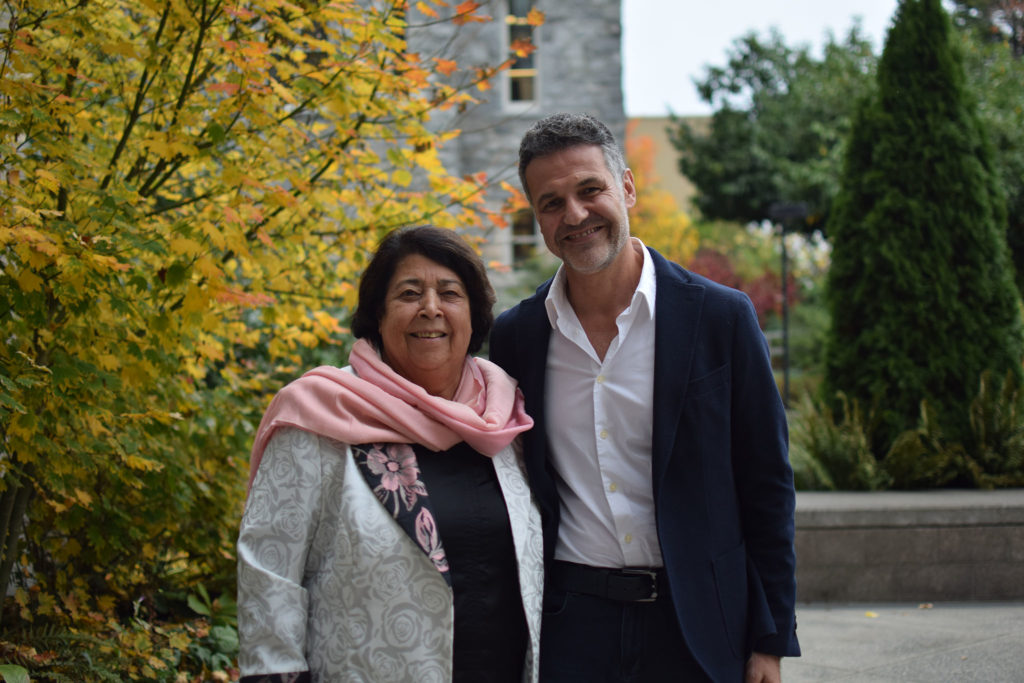 Khaled Hosseini, A Thousand Splendid Suns author and Razia Jan, founder of Razia's Ray of Hope Foundation, visit and speak at Seattle U on Oct. 27, 2018.
---
Jan and Hosseini's relationship stemmed from their shared Afghan-American identities and the support they provide one another in their work. They both said their humanitarian work in Afghanistan is mostly informed by their own experiences and feelings as Afghani immigrants themselves.
Hosseini's current humanitarian efforts are conducted through his most recent book "Sea Prayer," published on September 2018. "Sea Prayer" was inspired by the drowning of Alan Kurdi in the Mediterranean Sea in 2015. The proceeds from the book will go to both The Khaled Hosseini Foundation and the United Nations High Commissioner for Refugees (UNHCR).
Additionally, he has made several trips to countries such as Afghanistan, Iraq, and Lebanon to participate in the UNHCR's efforts to help refugees.
"I came here in 1980," Hosseini said. "I came here as a refugee. That's a great transformative event in your life, so that informs my writing, it informs my work through the foundation, and even more directly, it informs what I do for the UN Refugee Agency."
Jan shared Hosseini's desire to provide aid to their home country. Razia's Ray of Hope believes that the education and empowerment of women is the solution to create change for Afghan people in the future. Jan emphasized that her work comes from an understanding of goodness and a hope in humanity.
"It has to be within you that you want to make life better for everybody," Jan said. "I think that there are ways to do good in the world and make people aware."
Jan's work is focused on young girls and women, which intersects with Hosseini's second novel "A Thousand Splendid Suns," whose main characters are two women in Afghanistan. Hosseini went back to Afghanistan in 2003—the first time he had been back since 1976. He spent two weeks in the country and eventually found his inspiration for the book.
"I learned so much from the human standpoint about what had been going on with girls and women in Afghanistan that I knew from the news," Hosseini said. "But actually walking through the streets of Kabul and talking to people, talking to women and girls and hearing their struggles gave me such a deeper understanding of those women in Afghanistan."
Jessica McKeirnan, a second-year creative writing major, attended the event as part of her Intercultural Literature course. As a creative writer herself, she sees Hosseini's works as a vulnerable piece of fiction. McKeirnan believes the reason for Hosseini's success is that even if he is writing about such niche identities, at the end of the day, it's a story about humanity.
"He does a really good job in bringing out the humanity in people and reminding you of it," McKeirnan said. "Like he said, 'it's cheesy, but it's true; we're all part of the same community.'"
With some introspection and consideration of Jan's foundation on the state, McKeirnan said that Hosseini's characters remind her that there are people that need her help in the world. McKeirnan read Hosseni's book "The Kite Runner" when she was in middle school, and she said she was moved after hearing Hosseini speak about his personal inspiration for the story.
"It's a fictionalized platform, but it's very real at the same time," McKeirnan said. "They could be non-fiction. The characters are made up, but they could be real."
After a lengthy discussion on stage about the work Jan and Hosseini do for Afghanistan, Jha ended the moderated discussion by asking the panelists to answer a question: "What is your hope for America?"
"I keep in my mind this idea of America that my father had, which was why he brought us here in the first place," Hosseini said. "Where we could live here as equals and have opportunity and be given the chance to make something of ourselves."
Asma may be reached at
[email protected]