Women's Week in Review
Soccer
The Redhawks had an amazing performance, defeating University of Missouri Kansas City (UMKC) 3-1, at home.
The matchup against the WAC's top team coincided with senior night during which six seniors were recognized for their contributions.
With the match leveled 1-1 at the half, Jessie ray found the upper right corner of the net off a free kick at the 56th minute.
Manthei collected the third goal for Seattle U at the 72nd minute to ensure the victory.
The Redhawks travel to Utah Valley in their final match before the WAC tournament. The match will be a deciding factor for second place in the WAC and take place Saturday, Oct. 27.
---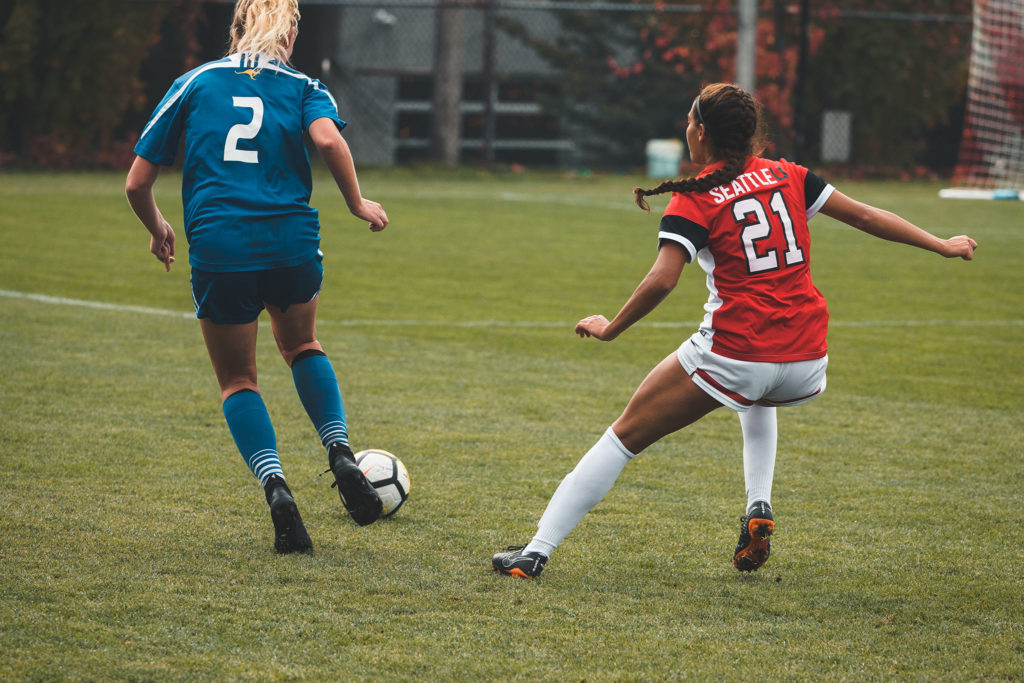 Freshman Sebelle Rojas pressuring the Kansas City opposition in a 3-1 Redhawks victory on Sunday, October 21st.
---
Golf
Seattle University Women's Golf excelled this week while hosting the Pat Lesser Harbottle Invite at the Tacoma Country and Golf Club in Tacoma, Wash.
The Redhawks placed ninth of 18 teams with notable performances by Kimerlee Tottori who finished with a personal best of 2 over 218.
In support, two Seattle U Hall of Fame members, Pat and John Harbottle, attended the tournament.
The offseason ends for the Redhawks on Feb. 23 when they will compete at the Grand Canyon University (GCU) Invitational.
Swimming
The Redhawks took on GCU and Loyola Marymount University this weekend.
Bryn Lasher took a first-place finish in the 200-yard butterfly with Maddie Rapp following for third.
In the 400-yard medley, the team swam a time of 4:04.11 and finished second. Similarly, the 200 freestyle relay also finished second with a time of 1:41.97.
Seattle U followed GCU at 133-65 and LMU at 110-94.
The Redhawks face the University of Idaho and Northern Arizona University in Moscow, Idaho on Nov. 3.
Volleyball
Seattle U Women's Volleyball faced WAC leaders, California Baptist in Riverside, California.
The team hit well at .325 and took a dominating set 25-13.
The Lancers retaliated with a 25-14 set victory over Seattle U.
Cal Baptist and Seattle U battled the following sets, but the Redhawks fell short, losing 28-26 and 25-21 in the final sets.
Tijana Milojevic set a new high for the team of 23 digs, Shae Harris with 39 assists, and Julia Queiroz with 5 blocks.
The team will be away on Oct. 25 to compete at Utah Valley.
Tennis
Seattle U Women's Tennis finished competition at Stanford in Palo Alto against some of the toughest opponents on the west coast this weekend.
Only junior Kali McCollister advanced in the round of 128 against Pacific; however, multiple Redhawks saw victory in the consolation rounds.
With fall competitions complete, the team has a while before the next competition at Lewis-Clark State College in Richland, WA on January 31.
Alexandro can be reached at
[email protected]