New GSC President Builds a Foundation for the Future
Amber Larkin, Seattle University Graduate Student Council's (GSC) newly elected President & Board Chair has always had a passion for advocacy work, and she hopes to bring a new revived energy to the Council as its first Black president.
Originally from Seattle, Larkin received a B.S. in Political Science and Sociology at Santa Clara University in California before coming back to Seattle five years ago to take care of family and pursue a full-time position in the area. Now in addition to her role as GSC President, she is also working towards an M.A. in Transformational Leadership at Seattle U.
As president, Larkin and the rest of the GSC Executive Council hope to start off the year by finding out from graduate students what exactly they need to thrive on and off-campus, as well as how GSC can best provide those services. To that end, the Council is pushing out a survey to graduate students on Thursday, Oct. 18.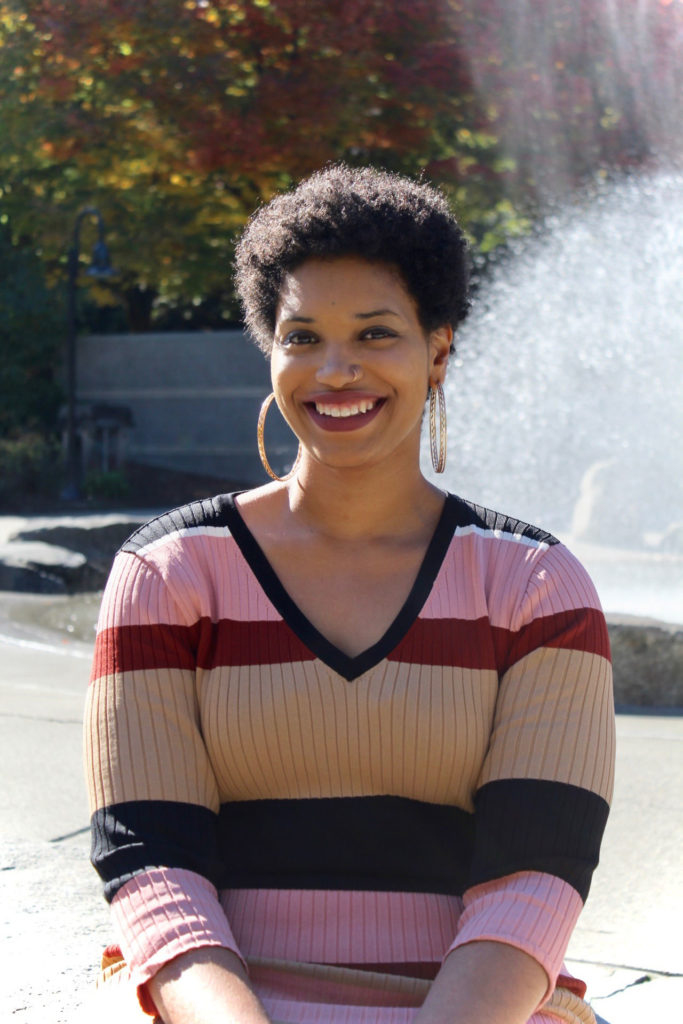 Amber Larkin is Seattle U's newly elected Graduate Student Council President & Board Chair.
"We're really hoping that all the graduate students take a moment to make those inputs because those are the inputs that we're really going to lean heavy on because that is going to be our source of concrete, hard data," Geff Primavera, the Vice Chair of Community Relations and Development at GSC, said. "The more inputs we can get, the more we can better serve [graduate students]."
This year, in addition to the survey, Larkin plans to speak with former members of GSC for insight into prior Councils: how they connected with their constituents, what opportunities they pursued, and how they worked with the people they represented to make the graduate student experience better for all.
In having these conversations, she seeks to create a more solid foundation for GSC. When her term as president is over, Larkin hopes that the documentation and stories she and her team are working on now will provide future councils with the inspiration on how best to represent and serve the needs of the graduate student population.
"I want to help provide a system for the future GSC to feel a little bit more empowered to continue asking questions and have something where they don't feel like they're starting from scratch every time," Larkin said. "It's a foundational year for Graduate Student Council."
As for the specific kind of problems faced by graduate students, Larkin said that they deal with the same problems that any other adult living in Seattle experiences, like rent, food security, and finding work that engages their personal talents.
There are, however, areas of concern that only students pursuing a graduate degree have to deal with—namely how they often have to balance not just schooling and a social life, but also a career and/or family. One of her main concerns revolves around how best to reach these students who otherwise would not have the time or energy to participate in GSC.
"So that's the goal," Larkin said. "Is that grad students on campus know there's someone thinking about them and doing the work to makes sure that they feel included."
That sentiment was shared between Larkin and Primavera. Regardless of their interactions (or lack thereof) with any organizations or people on campus, the members of the council want graduate students to feel welcome during their studies at Seattle U.
Oct. 16 was the first meeting of the General Assembly of GSC. Applications to become a student representative in the General Assembly are open Oct. 16-Oct. 23. There are many ways to get involved, through meetings to elections, and voting begins Oct. 24 and closes on Oct. 30.
In regards to being the first black president of GSC, Larkin looks at her new position in the big picture.
"I'm okay with taking up that mantle if that means it won't be another, what is it, 126 years until the next one," she said."If that means someone sees me, and they're like, 'Hey, I can do that.' Then that's okay."
The editor may be reached at
[email protected]
Leave a Comment