Former Secretary of Education Talks Equity, Gun Violence
Former Secretary of Education Arne Duncan spoke at Pigott Auditorium on Oct. 3 to discuss his newly released book as part of Town Hall Seattle's Inside Out series.
Duncan was joined by Seattle Times education writer Joy Resmovits to discuss his book "How Schools Work: An Inside Account of Failure and Success from One of the Nation's Longest-Serving Secretaries of Education," released in August 2018. Resmovits interviewed Duncan for 45 minutes, followed by a Q&A session with the audience.
"For the past 30 years, education has been a passion and an obsession for me, and [the book] felt like a natural breaking point in my career," Duncan said. "It was a chance to stop, to reflect."
In How Schools Work, Duncan points out the failures he sees in the American education system: insufficient financial support, rigid curricula that fails to account for diverse learning capabilities, and a lack of equity and accountability.
---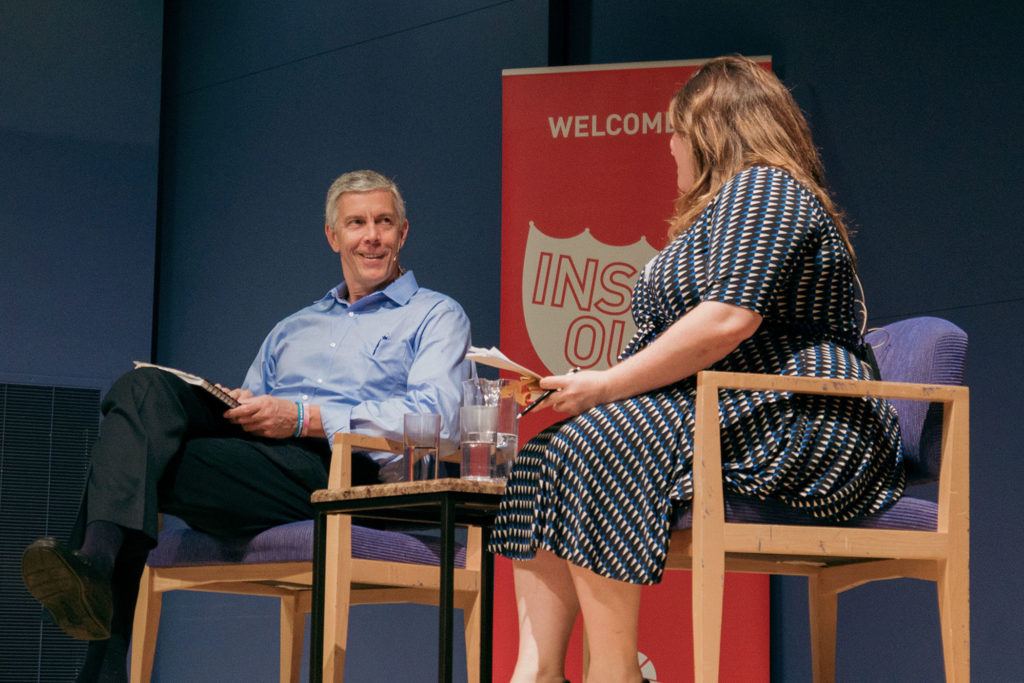 Arne Duncan speaks at Pigott Auditorium about his experience as the former U.S. Secretary of Education.
---
He explained that his inspiration comes from seeing the potential of disadvantaged children, but lamented that he has seen minority kids systematically disserved by education.
"We in education haven't improved anywhere near the pace we need to. When people are condemned to the margins of society because we fail to educate them, that's our fault," Duncan said.
Duncan's passion for education began in early childhood with his mother's after school program on the south side of Chicago. From 2001 to 2009, he served as the superintendent of the Chicago Public School District, before President Obama appointed him Secretary of Education. His term was distinguished by opposition from conservatives and teachers unions alike for his push for Common Core Standards and the inclusion of student tests in teacher evaluation, which is the practice of accounting for student performance in teacher pay.
"We pushed very, very hard, and got a ton of critique that we pushed too hard. I'm happy to take that criticism," he said.
Today Duncan heads a nonprofit, anti-violence initiative that provides counseling, job training, and positions to out-of-school black men in Chicago. The issue of gun violence and education strikes a personal chord for him.
"In Chicago, we were losing a child every two weeks. Walking into a classroom and seeing those empty desks is the hardest part of my job," he said. "When my kids were slaughtered, I thought America didn't care about black and brown kids. But then nothing happened on guns after Sandy Hook. We value white lives more, but we love our guns more than our kids."
He expressed hope in the anti-gun violence movement started by Parkland students after the shooting that claimed 17 lives in Parkland, Florida last February.
"I have more hope than I had any time post-Sandy Hook," he said. "Teens will lead this country."
Resmovits asked Duncan to speak to the state of education in Trump's administration. He expressed disappointment with the lack of educational goals on the national political agenda.
"I think that's by design. We have a President with very strong authoritarian tendencies, and wants to be the source of truth. I don't think he wants a well-educated populus," he said. "The stakes are way bigger than education; we're fighting for our democracy."
Duncan called for the audience to keep education in mind as they vote this midterm season.
"I really liked his reminder that we needed to be putting education issues at the front of all our voting decisions and forcing that conversation in all the political choices we're making," educator Brooke Doyle said.
He encouraged them to vote for candidates who see education as an investment, regardless of their political affiliation.
"Public education is supposed to be a great equalizer, but it actually exacerbates the divide between the haves and the have nots and perpetuates inequality," he said. "Too often, we only care about our kids, and not our neighbor's kids."
Duncan's message weighed especially on those in the audience who work in education.
"I was really inspired by his commitment to education from all the different parts of his career. What he's doing now is a really interesting take on how he can look back and see what he's done and what's made a difference and where the gaps are," Doyle said.
Others, like Applied Math major Jesse Goncalves, walked away with a stronger value for education.
"I've worked for the last four years at Washington Middle School and there's so many different things he said about making schools a hub for the community and all these things I've seen play out in real time," Goncalves said. "Obviously, I value education personally, but that's not always the first thing I think about when evaluating a candidate. I hadn't really thought about before."
The editor may be reached at
[email protected]
Leave a Comment