It was 11 p.m. on Saturday night, and T-Pain's admiration of apple-bottom jeans was aggressively pumping throughout Campion Ballroom. Students clad in blue t-shirts were getting low under the roving purple lights, surrounded by tables littered with empty soda cans. It was exactly what you would expect from a school dance—aside from the fact that everyone would ultimately be dancing for 16 straight hours in an attempt to raise over $200,000 "For the Kids."
Dance Marathon is a nationwide event to fund research and care for pediatric illness. This year, Seattle University's Dance Marathon (SUDM) raised $160,217 of their $206,000 goal to benefit Strong Against Cancer and the Seattle Children's Hospital Uncompensated Care Fund.
SUDM is one of the largest philanthropic student organizations on campus, with 572 dancers registered this year. However, for all its popularity, SUDM is not without its critics.
Some believe that many dancers can develop a "white savior" approach to their work, which can reinforce the privileged-oppressed dichotomy if not properly confronted.
In a "Learn to Serve" training with the Center for Community Engagement, AyeNay Abye emphasized that service is "not about saying 'I'm going to do this great thing for you' or 'I'm going to serve you.' It's about being present and engaged."
Some SUDM dancers recognize that they have work to do to combat problematic attitudes within the organization.
"I definitely understand and I see that," second-year dancer Siena Miller acknowledged. "Dance Marathon across the country has a very 'white savior' attitude in that they are connected to the frat and sorority systems, and it's very white, femaleled across the nation."
Although Miller believes Seattle U's DM is not as exclusively tied to privileged groups as DM's in other universities, SUDM is still an event with sponsors like Coca-Cola and Walmart, held in a majority-white private university.
Even if SUDM is inclusive by comparison, Miller acknowledges a responsibility for "holding other people accountable to inclusiveness, and expecting that from Children's Miracle Network as the big organization that it is."
Another criticism of SUDM is its focus on achieving social justice exclusively through fundraising.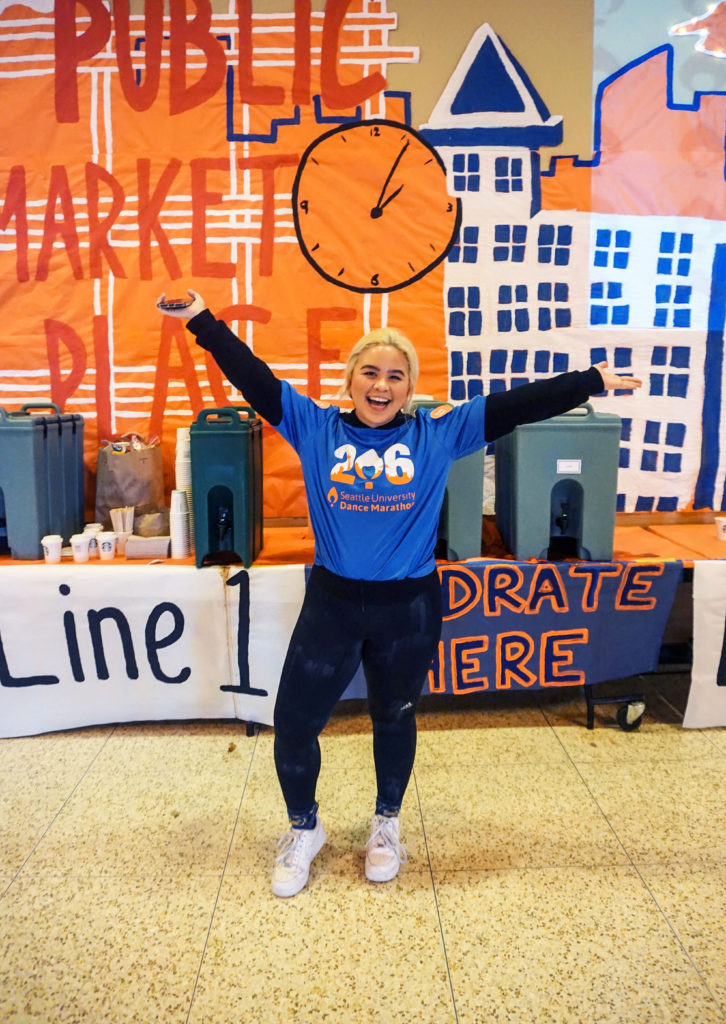 Frances Divinagracia was on of many SU students who danced for 16 hours on Saturday at SU Dance Marathon
"That is something we are still trying to work on," SUDM Morale Captain Priscilla Ledezma said . "I feel like it's still promoted in a money-based way."
One of the taglines of SUDM is "For the Kids," a phrase that is echoed between dancers, hashtagged on social media, and emblazoned across promotional materials. Ledezma recognized that one of the reasons for this tagline is the tendency for dancers to get caught up in the cash and forget about the cause.
"We tend to have to remind ourselves pretty often that it's more than just the money, because we have these goals," Ledezma said. "At the end of the day, money, yeah that helps… but it's all about sharing the messages of these kids."
Some additionally criticize the preoccupation with donations for not effectively addressing the causes of high medical costs.
"Our healthcare system is broken," said Rose Lassalle-Klein, a former Seattle Children's Hospital employee who lost healthcare coverage while she was attending Seattle U. "If Dance Marathon is the only way to engage with it, it's like pouring water into a bucket with a hole in the bottom. It's a temporary solution that fulfills your desires."
Although SUDM has events besides the marathon itself, these tend to be connected to fundraising or preparation for the marathon. Some students noted the lack of advocacy work to reduce the medical bills that make Miracle Kids dependent on donations in the first place.
An additional source of criticism is the fact that Dance Marathon is so centered around "student development."
"A lot of students are attracted to DM because it's a fun event, but it's also a place for them to build and find community," SUDM dancer Siena Miller commented. "It's a huge part of the student experience."
Although students making friends and learning about philanthropy are beneficial things, some say that it crosses the line to where the event becomes more "for the students" than "for the kids."
Most of the groups do not even meet the Miracle Kids until the marathon. Because the connection to the issue is limited to one hospital tour, the social or professional benefits of the organization are often much more salient for many dancers.
However, Miller noted that "most of the students that are attracted to DM are directly connected to Seattle Children's or pediatric illness, whether it's themselves or their family." Despite the flaws of the organization, many dancers have noble intentions and are committed to a praiseworthy cause.
The steering committee is dedicated to addressing the issues within the organization as well. This year, they reduced the required fundraising from $125 to $11, and encouraged nonmonetary contributions in an effort to shift the focus away from money. "We're constantly talking about ways that we can do better," Ledezma said. Even critics of SUDM do not think that our community would be better without it.
Lassalle-Klein thinks of it as a "both/ and" situation. She acknowledged the need for fundraising, but also stressed the importance of advocacy, community involvement and healthcare dialogue within the student body. Her hope for the future of SUDM is that the university's dedication to service "For the Kids" extends much further than just one day.
The editor may be reached at
[email protected]