The Seattle University Baseball team began their 2018 season at Bannerwood Park this past weekend as they took on University of the Pacific for a two-day double header, solidifying a 3-1 start to their season.
Freshman Brayden Weyer seemed pleased with how the team performed overall.
"We didn't play our best baseball, but to go out and have the success that we did shows a lot for this team. We have a lot of guys that can really hit the ball, and that really helped us when we needed it," Weyer said. "We feel pretty well going into the season. Coach Cribby and coach Tommy have really helped prepare me as a pitcher to go in there, and it's no different than facing our own guys. We have a quality line up, and to face them all fall I think going against other teams will make it easy."
The Redhawks kicked things off on Friday with a slow start as they fell to the Tigers; losing 5-8 in the first game of the four-game series. The Redhawks had a 2-0 lead before entering the fourth inning, but the Tigers kicked things into gear and generated a 5-2 lead. The Tiger's momentum didn't stop there as they increased their lead to 8-5 in the top of the sixth.
Seattle U continued its double header later that night. The Redhawks were ready to get the redemption win, and came out victorious with a close 6-5 win. Junior Kyler Murphy added a crucial three runs to the score, while sophomore Austin Lively, senior Dalton Hurd and red-shirt senior Cameron Sterne tallied one run each. Senior utility player Curtis Perrin was also an integral component to the Redhawks offence, racking up four RBIs and placing the Redhawks in great position offensively.
---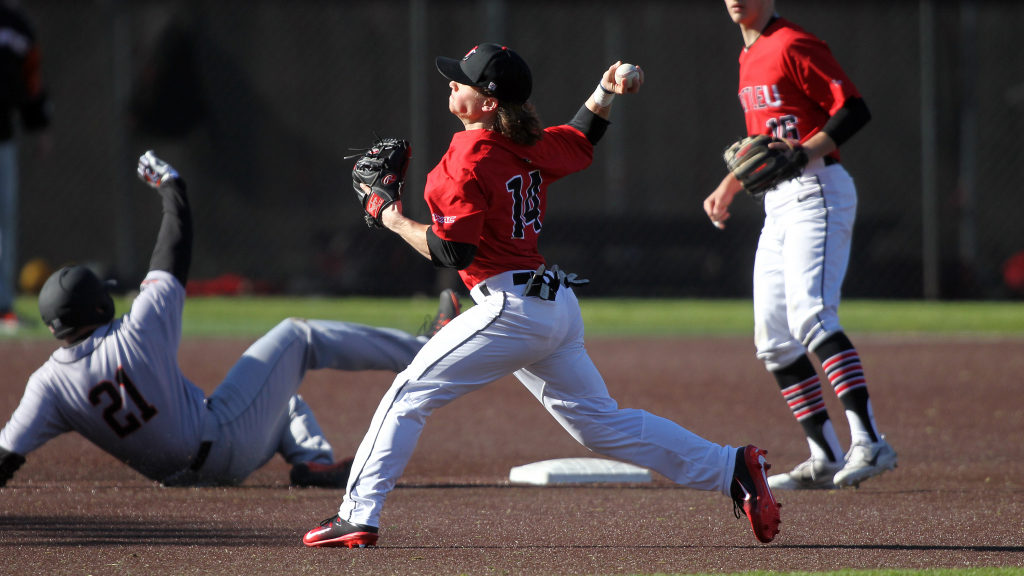 Senior Curtis Perrin scored a three-run homer in the first game of the weekend.
---
Perrin was excited with last weekend's outcome.
"I think that we played pretty well, especially offensively, and our pitchers did really well. We have room to improve, so it's good for us to go three and one on the weekend when we didn't necessarily play our best baseball as a team," Perrin said.
Perrin is also hopeful for the upcoming season. "As a team, I think we look really strong. In our spring scrimmages and practices, it's one of the most well-prepared teams that I've been a part of, in my four years (at Seattle University). Billy [Boyer], Donny [Harrel], Elliott [Cribby] and Greg [Goetz] have done a really great job of getting us prepared and just for anything that could happen in a game. So as a team we're just the best prepared, which is a great thing going forward."
Saturday, the Redhawks came out ready to play and started the day with a 5-3 win. Perrin once again led the way for the Redhawks as he stacked up three RBIs and one run while junior Jacob Prater, Hurd, freshman Marcus Lydon and freshman Jake Cosgrove each secured one run.
The Redhawks finished their home opener weekend with a strong 11-2 sweep. With a solid team effort, the Redhawks added to the scoreboard in the top of the first with a threerun lead and kept their momentum throughout the game. Sean Sutton had a standout game adding three runs and two RBIs to the stat sheet, while Perrin racked up two RBIs and one run. Freshman Justin Mazzone had two runs while Hurd, Lydon, Lively and Prater each had one run.
Associate Head Coach Elliott Cribby was content with the team's performance over the weekend.
"It was a good weekend—anytime you can win three out of four from a California team. It was a great weekend, as the guys said earlier we didn't play our best baseball. That can happen when you come out of those first four games and you're still trying to work the line-up and also trying to figure out where the pieces may fall, but at the end of the day we'll take the three wins no question," Cribby said.
Going into the 2018 season, Cribby expresses excitement in their strong player depth.
"We're definitely stronger than we were last year because of the health. We were really, really banged up last year. It's an older team, so the guys are more experienced of just being through the gauntlet of a 56-game schedule. They know what to expect," Cribby said.
"This past weekend, we ran out a lot of different players so we have more depth than we did in the past. So, we feel pretty good going into this weekend. Rhode Island is a good team; they just played at Texas A&M and competed against them pretty well," Cribbby said. "So, we're just obviously looking to stay consistent with our approach, but also work on some things that we need to work on."
Baseball will face Rhode Island at Bannerwood Park Feb. 23-25.
Caylah may be reached at
[email protected]