Gender Justice Center Breaks Binary Sex Education
Scientific diagrams of genitals, STD scare tactics and a lengthy list of contraceptives has become the traditional sex education experience in the American Public Education system. Working to change the traditional sex education script, Seattle University's Gender Justice Center invited the Seattle Nonbinary Collective to host a sex education workshop titled "Queer Bodies, Queer Selves."
The facilitators, Adriaan Dippenaar and Zee Zaki, established that the focus of the workshop was to celebrate bodies and encourage authentic self- expression and self-exploration.
Haleema Bharoocha, director of the Gender Justice Center, said that the intention for the non-heteronormative sex education workshop was to make this type of education more accessible to students, regardless of how they choose to identify themselves.
"We were trying to target people who identify as queer and non- binary…asexual or 'ace'…and people who might just be interested, or still exploring their own sexual identities," Bharoocha said.
Second year political science major Emily Nguyen attended the workshop to grow her understanding of non- binary identities.
"Even though I don't identify as non-binary, I want to understand what non-binary is and people who are non-binary because it is important to be educated and more aware. If you're more aware and educated it's easier to be more accepting and understanding," Nguyen said.
Nguyen also believes that because of the hierarchy that exists in the LGBTQ community, which determines who has more power, access and media attention, having an event that focuses specifically on non-binary and trans people is important.
"If you're asexual, non-binary or [identify as someone else] that there is no comparison for straight people, it makes it hard for [them] to understand. When you don't understand or are unfamiliar with something, it's natural for you to oppress it, which is something we don't want," Nguyen said.
---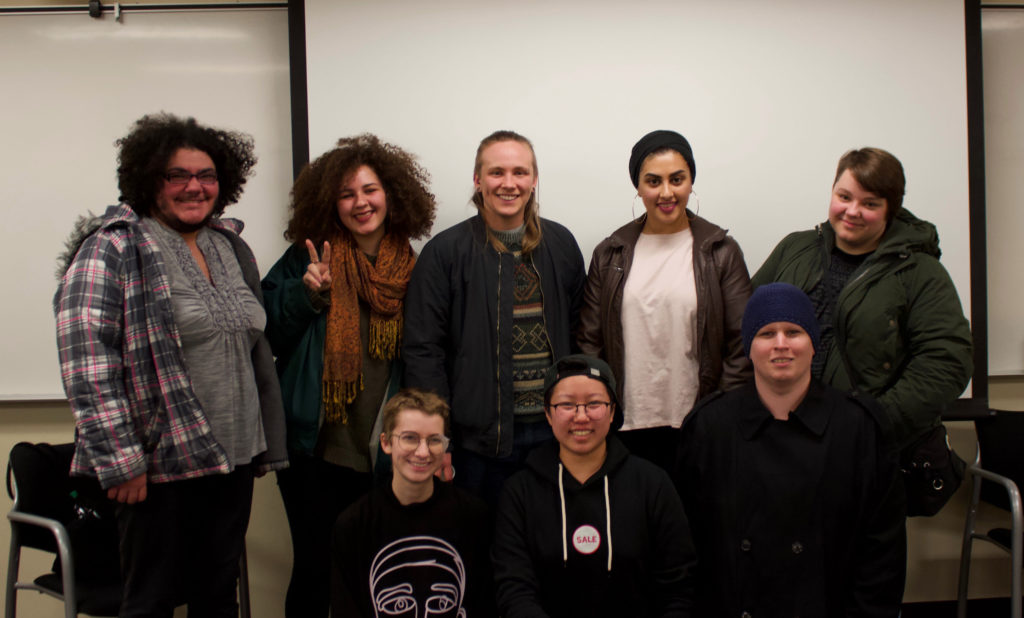 Attendees of the "Queer Bodies, Queer Selves" workshop gather to discuss gender-inclusive sex ed topics.
---
Third year sociology and philosophy double major Evelyn Chow said it's necessary for Seattle U to host this workshop in order to put their mission into action.
"Going back to our mission and values, caring for the whole person includes all the identities that, that person may hold. Jesuit institutions are historically and currently white male dominated, so this event is necessary because it provides a new space for people to come and learn," Chow said.
People within the community of non-binary, trans, and intersex are often described using words with negative connotations. Zaki and Dippenaar acknowledged that people within their communities are only able to describe their experiences with language that is not their own, because of the lack of understanding and lack of willingness to gain an understanding from those who do not identify with their community.
Chow agreed with that point in recognizing that groups who are not the priority in the social hierarchy have to cater their story to align with that of white Europeans. They also have to take the time to think about how to present information so that it is digestible for white people.
Although their community faces adversities, Zaki and Dippenaar have remained optimistic through their own self-discovery. In creating their own identities and being grounded in their bodies, they have been able to move towards actively seeking positivity and celebrating their bodies as well as those of their friends.
One of the biggest takeaways that Nguyen received from the workshop was that she does not have to try to make herself fit into a pre-existing box.
"This workshop showed me that you don't necessarily have to identify with something, conform or believe something to relate to it. I am not trans, but I related to a lot of things people are saying," she said.
A hope that Bharoocha has for the attendees is that they were able to receive a sense of ease.
"I'm really hoping that it was helpful for people to have some comfort in knowing they were not the only person and [that] being non-binary is not something that is isolating. It helps a lot of people find community through conversations," she said.
Bharoocha said she thinks every college campus should be having sex education conversations to prevent dangerous situations and to create a space where people can explore their sexuality and the way they choose to present themselves.
"Having a space where you are going to get valid, good and healthy advice and having people who are non-binary, who are experts and center on people who are part of that community, is really important."
Hunter may be reached at
[email protected]