It's homecoming season here at Seattle University, but aside from the big game, the long-awaited Crosscut Festival and homecoming court announcements, one of the lesser- discussed aspects of homecoming is Seattle U's Day of Service. During the span of homecoming weekend, students, alumni and members of the university community are invited to participate in a variety of service projects throughout the weekend.
Relay for Life
Relay for Life joined Seattle University's Day of Service for the second time this year. Relay for Life is not only a club, but also an event that's hosted every year with the goal of fundraising for cancer research. 100 percent of the profits go to the American Cancer Society (ACS) to fund research, patient care programs and education and prevention programs.
Relay for Life started in Tacoma, Wash., and this is its the fifth year at Seattle U. This year the goal of Relay for Life is to fundraise $40,000.
---
Seattle University's branch for Relay for Life is participating in Service Day during this Homecoming weekend. They are making Valentine's Day cards for cancer patients and nurses at a local hospital here in Seattle.
---
Last Saturday, Feb. 2, Relay for Life created Valentine's Day cards to deliver to cancer patients, survivors and nurses at Virginia Mason Hospital. Attendees wrote encouraging and uplifting messages to remind those battling cancer that they are thinking of them, sending them good thoughts and wishing them the best.
"I've always wanted to get more involved with the mission of relay especially at such a prime location with all the hospitals in the area, and we're pretty lucky to pop over and give," said senior social justice major and event co-lead Erin Moynihan.
This idea came from Shelby Hackney, co-lead and senior Humanities for Teaching and Political Science double major at Seattle U.
"I used to go with my mom, we would make baked goods like bread, cookies and things like that. We would go to the hospital where she had her treatment and shared them with the survivors," Hackney said. "I shared that with the committee last year and then through a brainstorming session, it kind of evolved to making holiday cards. And it's worked out really perfectly."
About 15 students joined Relay for Life this year in the Admissions building to create Valentine's Day Cards. One particular card had a picture of Yoda from Star Wars with the caption "Yoda only one for me!" A total of 68 cards were delivered to Virginia Mason.
Besides last week's Day of Service, Relay for Life incorporates the Seattle U mission to advocate and help the fight for a cure for cancer.
Relay for Life's annual relay will be on April 28 at Logan Park. To register or donate to the event, go to acsevents.org and search for the Relay for Life at Seattle University page.
Seattle U Project on Family Homelessness
Washington's Housing and Homelessness Advocacy Day (HHAD) fell on Feb. 1, and also landed on Seattle U's Day of Service, though the two weren't affiliated with each other.
At HHAD, lobbyists, advocates and community members gathered in Washington's capital to rally, attend workshops and talk to lawmakers to find solutions to both increase housing affordability and combat homelessness.
Seattle U's Institute of Public Service hosts the Project on Family Homelessness, whose mission is to end family homelessness. The project was created in 2009, making it the longest homelessness advocacy project at Seattle U.
Led by Project Director Catherine Hinrichsen, students who work for the project strive to raise awareness in the community with the goal of making homelessness in Seattle rare, brief and one-time only.
---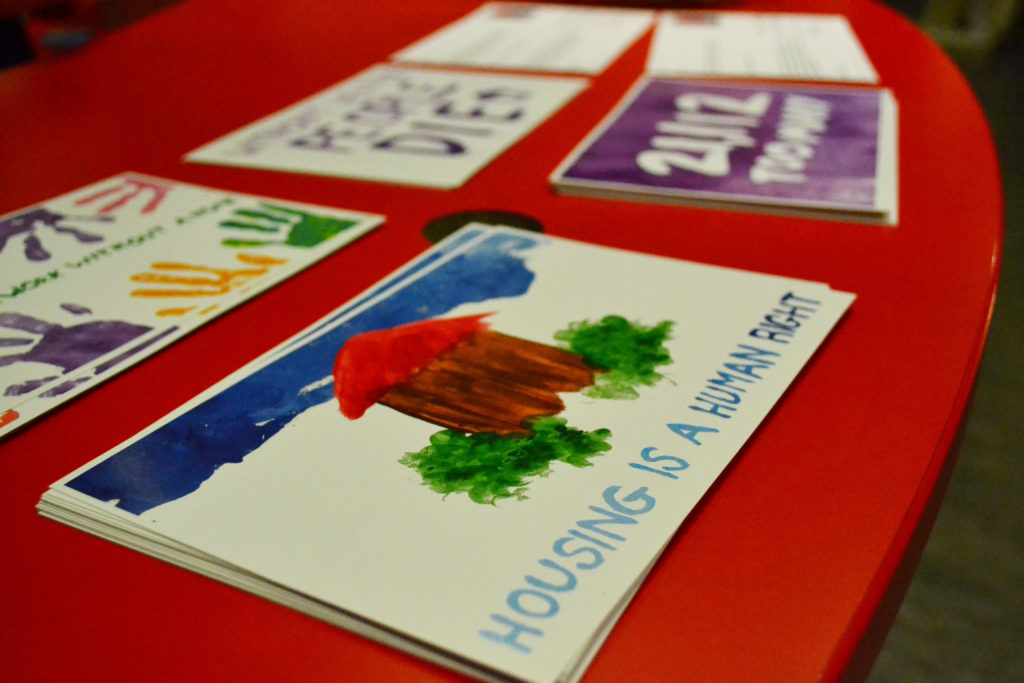 Seattle University's project team for Housing & Homelessness Advocacy Day, or HHAD, is having students fill out postcards to Senator Christine Rolfes about what they think on the lack of housing. They are taking these postcards to Olympia in hope to bring awareness to the severeness of this situation.
---
The Project on Family Homelessness is funded by the Bill and Melinda Gates Foundation, but classified as a nonprofit in Seattle U. For this reason, they are unable to lobby for specific bills in Olympia during Housing and Homelessness Advocacy Day.
To solve this, back in 2014, student project assistants began generating their own ways to engage the campus and make an impact in Olympia.
"Every year we've decided, let's have the students come up with the campus event idea," Hinrichsen said. "It's their first time really putting their skills to use in that way, working as a team, putting up an event."
This year, the students created postcards which were designed by project assistant and senior digital design major Madison Vucci. On the postcards, students wrote why the topic of homelessness was important to them and what they would like to say the lawmakers.
At HHAD itself, the team delivered 545 postcards to Senator Christine Rolfes.
They also visited the senate room in Olympia and attended the 43rd district meeting.
After attending the larger meeting, they went to the 23rd legislative district meeting where there were about 10 other advocates in attendance. The group delivered their two large stacks of letters and participated in the conversation on homelessness and housing in Western Washington.
"Everyone was there to really pass on the mission," Vucci said. "And that was really rad."
The editor may be reached at
[email protected]