University Removes Chuck Close Self-Portrait Amidst Harassment Allegations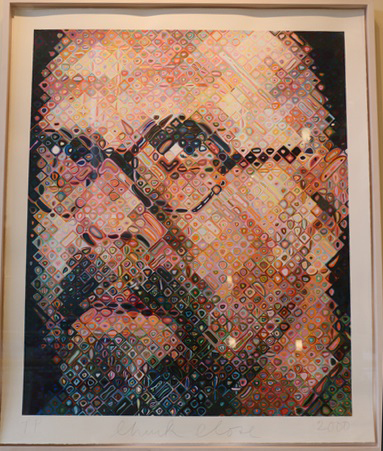 American artist Chuck Close was accused of sexual harassment in December. On Friday, the National Gallery of Art announced that they canceled his exhibition, which was planned for May. Following this announcement, Seattle University promptly removed a print by Close displayed on the second floor of the Lemieux Library—so quickly, in fact, that almost nobody noticed.
Shortly thereafter, the Stranger published a story about the removal of the print titled "Self-Portrait 2000." Other news outlets caught on.
The removal, now widely publicized, has raised questions about whether it is acceptable to display the works of artists who have been accused of sexual misconduct. It has also led some in the art community to question the divide between censorship and erasure.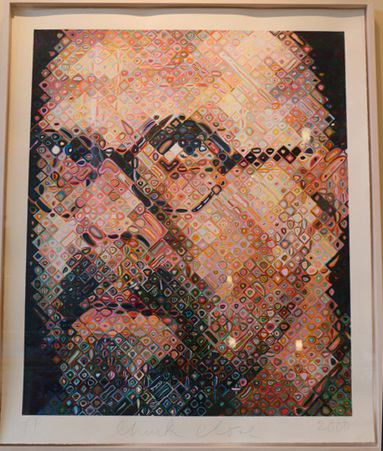 "Self-Portrait" by Chuck Close was removed from Lemieux Library amid sexual harassment allegations.
"Self-Portrait 2000"—valued at $35,000 before the allegations—was considered to be one of the most important pieces in the university's art collection. It was replaced this week by an oil painting by Linda Stojak. Both pieces were gi s to the university.
Throughout the process of removing and replacing Close's piece, the university elected not to consult any art professors or members of the art community.
Ken Allan, associate professor of art history at Seattle U, says the university should have sought outside opinions, possibly through a faculty-involved arts committee, before removing the piece.
"There could have been a discussion around that, and it might have been worthwhile to even use that piece as a kind of center of discussion around campus about sexual harassment and issues of censorship," Allan said. "[The removal] obstructs deeper conversation that will allow for discussion. However, I think part of that discussion has to be, 'what do we do with artists who have repugnant and unethical behavior?'"
Regardless, if the piece remained on display, Allan says a plaque next to or in lieu of the self-portrait may have enabled discussions concerning sexual misconduct, or the problematic relationships resulting from power dynamics between male artists and female models.
University Librarian Sarah Watstein made the decision to remove the artwork. She explained her reasoning in a statement:
"Given escalating developments regarding sexual harassment and sexual misconduct scandals, [we] discussed our options regarding the Chuck Close self-portrait. The self- portrait hung, as you all know, in a prominent highly trafficked location– the 2nd floor lobby, across from the spiral staircase," Watstein said. "We were concerned about potential student, faculty or staff reaction to seeing the self-portrait, and have decided that the prudent and proactive course of action would be to replace the self-portrait with another work."
Some say the decision to remove the artwork so swiftly may have been made out of fear of backlash.
"Our students are sophisticated students. They're around that art all the time," Allan said, adding that the removal may have been due in part to a "public relations concern" that's not really about the primary public for that work—students, staff and faculty— but the outside community.
When asked if he thinks the print would have been removed had we not been in the midst of the #MeToo movement, Allan gave a definite no.
"No, no, of course, it wouldn't have been," he said. "It's this moment that is shining a light on these issues and this behavior."
A swath of curators and museum directors across the country say that making artistic decisions based on personal behavior is a dangerous road to go down. All of the museum officials interviewed for a recent article published in The New York Times called "Chuck Close Is Accused of Harassment. Should His Artwork Carry an Asterisk?" said they plan to continue to retain and show their Close pieces because he has not been charged with any crime and the accusations have not been proven in a court of law.
The university says it doesn't believe it's displaying any artwork at the moment that was created by anyone accused of sexual misconduct. It is possible that in the near future, accusations of other artists will surface. Should this happen, the university may not handle the situation in the same way it did with the Close piece.
"Decisions about the display of specific works of art are made on a case by case basis," a university spokesperson said in an email statement to the Spectator.
"Self-Portrait 2000" has been placed in storage for the time being. The university hasn't made plans about what to do with the portrait in the foreseeable future.
Allan intends to talk with his students about "Self-Portrait" and its removal in his art history class on Wednesday.
Tess may be reached at
[email protected]
Leave a Comment