Seattle University Women's Basketball (8-10, 2-1 WAC) hosted New Mexico State (9-8, 3-0 WAC) in its WAC home opener on Thursday evening. The team was coming off a 62-58 win at Kansas City on Jan. 13. The Redhawks made the second- biggest comeback in their Division I history on Thursday, Jan. 11, rallying from 17 down to win 63-56 at Chicago State. After a series of away games, the Redhawks were able to get the win, 59-69, against NM State.
The game marked a rematch of last season's WAC Championship. "This win was huge for us. It's nice to get road wins, but we had to come back and defend our home court. It's important as a team, and to build a culture here, that we get home wins," freshman McKenzi Williams said. "They're important to us, and we fight hard on this court more than anywhere."
---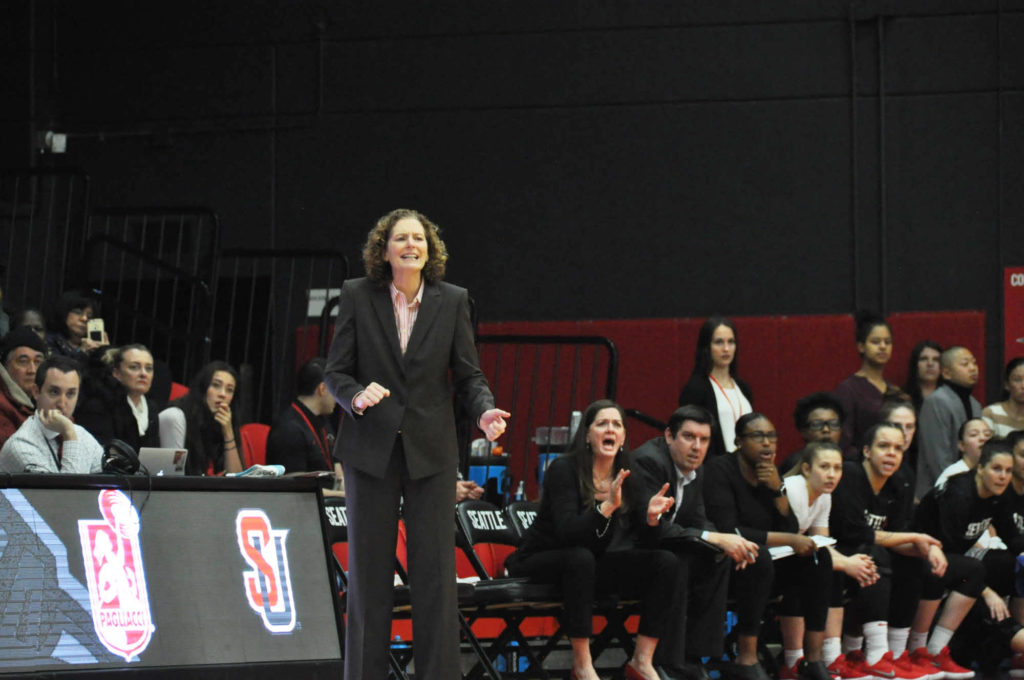 Head coach, Suzy Barcomb, her coaching staff, and players frustrated at a call made by the referees.
---
"I thought we defended really well," head coach Suzanne Barcombe said. "We had a few breakdowns, but overall I think it was one of our best defense performances all season long."
It was a long-awaited and hard fought win for the Redhawks, especially for senior and top-scorer Jacinta Beckley. "Honestly, I was just out for revenge. We have lost to New Mexico four years in a row, and I was just fired up coming out and I wanted to do the best I could to help us get the win," Beckley said.
Beckley explained her role on the team as a versatile player, having the size to be a guard, but with the capabilities to be a shooting threat. "We're not going to get better unless we make each other better. So we got to lock down on defense [during practice], make each other take tough shots, and knock them down," Beckley said.
"Whenever you have three people who can score double digits, you're going to have a chance to be in the game," coach Barcombe said. The three players included Beckley leading with 25 points, followed by senior Alexis Montgomery with 17, and freshman Kallin Spiller with 12.
On Saturday, Seattle U hosted Texas-Rio Grande Valley Vaqueros (UTRGV), beating them 64-56. Seattle U secured a lead the whole first half, and although UTRGV gained momentum in the second half, Seattle U was able to lock down the win.
These two wins at home were crucial, after playing their first four WAC games on the road. For the second half of the season, five of the last seven games will be at home. "It could play in our favor," coach Barcombe remarked.
Women's basketball heads back on the road to play CSU Bakersfield next weekend to continue the first half of WAC play.
Jacqueline may be reached at
[email protected]
---