Seattle University's very own Alex Roldan got drafted in the first round of the MLS SuperDraft. Last Friday, the Seattle Sounders selected the Pico Rivera California native as the 22nd overall pick. Roldan is the first Redhawk to be a first round pick.
"I would like to thank everyone who helped support and encourage me to get to this point. I'm excited for the opportunity to play in my second home and to learn from successful players such as my brother," Roldan said.
Roldan had a standout career at Seattle University, as he started in all 78 matches for the Redhawks, scoring a total of 18 goals, while adding 17 assists to the stat sheet. Roldan also added All-West Region First team honors to his resume for the 2017 season. He was selected on the All-WAC First Team for both the 2016 and 2017 season.
In the WAC Championship game against San Jose State on Nov. 12, Roldan scored the game winning goal to give the Redhawks the WAC Championship title—sending them to the big stage as they punched their ticket to the NCAA Tournament. In the first round of the NCAA tournament, Roldan assisted the game winning goal against University of Washington in overtime, continuing their tournament appearance until getting knocked off against Akron.
---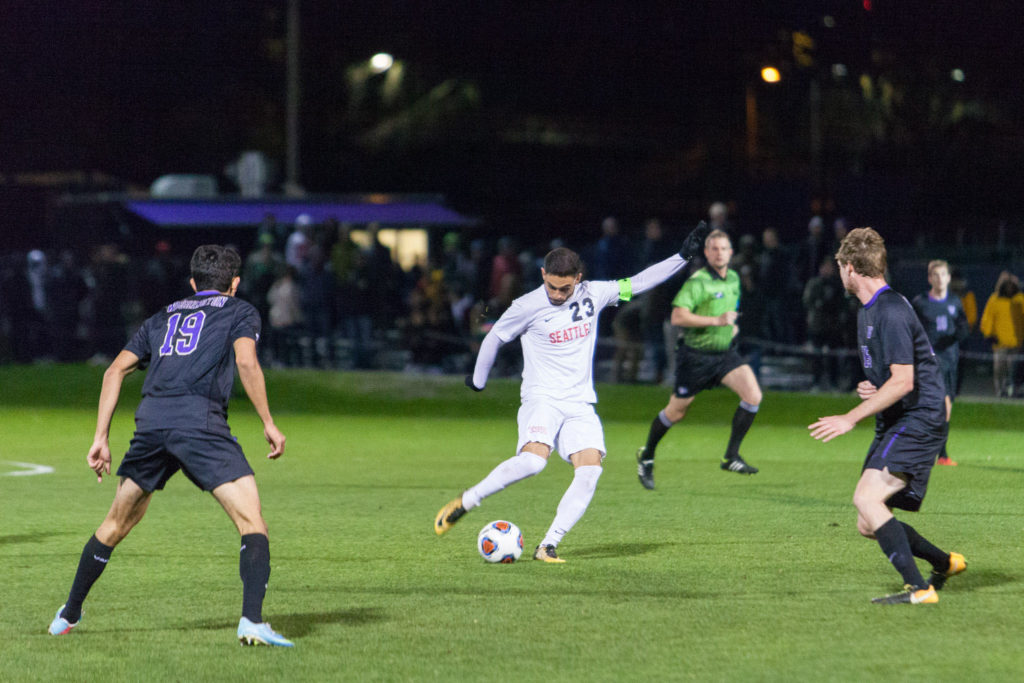 Alex Roldan (23) is the first Redhawk to ever be drafted in the first round of the MLS Superdraft.
---
Prior to Roldan's college career, he had an impressive high school career where he played at El Rancho High School located in Pico Rivera, California. There, Roldan scored a total of 28 goals along with 35 assists.
Alex is the younger brother to current Sounders midfielder Cristian Roldan. Cristian had a standout season for the Sounders this past year, picking up the team's Most Valuable Player honors as he helped lead the way to another MLS Cup appearance. Before playing for the Sounders, Cristian played for the Redhawks cross town rival University of Washington for the 2013-2014 season, before he was selected in the first round of the SuperDraft by the Sounders with the 16th overall pick.
"Having the opportunity to play alongside my brother is something I'm grateful for. It will be competitive, but will ultimately help me become a better player," Roldan said.
It's no doubt that the Roldan brothers will have a major impact in the midfield for the Sounders in the future, as the brothers are integral playmakers for their teams. With Alex's already developed skill set on and off the ball, this will help make his transition into the professional level a smooth one.
Cayluh may be reached at
[email protected]