Which Dollar Will Be Paid?
Seattle University may lose more than just a dollar. Former men's basketball coach Cameron Dollar—the only African American head coach at the university—is suing the university on claims of racial bias. Dollar, who was fired on March 13, filed a lawsuit against the school on Nov. 16.
In response to the allegations Seattle U released a statement addressing their position.
"Seattle University is committed to maintaining a learning and working environment free from discrimination," the statement said.
Out of all the allegations contained in the lawsuit, the overarching message is that Dollar was discriminated against based on race, often by upper-administrators. The only two individuals named are former athletic director Bill Hogan, who was replaced by Shaney Fink last year, and University Counsel Mary Petersen.
Unfortunately, large portions of the lawsuit have been redacted from public view. But this is what is known about Dollar's allegations: the former Seattle U coach was mistreated because of his race, the university failed to fully commit the resources promised to Dollar and he still continued to develop the basketball program despite the lack of resources.
The lawsuit stated, "this conduct included…an explicit admission from an SU senior administrator that he himself harbored "racial bias" as well as more subtle comments that…evidenced an environment of racially biased treatment."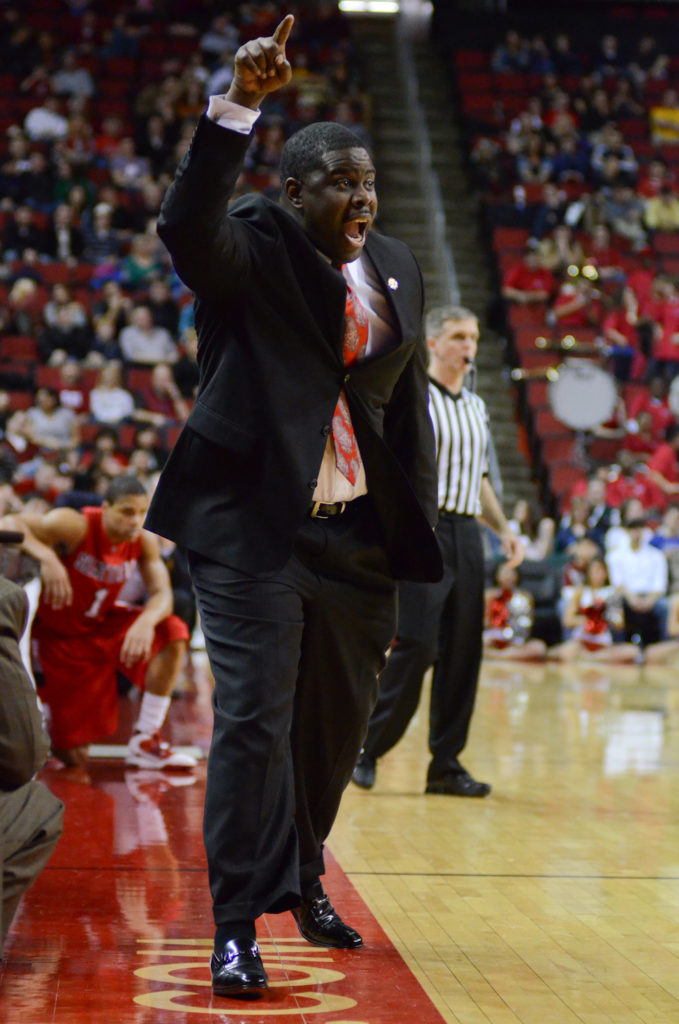 From the archives: Cameron Dollar on the sidelines of a 2011 game against University of Portland.
It states that Petersen reached out to Dollar to ensure his voice was equally considered in the search process of a new athletic director. In the following meeting, Petersen used Dollar's input against him.
"Ms. Petersen argued against Coach Dollar's preferred candidate…and then effectively struck Coach Dollar's stated preferred candidate from consideration," the lawsuit reads.
It continues saying, "she has never explained why she sought out Coach Dollar's input only to act in direct contravention of it."
In the lawsuit, Dollar claims that the basketball program never reached its full potential because the school was failing to uphold their end of the agreement. The lawsuit outlines an agreement Dollar made with Senior Vice President Timothy Leary, and stipulated that Hogan would be held heavily responsible for fulfilling the agreement.
The lawsuit reads, "the result of those negotiations was the Department of Athletics Seattle University First Amendment to Employment Contract Head Basketball Coach ("Amended Agreement")."
"Coach Dollar specifically negotiated…because he knew he would be unable to build the SU basketball program into a successful one," it continues.
Dollar was fired on March 13 because Seattle U stated they wanted the men's basketball program to reach its fullest potential.
Dollar's efforts during his eight years with the Redhawks helped the men's basketball team gain recognition. He led both his 2014-15 and 2015-16 teams to postseason play and got his 2014-15 team to qualify for the finals in the WAC Basketball Tournament.
In his final season at Seattle U, Dollar led his team to a 11-7 record, giving them a 1.57 wins-to-losses ratio, which was the highest it has been throughout his career at Seattle U. In addition to monitoring his teams' success in the sport, Dollar ensured academics werealways the main focus of his players.
"His teams' graduation rates were 100 percent for athletes who exhausted their four years of eligibility and his team routinely had one of the highest APRs in the country," the lawsuit reads.
University spokesperson Dean Forbes wrote in a statement released in November defending the school against Dollar's claims.
"The university determined that its men's basketball program needed a change in direction to reach its full potential. The university parted ways with Coach Dollar while still fulfilling all obligations under his contract."
The case was recently updated on Jan. 9 to grant Seattle U's motion to compel arbitration.
Arbitration will allow the University to continue to defend themselves against the claims. Forbes declined to comment when asked if the university plans to settle with Dollar outside of court.
Standing by his claims, Dollar is requesting the court to award him monetary relief, though the amount remains unspecified.
"Coach Dollar seeks a judgment in his favor…awarding him double damages for the amount of wages willfully withheld; out-of-pocket expenses, litigation costs, attorneys' fees…pre-judgment and post-judgment interest; such other relief as the Court may deem appropriate," the lawsuit reads.
Almost two weeks after Seattle U announced that Dollar would not be returning for the following season, Mike Hopkins, University of Washington's head men's basketball coach, announced that Dollar would be joining the Huskies. Dollar was hired back as an assistant coach, a position he previously held at UW from 2002-09.
The men's basketball team was asked not to talk about or get involved with anything regarding Coach Dollar, but they did include a brief statement.
"We respect Coach Dollar and also love what this school has done for us," they wrote.
The case is expected to continue throughout 2018.
Hunter Uechi may be reached at
[email protected]
Leave a Comment