The Seattle University Cross Country team concluded their 2017 season at the NCAA West Regionals at Jefferson Park Golf Course last Friday.
The women started things off in the 6K as senior Johanna Erickson set the pace for the Redhawks, clocking in a time of 21:36.0 which placed her 97th. Right behind Erickson, junior Olivia Stein finished with a time of 21:44.4. This time placed Stein 108th in the competition. Stein has currently been pushing through a knee injury.
---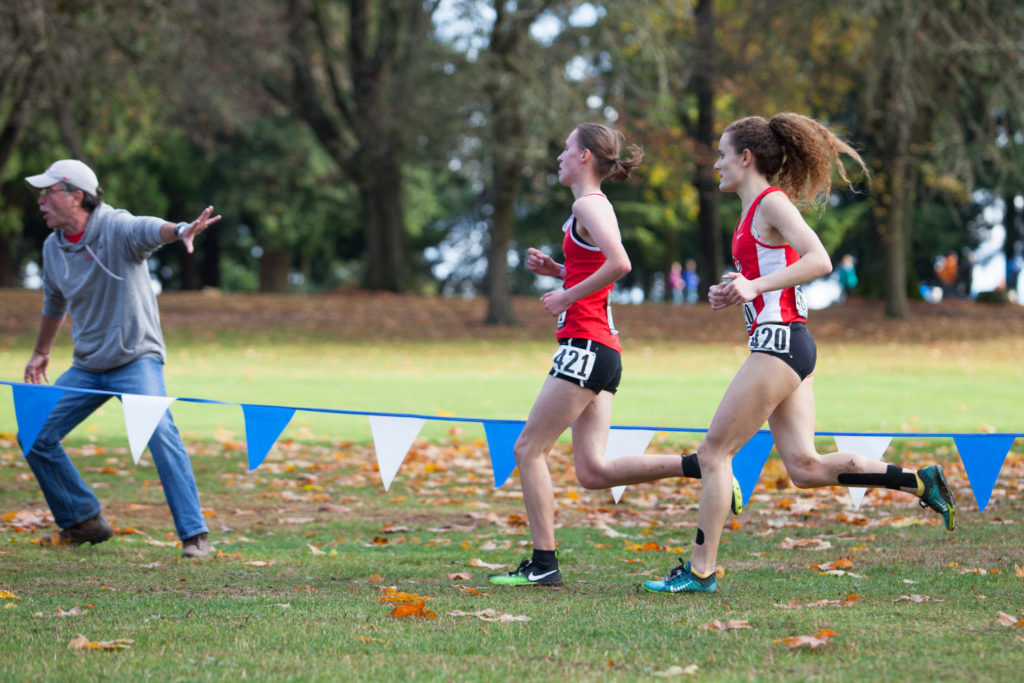 Coach Kelly tells runners their split times as they pass him on the third lap.
---
The third finisher for the Redhawks was freshman Megan Delorey. Competing in her first major competition, she finished with a time of 22:38.5. Sophomore Shannan Higgins finished her season in a time of 22:44.5. Freshman Rachel Kastama finished it for the lady Redhawks as she concluded her 2017 with a time of 23:01.9.
"West Regionals was a blast. There are lots of bodies and we got to run against some of the best in the nation, and I think we did a great job holding our own, especially since we were a little banged up going in," Erickson said. "This just jump-starts us into indoor season now that we have more miles and are being smarter with our injuries."
The men finished things off for the Redhawks in the 10K as junior Eli Boudouris lead the way with a time of 32:09.4 (122nd place). Senior Jacques Hebert finished shortly after Boudouris, placing 124th in the competition with a time of 32:11.9. Matthew Seidel finished his last cross country meet as he ran a time of 32:19.4. Senior Tyler Flannery also concluded his cross-country career as he finished at 33:13.4. Finishing out the NCAA West Regionals meet for the Redhawks was sophomore Blake Delaney with a time of 33:16.2.
---
---
"Even though we didn't have the race that we had hoped for, with the circumstances that faced us, the guys performed pretty well. We ran smart, and we ran as a team, but we just didn't have our top guys going as quick as we needed," Boudouris said. "We have a few freshmen on the team and were missing some key upperclassmen, so I have nothing but confidence that we will bounce back even stronger for the next season."
"Overall, we did okay. I think on both sides, we would have liked to have placed higher. But under the circumstances of the season, I'm pleased with the efforts and I'm really happy for especially Johanna on the women's side," head coach Kelly Sullivan said. "It was a great race for her to end the season and we're looking forward to indoor and outdoor."
The cross-country team fought hard during their 2017 season. However, this won't be the last you hear from them as they prepare for their indoor season beginning in early January.
Caylah may be reached at
[email protected]