Veterans Center Expands Resources for Former Service People
There is a population of about 380 veterans on campus working or studying here at Seattle University, each with their own unique story and experience. With Veterans Day around the corner, knowing about the multitude of resources and services offered for these veterans could help create much-needed visibility that would instill a greater sense of community within the university.
Almost three years ago, Seattle University had little-to-no resources, services or programs available on campus. Thomas Hove, who was an undergraduate student at the time, now the current Veteran's Navigator for the Outreach Center, decided to take on the role of president for the Seattle University Veterans Community (SUVC) when a lack of leadership left its future unclear.
"As a group, we sat down and started talking about our experiences navigating SU and eventually came to the conclusion that all of our experiences were experiences of us being left to navigate these systems like the VA [Veteran's Affairs], [the university] and community resources on our own," Hove said.
Hove and the SUVC planned to create an environment for the veterans that would provide them with easy access in communicating with one another, and finding outside services that would honor the benefits provided for them.
---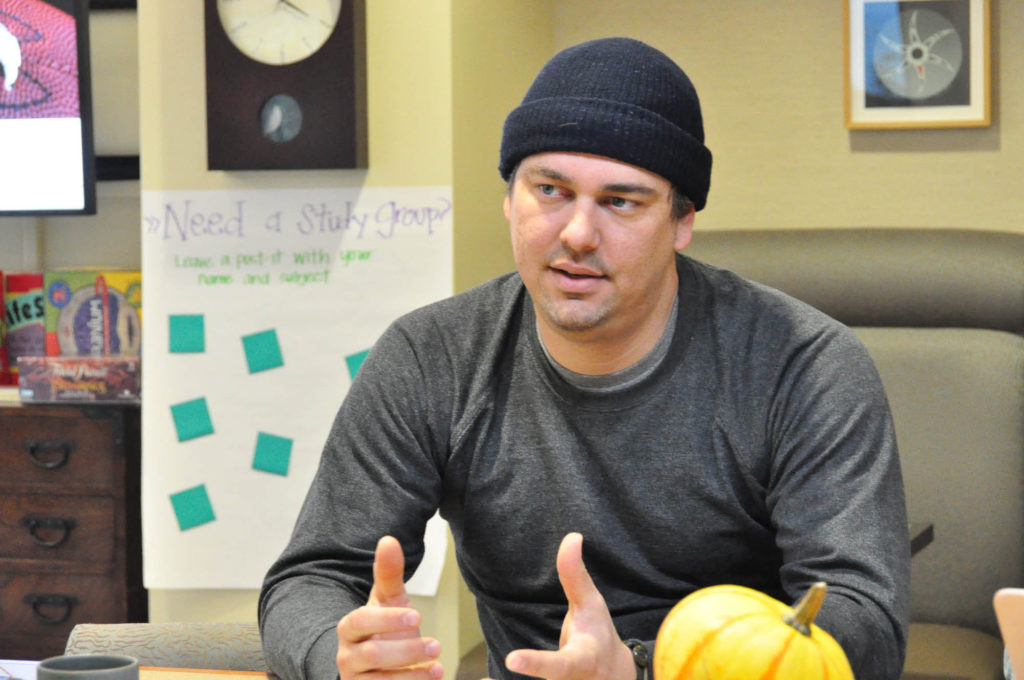 SUVC's Vice President Dan Shapiro compares his experiences as a veteran at Syracuse U. and Seattle U.
---
At the beginning of fall quarter last year, the SUVC tested out a veterans' resource center, originally called the "Redhawk Resource Hub," for these veterans to have an on-campus space to go to if they needed help with anything. It proved to be successful in bringing in students and getting them connected with services, which led to the university's development of the Outreach Center this summer—a place of support for veterans and first-generation students.
"This is a huge milestone for our veterans, military members and dependents that are on or associated with SU," Hove said. "We have the ability to get veterans connected to outside agencies, like the VA hospital or VA benefits, right there in the center."
Along with the Outreach Center, Hove believes that visibility and awareness of the veteran culture on campus from non-veteran students could help improve their overall experience in understanding their needs.
"I think our faculty, staff, leaders [and students] could all benefit from cultural awareness and learning how to best support these [veterans] through their academic, professional and personal journey here at Seattle U," Hove said.
Acting Vice President of the SUVC Drew Shapiro was pleased with how much support and services were offered for veterans at the university compared to the lack of those resources at the time of his undergraduate studies at Syracuse University. Shapiro, who is studying for a law degree and a master's degree in business administ ration, still believes that more work could be done for the veterans on campus to let their voices be heard.
"There are definitely [student veterans] out there that are feeling like they are slipping between the cracks and not being heard, and that's [SUVC's] function—to help people," Shapiro said.
Shapiro and the rest of SUVC really want to work on providing that extra assistance for the student veterans on campus. They have emphasized connecting with the rest of the student population that are non-veterans to help create and build a larger sense of community across Seattle U.
He believes this extra support would be the most helpful for VA paperwork and the Yellow Ribbon Program, a provision of the GI Bill that allows for veterans to attend private schools and graduate programs that cost more than the regular state tuition.
"We have a monthly pancake breakfast, biweekly beer crawl and coffee and donuts with a vet," Shapiro said. "We work really hard to get community involvement and not just from veterans, to connect people from the greater campus with veterans."
President of Student Government of Seattle University, Pa Ousman Jobe, is aware that many services are available for the student veterans on campus.
"I know the Outreach Center is meant to serve as a hub for the veterans' community," Jobe said. "They also help veterans in navigating the different resources accorded to them as veterans."
The SUVC will be hosting a 5k event on the observed Veterans Day, this Friday, Nov. 10 at 10 a.m., and invite everyone to come participate and get to know the veterans' community.
The editor may be reached at
[email protected]
View Comments (2)