The Seattle University Men's Soccer team (11-2-2, 5-0-2 WAC) played two double overtime games on the road this weekend. The team started off their weekend of WAC contest away games against Grand Canyon University (6-9-0, 3-4-0 WAC) on Friday in Phoenix, Ariz. The Redhawks were able to lock up an appearance in the WAC Championship for the fifth year in a row with a tie.
"Unfortunately, we gave up a penalty kick in the first half," head coach Pete Fewing said. "I'm proud of the guys for coming back." Nathan Aune scored late in the second half, forcing the game to overtime. "He squared up a really beautiful goal to get the momentum going," Fewing said.
---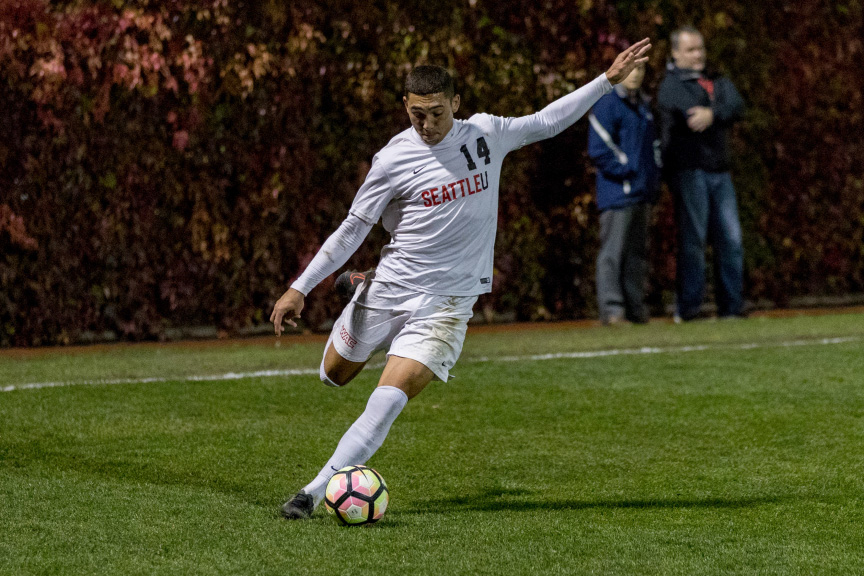 Tyler John scored the first goal in the UNLV game before suffering a serious head injury.
---
Double overtime went scoreless, finishing 1-1, despite both teams working frantically to get a shot in the back of the net. "It's tough when you're playing in these away games. Both teams put up about seven shots in overtime, and both keepers played great so neither one of us could get ahead," Fewing said.
Seattle U keeper Josh Adachi came up with four saves in the net. Fewing regarded Adachi's performance as a cornerstone of their defensive strength, as well as giving credit to the opposing keeper for holding the match at a tie. Seattle U had 29 shots, 15 on goal and 10 corner kicks, leading the nation on average in all three statistical categories.
University of Nevada, Las Vegas (8- 9-0, 5-3-0 WAC) lost their five-game winning streak on Friday against Utah Valley, before facing off against Seattle U on Sunday evening. The Redhawks were not able to hold the hosts, losing 2-1 in double overtime to UNLV.
Senior Tyler John scored off a header, assisted by Ozzie Ramos, in the 19th minute of play. It was John's first goal of the season and the first goal of the game. "[Tyler] has been a great example of work ethic and a real team player for us this year," Fewing said. UNLV countered with a goal later in the first half, tying it up by half time. After entering into a scoreless second half and first overtime period, UNLV was able to slip through the defense at the end of double overtime for a close-range goal to secure the win.
On top of the loss, John suffered a head injury that left him hospitalized in Las Vegas after his goal against UNLV. "We're hoping he is going to be okay but we lost him for his senior season," Fewing said.
The Redhawks were unable to come up with a win this weekend, making their record 11-3-3 as they get ready for the upcoming week before WAC Championship play.
Jacqueline may be reached at
[email protected]