Self Defense Workshops Empower Students at Seattle U
As students settle into life on campus, they also may begin to ask about how to stay safe, especially as the daylight hours are getting shorter. In response, Seattle University Public Safety and Student Development partnered to host two free self-defense workshops for students.
During the two events, members of the Women Against Violence Everywhere Foundation (WAVE), gave advice for behavioral and physical techniques for avoiding and combating assaults.
Craig Birklid, Executive Director of Public Safety and Transportation, spoke on the importance of self defense workshops like these.
"The cool thing about this program is it teaches you some basic skills that you don't have to be an expert, but they're simply designed to get you away" he said.
The program at Seattle U, run by Meggan Atkins, Annie Beyer and Caleb Gustin of WAVE followed an empowerment model. The focus was on assault prevention, increasing assertiveness, setting boundaries and honing intuition.
Though there was a focus on prevention, the facilitators stressed that assault—sexual or otherwise—is never the victim's fault, despite patterns of victim blaming.
Joanne Factor, owner of and instructor at self-defense company Strategic Living, led a similar class earlier this month at Capitol Hill venue Chop Suey and pointed to power and fear as some reasons for victim-blaming. She said that people want to think they can avoid being in the same situation, and one way to do so is to point to a "rule" that the victim broke.
Despite these fears, Factor stresses that it is always the perpetrator's fault.
"Nobody ever asks to be assaulted," she said. "But you hear that 'she was asking for it.'"
Factor said that social power could give someone the idea that it is okay to treat someone like an object, as is the case in sexual assault.
At the program at Seattle U, the WAVE Foundation stressed the importance of trusting intuition over the urge to be polite. Atkins noted the pros of protecting oneself over the fear of embarrassment or backlash. She stressed the importance of using one's fear to tell them when they are uncomfortable and of listening to that fear.
---
Seattle University's Public Safety partnered with The WAVE Foundation to put on an event, "Seattle University: Empowerment Self-Defense Workshop" which spreads awareness about safety, on and off campus.
---
Atkins also said that perpetrators would often use boundary tests to measure a potential victim's confidence. This could be an invasion of space, an unwanted touch or a request to use the other's phone. It is when the victim fails this test that the perpetrator would use a debilitation tactic or isolation to create an opportunity. This would be something like getting the victim intoxicated or getting them alone or cornered.
In order to prevent that opportunity from coming up, Atkins encouraged students to use confidence and their voices to deter perpetrators. She noted that it is important to convey confidence even if it's entirely fake. She told students to match the intensity of the boundary violation with increased volume or tone of voice.
"Your voice is going to center you, it draws attention to what's going on and it scares the perpetrators," Atkins said.
"To be a responsible bystander, the facilitators recommended discouraging, preventing or interrupting assault only when safe to do so. They again noted the importance of intuition to know when someone is in an unwanted or uncomfortable position.
Using the "three Ds" of bystander intervention—direct, delegate and distract—Atkins and Gustin demonstrated ways to safely intervene when noticing someone in a possibly dangerous situation, noting that how one would go about this would depend on their comfort level.
Gustin recommended intervening even when unsure that there is something wrong or how they can help.
Gustin also spoke on consent, saying that it is an ongoing process and that consent on one day does not mean consent forever. When giving consent, Gustin noted that one's answer should be respected.
"Yes means yes and anything else is a no," they said. "No is a complete sentence."
---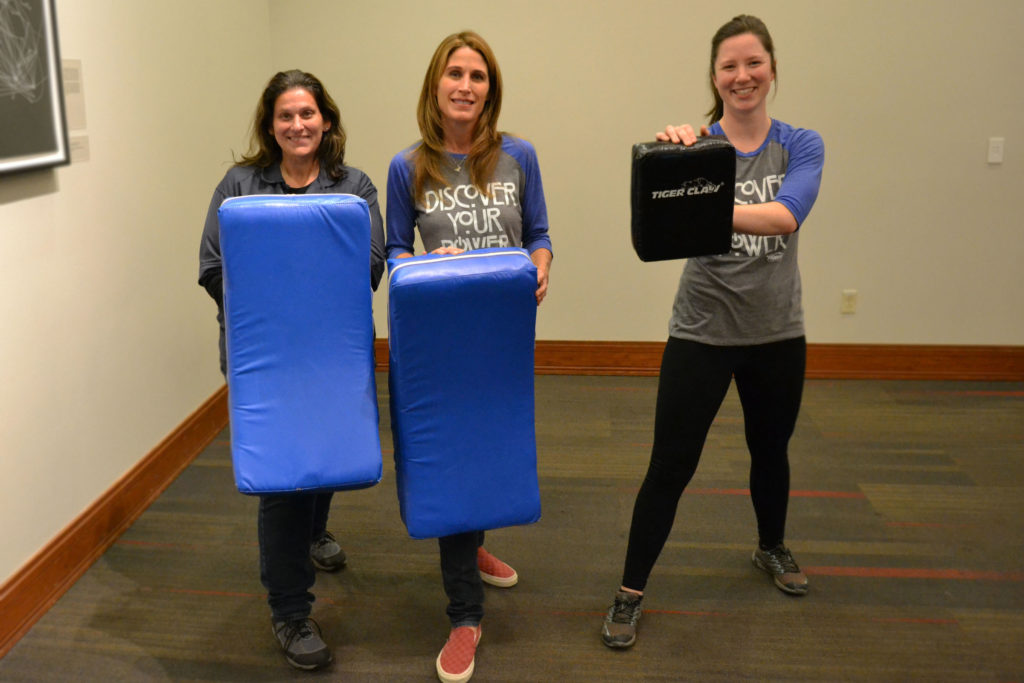 From left, Dominique (Nikki) Maryanski, Assistant Director of Operations at Public Safety, Meggan Atkins, WAVE Foundation speaker, and Annie Beyer, WAVE Foundation speaker.
---
Lastly, Beyer gave instruction on techniques to use in the case that one's behaviors do not deter a perpetrator. She stressed however that voice should always be used first.
"Fighting is always an option of last resort," she said.
Beyer recommended looking for primary targets of the eyes, knees and throat, using whatever is free to stop the attacker for long enough to run away. She noted that the stomach is not typically effective and that one's knees and elbows make for good tools. She then coached students through these techniques themselves.
Student Lexi Fort spoke on her biggest takeaway of the session.
"I think really it's to be confident in myself and to just trust in myself and to not worry about what's going to happen but just to be in the moment and trust in myself and use that confidence to push myself forward."
Sofía may be reached at
[email protected]