Time Out Session: Jim Hayford
Jim Hayford explains his hopes for the men's basketball program as he starts his first season with the Redhawks as head coach. In his 18 years of coaching college basketball, he has a 360-175 record and a NCAA tournament appearance with Eastern Washington in 2015, where he coached for six years. He is one of the promising additions to the revitalized Athletic Department.
Q: What was the process like for choosing Seattle U as the next step in your college coaching career?
JH: It's an honor to have this position. When Seattle U reached out to me to gauge my interest and get to know me more, I was excited by the possibility. At the same time, I really enjoyed what I had built at Eastern Washington as head coach. With each step in the process and the more people I got to know, the more I felt this would be an excellent move for my career, to partner with great people, great leaders and a great mission at Seattle U.
---
Coach Jim Hayford and sophomore, Morgan Means, on the sidelines during practice.
---
Q: What does being a head coach at Seattle U mean to you now?
JH: It's a great opportunity to use the platform of instate Division I College Basketball to improve the program and build the program. It shines a light on the university and more people can see all the great parts of Seattle U. When done right, college basketball at the Division I level can be a great way of helping every other part of the campus.
Q: What does the new roster look like this year, and what will the new and old players bring to this season?
JH: We have a core of really good players returning who I expect to play very well. We complemented them with two other groups. The first group is three graduating transfers, so we have three immediately eligible seniors athletically who are graduate students at Seattle U. We expect those three guys to give leadership and production, and if we hadn't brought those guys in, we wouldn't have had any seniors on the team, so it was something we needed. The second group of transfers is four guys who are redshirting, who have all had success in their college careers and wanted to come to Seattle U, and we're glad they did. However, they have to sit out a year before they can play.
Q: In addition to the line-up, what other changes have you made to the program?
JH: We hired a whole new staff. I feel really good about the leaders that we brought in to accompany my leadership. We have a new strength and conditioning coach as well, so there are some new aspects to how we're training our players as athletes. In addition, we're also partnering with a new athletic administration. I guess you could say almost everything is new.
---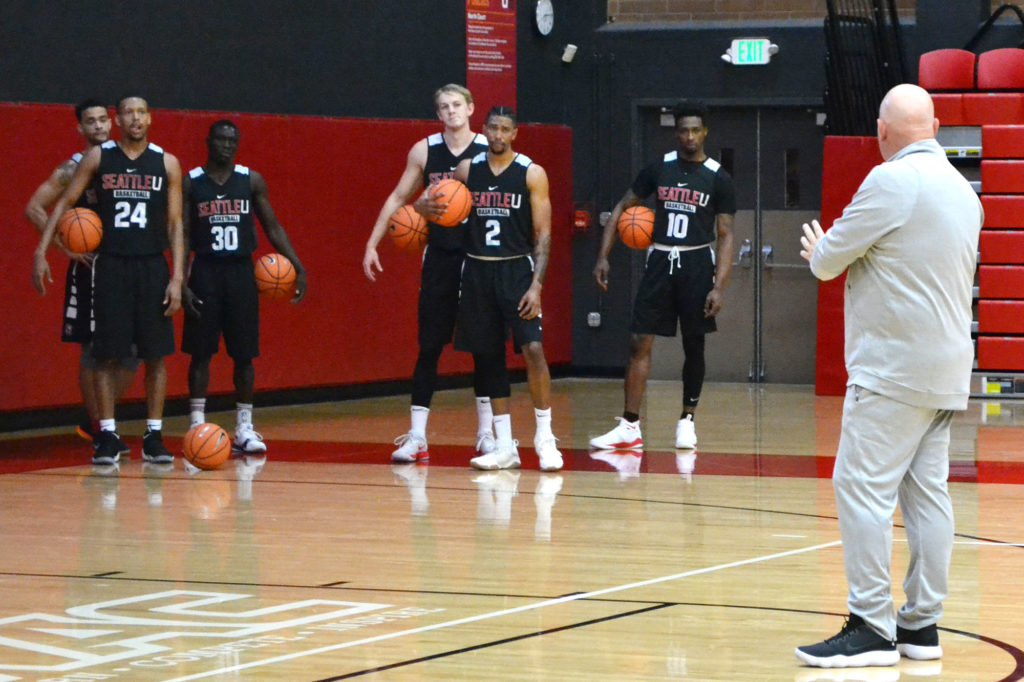 The head coach of our entirely new basketball staff, Jim Hayford, has high hopes for the Redhawks this upcoming season.
---
Q: How do these changes funnel into a goal you have for this season?
JH: My goal is to help every player I coach reach their full potential, as a person, as a player, as a student and finding their purpose and meaning in life. That, first and foremost, is how I gauge success: how am I helping the guys who call me coach in their life development process? Secondly, my profession is judged by wins and losses. And we need to start having consistent winning seasons at Seattle U basketball. So, I want to build our program so that we are consistently winning.
Q: With your first game only a few weeks out, what are the strengths of this newly revamped team?
JH: We have an outstanding post presence in Aaron Menzies. We are going to compliment him by surrounding him with some really good shooters, space the court, shoot a lot of threes, be stingy on defense, and take good care of the ball. We are going to try to win two parts of the game. The first is the percentage game where we're shooting a higher field goal percentage, and our defense is limiting the other team to a lower field goal percentage. And then winning the possession game, which basically means we will have more opportunities to score than the other team because we're out rebounding them and we're having fewer turnovers.
Q: What are still some challenges or areas of improvement that you and the team are striving for?
JH: Each guy is really working on becoming a better shooter, but what really has our attention collectively is that we're all about building a brotherhood because the closer that all of us become, as a group, will have a direct correlation to our performance on the court.
Q: What can we expect from this season as opposed to seasons in the past?
JH: Well, we're going to score. We're going to play up to a higher level of basketball, and what I hope is that the Seattle U basketball games become a fun party for students to gather at and enjoy one another and have a good time.
Jacqueline may be reached at
[email protected]
Leave a Comment