Common Text Author Eula Biss Speaks About Ignorance
An integral part of Welcome Week for many years has been the reading and discussion of a common text. Last year, the common text was "Kindred" by Octavia Butler, and this year, the common text was a controversial collection of essays titled "Notes from No Man's Land," written by Eula Biss.
This book consists of Biss's personal essays about her experience with race as a white person. The controversy resulted from Biss's race as a white woman, leading many to question her authority on the topic of racism.
In an effort to continue the discussion surrounding this common text, Seattle University invited Biss to the campus, where she spoke about her essays and had lunch with a group of selected students.
---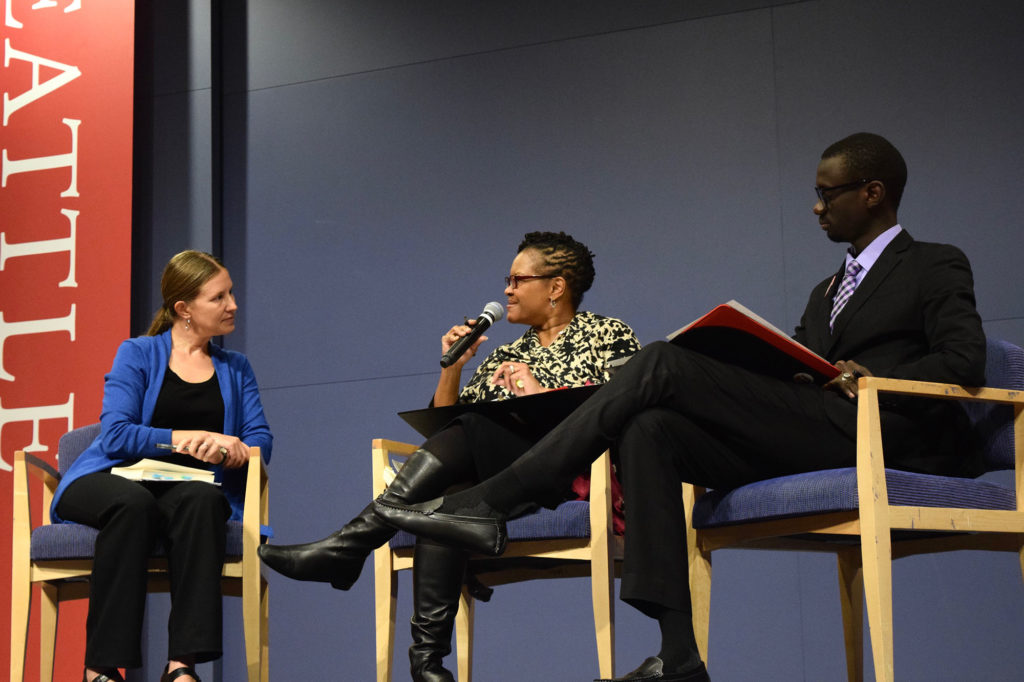 Natasha Martin, SU's Vice President for Diversity and Inclusion, engages with author of Notes from No Man's Land, Eula Biss.
---
Biss said at the event that her writing came from a place of self-reflection, rather than trying to discuss racism.
"I didn't think that I was writing a book and I didn't think I was writing one about race," she said. "I was writing because that was something I needed to work through or grapple with."
During the discussion, Biss analyzed her own book through the lens of "white ignorance." She said that her book brought to light the ignorance of others, a well as her own ignorance. It is this white ignorance that has caused many people to push "No Man's Land" aside.
Professor of English and Women & Gender Studies Mary-Antoinette Smith said that Biss seemed deeply invested in anti-racist work.
"She was extremely receptive and interested in what I had to say," Smith said. "My sense was that she's invested in her learning and growing experience as a white woman as she grapples within herself and with the complexities of the racial divide around her."
Even though Biss was able to be published, a privilege not always received by people of color, it was very clear from her talk that she wants to learn and improve her knowledge in every way that she can.
Biss's event included a question-and-answer session, where she spoke on a variety of topics, including her thoughts on the state of the nation right now.
"The only thing that seems to me something like progress is that we seem to be having something of a national conversation about white supremacy right now," Biss said.
---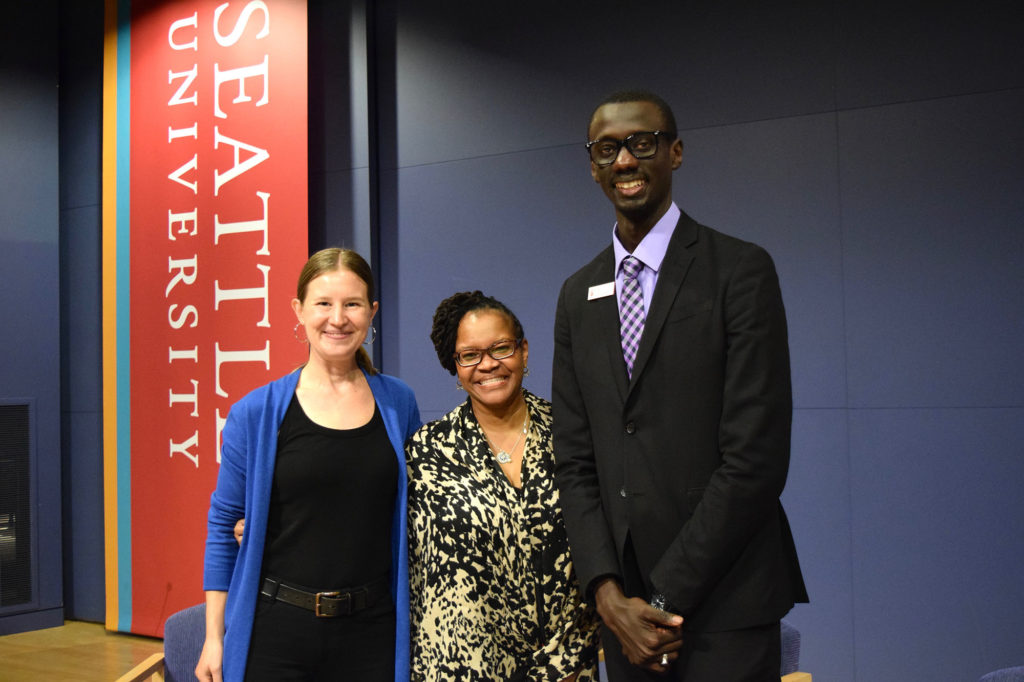 Natasha Martins and Pa Ousman Jobe led the discussion with author Eula Biss at the reading of her book, Notes from No Man's Land in Pigott Auditorium.
---
After attending the separate lunch with Biss, Senior Creative Writing major Alicia Ezekiel-Pipkin commented on Biss's interest in the community.
"Like in her book, she was interested in learning about the human connections around her and within the Seattle University community," Pipkin said.
However, Smith found frustration in the mistakes of white people as they unlearn institutionalized racism.
"It is intolerably frustrating to have to wait while presumably well-meaning whites continue to try to evolve and become better allies and advocate in terms of our struggles— particularly since whites are the perpetrators of some of the distressing realities which plague us," she said.
Although many critics believe that a person of color would have had a more genuine outlook on the way that the deep-rooted racism within this country has affected them, Biss believes that the voices of white people still have a specific place in this conversation.
"That's another privilege of whiteness," said Biss. "The role you are expected to play as a white person has a lot more variation than other identity roles."
Smith agrees that Biss did have a place to write this book, but she believes that the nature of how she wrote it remains problematic.
"She wrote this book as a series of thoughts and reflections for herself," Smith said. "She simply had the good fortune to have it find its way into print. I do call into question, however, the fact that she's been given so much notoriety for having written the book, and I would not grant her the position of being an authority on race relations because she authored these reflections."
The editor may be reached at
[email protected]
Leave a Comment