Volleyball's Loss on Thursday Doesn't Crush Redhawk Spirit
Last Thursday as the Seattle U Redhawks volleyball took the court to face the New Mexico State Aggies, the team cheered confidently and enthusiastically high fived each other. They knew that this would be a tough game, but they seemed determined to give it their all.
---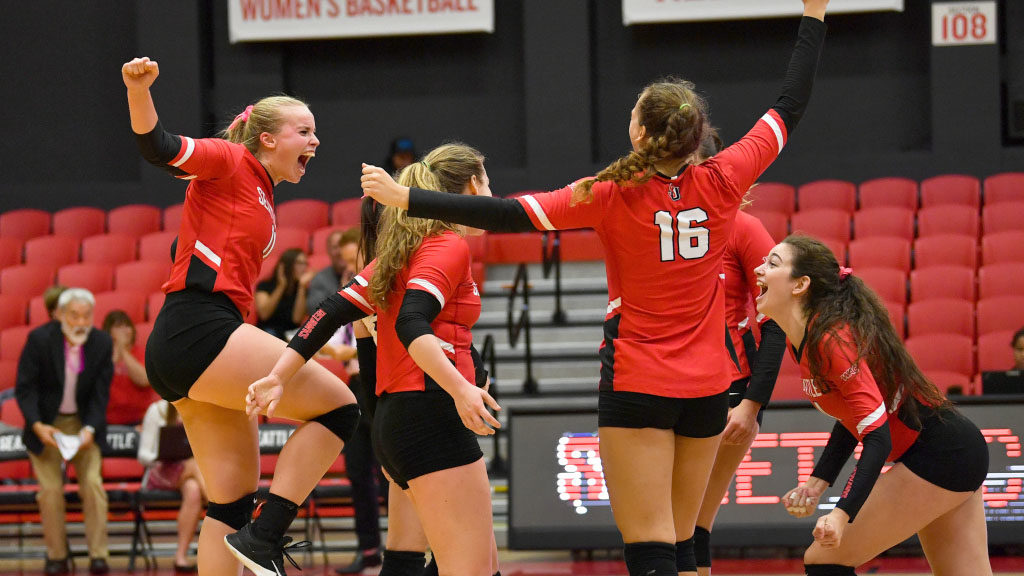 The Redhawks celebrate as they attempt to come back in the third set against the Aggies.
---
"The New Mexico State Aggies are an amazing team, and they always push us to play our best. We know that to play them we have to come out and perform," said Shae Harris, setter for the Redhawks.
It was a rough start to the first set, as the first three points went to the Aggies. The Hawks continued to fall behind. Some solid blocks, an ace by Michelle Taynton, and a kill by Katarina Marinkovic brought the score to 13-8. The Redhawks were on their game, and it seemed entirely possible that they would rally and catch up with the Aggies.
Unfortunately, the team was not able to make an epic comeback, and the first set went to the Aggies with a final score of 25-13.
The second set started out on a hopeful note as the Redhawks took the first two points. Smiles could be seen on the team's faces as they continued to play an impressive game, bringing the score to 5-2. The Aggies rallied and caught up, and a game of back and forth begun. The set was tense and the Redhawks stayed right with the Aggies until the end, when New Mexico State pulled ahead and took the set, 25-19.
The Redhawks struggled in the start of the third set. The team's frustration could be felt as one Seattle U player kicked at the ball in a last-ditch attempt to save a lost volley. The score was 8-2, and everyone seemed to be wondering if hope was lost.
Whoever suspected that the team would give up was sorely mistaken; the ladies worked as a team to deliver nice passes, sets, and powerful kills. A point occurring from a tip of the ball from Maja Stojanovic tied the game up. The lead fluctuated between the two teams, and the Hawks seemed determined to make something happen, giving the Aggies a run for their money.
The Redhawks were unable to make an incredible comeback and ended up losing 25-21, but talent and determination showed in the final set. Harris was on her game with 21 assists.
Head Coach James Finney acknowledged that the team struggled with consistency, but he was proud of their efforts nonetheless.
"I really like this team. We are just really young, but we compete so well. Sometimes we make errors in the crunch time, but I think they worked really hard and followed the game plan," Finney said following the game. "I think we did well defensively and passed well, but we are just going to try to generate a more consistent offense,"
The Redhawks went on to win their game Saturday against University of Texas Rio Grande Valley, proving that one lost game cannot crush the Redhawk spirit. As Harris said, "We've got a great group of girls, and it can only go up from here."
Bailee may be reached at
[email protected]
Leave a Comment