Seattle Struggles with Ever-Changing Mayoral Office This Summer
Seattle will have its fourth mayor this year in November. Throughout the bizarre mayoral race of 2017, many initially thought that Former Mayor Ed Murray would be a strong incumbent mayoral candidate. However, as a result of an array of sexual abuse accusations, Murray retracted his re-election bid and eventually resigned later in the summer.
---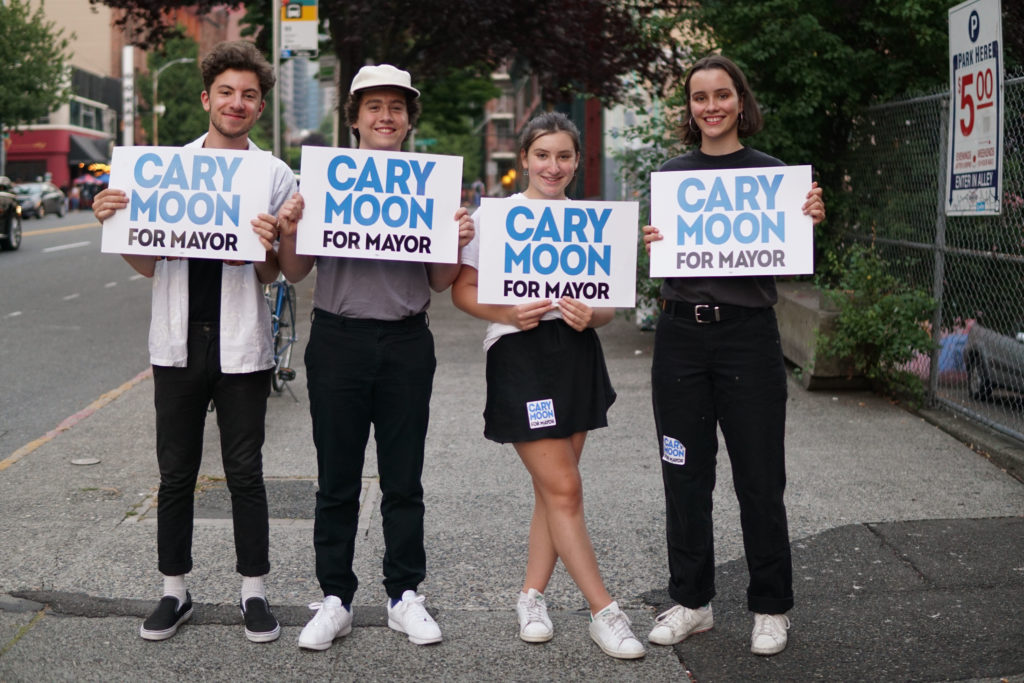 Cary Moon's children, middle, standing alongside their childhood friends as they show support for the candidate.
---
Even though he resigned in September, the first allegations of abuse began in 2007 while Murray was serving in the State Senate. That year, Murray's former foster son, Jeff Simpson, hired a lawyer to pursue legal action against Murray concerning repeated sexual abuses that occurred in the 80s while Simpson was under Murray's care.
Due to the amount of time that had passed, a lack of information, as well as the statute of limitations the case was never pursued. However, Simpson going public with his allegations prompted another man, Lloyd Anderson to come forward with similar claims in May of 2007.
Due to a lack of both concrete evidence and media coverage, the accusations gained little traction.
However, this all changed in April of this year when a third victim, Delvonn Heckard, stepped forward and filed a lawsuit against Murray. A month later, a fourth victim, Maurice Jones, stepped forward saying that Murray had paid for sex with him while he was a teenaged drug addict.
A week afterwards, Murray retracted his bid for re-election in a press conference.
"The allegations against me are not true, and I say this with all honesty and with the deepest sincerity," Murray said. "But the scandal surrounding them and me is hurting this city."
Political Science Professor Patrick Schoettmer said that Murray's decision to abstain from running for re-election directly impacted the way in which the summer's mayoral primary unfolded.
"[Murray] dropping out basically opened up the door to us having a 22-candidate race," said Schoettmer. "If he would have stayed in, there would have been a few favorites, but he would have been the presumptive favorite to win the election."
On Sept. 12, The Seattle Times published allegations from Murray's own cousin, Joseph Dryer, which detailed a series of rapes and abuse throughout the 70s. Murray, whilst vehemently denying all of the allegations, resigned later that day.
There are countless questions left unanswered in the wake of all of these allegations, but Seattleites were left with one particularly important question after Murray's resignation: Who will become the new mayor?
Mayoral candidate Carey Moon standing by her supporters after she came in second place behind Jenny Durkan.
In the aftermath of Murray's resignation, the city charter states that the City Council President, Bruce Harrell, had five days to decide if he wanted to serve as mayor until Nov. 28. Harrell declined, and the city council was tasked with appointing another council member as interim mayor.
Tim Burgess, who was serving on city council, was elected in a 5-1 vote to serve out the remainder of the term. With only 71 total days in office, Mayor Burgess won't be making any radical changes to city policy.
However, he will be making key decisions concerning the city's budget and has been pushing a plan to try to secure Amazon's second headquarters in the Puget Sound region.
Schoettmer said Burgess isn't likely to make any major changes to city policy over the next 71 days.
"Burgess has always been seen a moderate bulwark on City Council," said Schoettmer. "He is not a departure [from the Murray administration]."
The Burgess administration will be short lived, and by the end of the year, we will have elected the first female mayor of Seattle since 1926.
Of the 22 original candidates, only two made it past the primary in August. Those two candidates will be on the mayoral ballot in November. Jenny Durkan and Cary Moon emerged from the August primary as the two candidates for the November election.
Durkan, a former U.S. attorney, won the August primary with 27.9 percent of the vote. Urban planner Moon came in second place, winning 17.6 percent of the vote, narrowly defeating community organizer and lawyer Nikkita Oliver, by a margin of 1.3 percent.
Either Durkan or Moon will become the mayor on Nov. 28, once the election results are certified, rather than in January, as is typically the case, due to Murray's early resignation.
In order to vote in the mayoral election this November, voters must be registered in Washington state. The deadline to register is Oct. 9.
Author may be reached at
[email protected]
Leave a Comment