Kelly Sullivan Becomes New Head Coach of Cross Country
Men's and women's cross country and track and field are under new leadership as the recently hired Kelly Sullivan takes the reins of the program.
---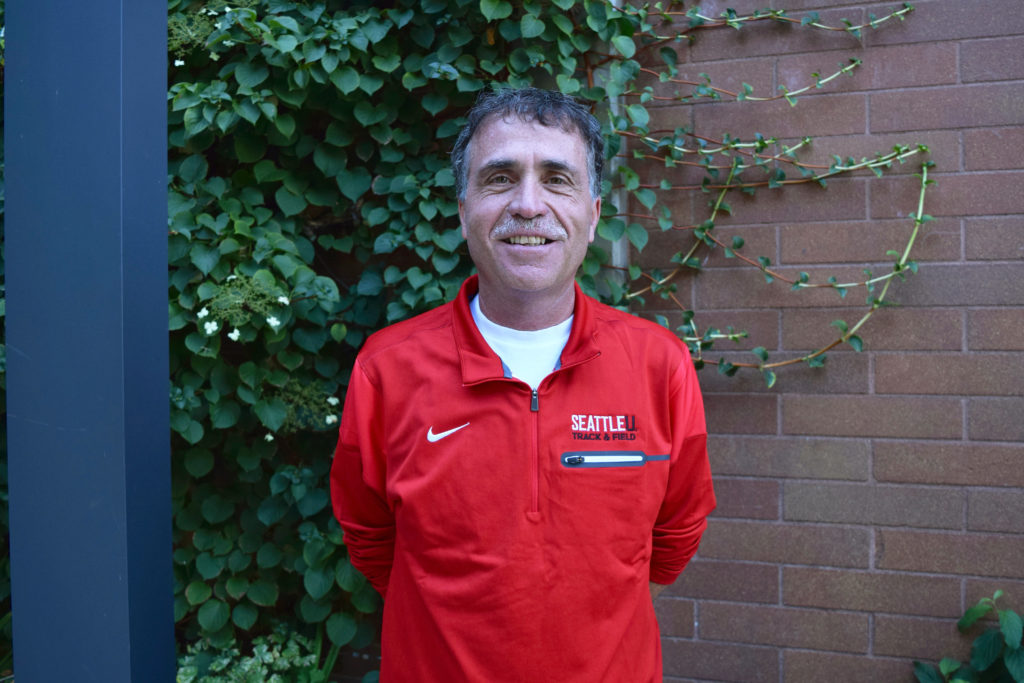 Coach Sullivan himself attended Clackamas Community College and Willamette University graduating with his bachelor's in history and exercise science.
---
Sullivan is entering his 37th year of coaching and has been working with the track and field athletes for just over a week and the cross country teams for just over five weeks. He is experienced in every aspect of coaching the two sports, but most importantly, understands the importance of building a positive team culture.
"Building relationships is really big. I've learned over the years you really don't know a kid until you know them. You just can't assume, you have to spend time getting to know people," Sullivan said. This has been something Sullivan has been doing since first stepping foot onto campus when at his interview he had the opportunity to meet nine current students.
"I was just really impressed," Sullivan said of the students he met that day. "It's really important who you work for but it's really important who you're working with."
Sullivan expressed how the more he learned about Seattle University, the more he saw a reflection of his own views and values, especially in educating the whole person.
"I never want to push kids too hard. Some of these kids are working jobs, internships, some are busy nursing majors. "Overall we've got to take that into consideration and realize that rest and recovery are really important," Sullivan said. He emphasized that practice should be "the highlight of their day" and that it should not be stressful.
"I really want them to drop the rest of the world off before they get there but as a staff we have to do the same," said Sullivan who constantly stresses the importance of culture and speaks highly of the supportive and caring culture already established.
Outside of his Catholic roots and his alignment with the University's values, Sullivan is excited to have the opportunity to coach both men and women again, something he did not have the opportunity to do for the last 13 years.
Sullivan most recently finished a 13 year tenure at OSU which has no men's cross country or track and field program. Upon taking the job at OSU in 2004, Sullivan was tasked with completely restarting a women's track and field program that had been on a 16 year hiatus due to budget cuts in the late 80s. Starting with only a distance program, he took the opportunity head on.
"We went from having no program, no scholarships, no track facility to raising over 10 million dollars to build one of the best track and field facilities in the country, and having fully funded, fully staffed team competing in every event," Sullivan said. He saw through this full rebuild and stepped down last May feeling he had completed what he set out to do and had left the university in great shape moving into the future.
Sullivan himself attended Clackamas Community College and Willamette University. In his days as a collegiate athlete, he earned All-American Honors in cross country and placed third at Nationals in the 3,000 meter steeplechase, his specialty in track.
Prior to his time at Oregon State, Sullivan held a variety of other coaching jobs. He started his career by returning to Clackamas Community College in 1980. By the time of his departure in 1984, Sullivan had put together an impressive track and field program specializing in distance events. In his final year at Clackamas, Sullivan had six distance runners being recruited by Division I schools. In 1984, Sullivan was contacted by Auburn University in Alabama and took on the role as head coach of the men's and women's cross country teams and as an assistant coach for the track and field team.
Throughout his tenure at Auburn, Sullivan crossed paths with the likes of Bo Jackson, Charles Barkley, and Frank Thomas who all attended Auburn while Sullivan coached at the university from 1984 until 1996.
Now, with his new opportunity at Seattle University, Sullivan is focused on the present. He is not yet ready to speak on or speculate about the future of the program.
"Our main objective is to work with the kids we have right now and do a great job with them," Sullivan said. "Then we will start thinking about what we want to do with the program going forward."
Without hesitation, Sullivan states the biggest accomplishment of his career has been "the relationships" going on to talk about former athletes, coaches, and other colleagues that have stayed in contact over the years. "I've got emails from athletes all the back to the beginning of my coaching career, somehow they found I was here," Sullivan said. "You really just can't put a price tag on knowing that those people still think about you."
The relationships Sullivan has built and the importance he places on them show exactly the kind of coach and person that Seattle University now has on staff.
Editor may be reached at
[email protected]
Leave a Comment