Father Sundborg Enters Last Term as University President
In his convocation speech to the class of 2021, President Fr. Stephen Sundborg, S.J., announced that this would be his last term as President of Seattle University. Having served the community for over 20 years, Sundborg has seen the university through many institutional changes.
---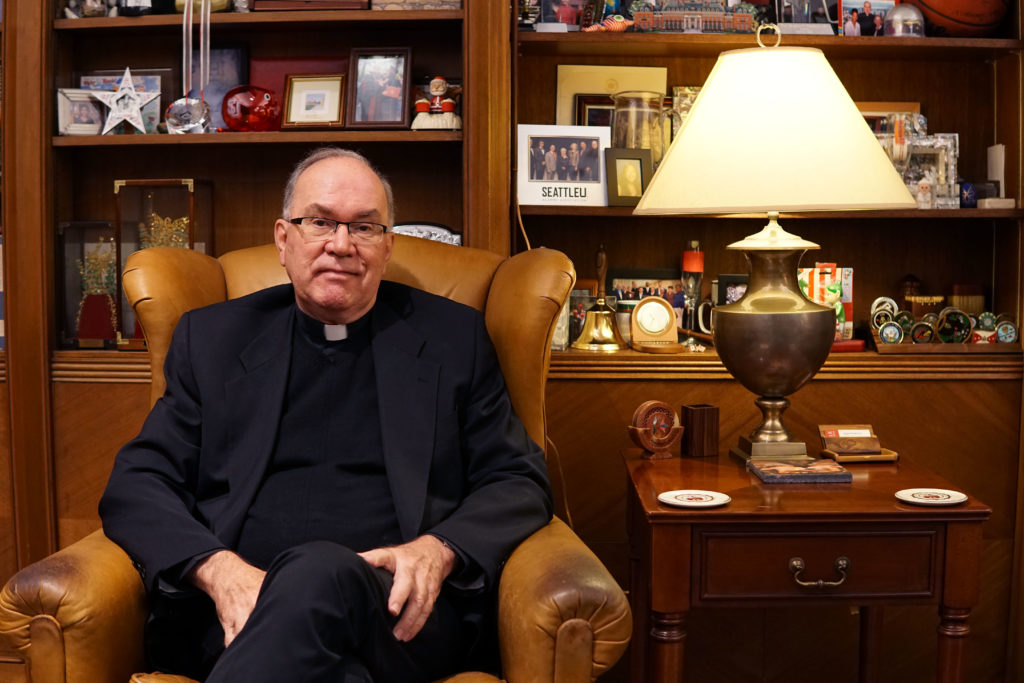 President Fr. Stephen F. Sundborg, S.J. was elected for another term, his last, last Fall.
---
SB: What brought you to Seattle University?
Sundborg: I had been a teacher from 1982 to 1990. I loved Seattle University and so I applied to be the president, went through an ordinary interview process and was chosen.
SB: What are some of your biggest accomplishments since becoming president at Seattle University?
Sundborg: The biggest thing that I've accomplished is helping to develop the university to have a mission. We've grown over these years. Two new colleges. One of them is the school of theology and ministry that was started the same day that I started as president, and then the school of new and continuing studies has begun since then. We brought the law school here, we built the student center, we built the new library, McGoldrick Commons. There's a lot of development that the university has had…. When I came here we were a D3 school, and after two years, we became a D2 school, and then after 10 years we became a D1 school. So, I wanted to position Seattle U, in regards to athletics, at the same level that I think we are in academic quality, and to be a school like us and 7500 students, that makes a lot sense to position yourself as a D1 school as well.
SB: What's the most challenging obstacle you have faced since working at Seattle U?
Sundborg: The biggest challenge is how to make our education affordable to our students and to their families. How do you make it possible for students to attend Seattle U? We want students to be able to come here regardless of what their economic background is, who have accomplishments and the desire to be at this kind of university. [The issue of affordability] has been the biggest challenge of all.
SB: What's it like working in the sphere where you'll make hard decisions knowing people won't like it?
Sundborg: I recognize I'm the face of the university and I do have to make some of critical decisions for the university. I think people at the university have a sense of who their president is, that I'm not some withdrawn authority figure… And that makes it easier… like making decisions. [I've been] pretty firm when I've made them. I'm not a thin skinned person, I'm not a person that gets undermined by the criticism that comes. I understand that's just apart of leadership. You need to roll with it.
SB: Have you acted on a decision you wish you had approached differently?
Sundborg: The hardest thing was the Matteo Ricci College occupation and the decisions that came out of that, that was a painful experience for the university. I dealt with it as best as I could, I don't know how I could've done much better. It was an unresolvable difficult situation. When I look back and see what that was and what came out of it— I don't know, maybe I could've done better in that situation… how I engaged with the issues that were involved. That's the most painful time of my 20 years.
SB: What is one piece of advice you would give a student to live by?
Sundborg: Find the way, in whatever you do, to be who you really are and to fulfill the responsibility of what you're doing. Be who you are in living out your job, your career [and] your position, but make sure you are who you are… That may sound like an easy thing to learn, but it's not.
SB: What are you looking forward to in these next four years?
Sundborg: I'm looking forward to advancing the mission of the university more than anything else, so I hope that when I finally retire from Seattle U, I would hope that the mission of the university is stronger than it's ever been and helps carry the university forward.
SB: What is some advice you would give the next president?
Sundborg: Be yourself as soon as you can. Just find the way to do the presidency as the person that you are. I would also say trust the mission. Trust the mission of the university. We stand for something, we have a set of values. Learn it and trust it.
Shelby may be reached at
[email protected]
View Comments (1)