TEDx Highlights the Innovators and Visionaries at SU
Seattle University recently hosted its very own TEDx event called "Shaping Upcoming Generations" that showcased speakers and students considered to be positive influences for future generations. Each presenter's insight varied from education to advocacy and uplifting the youth in the traditional TED talk format.
---
SU hosted the Shaping Upcoming Generations TEDx Talks in Pigott Auditorium.
---
One panelist, Masashi Sato, a senior computer engineering and computer science student at Seattle U, spoke about his role in trailblazing new intersections of education and virtual reality.
Sato helped develop a new way for educators to utilize virtual reality headsets and programs in the classroom. This technology can be used in a variety of ways, including helping students with grammar and reading.
"You're there interacting with the story around you, being apart of it," Sato said. "The auditory, the visual and the physical reinforcement, all engaging the student at once."
Sato also emphasized the revolutionary nature of virtual reality and how it translates to the classroom.
"Imagine staring at a picture of the pyramids in a textbook," Sato said. "Now imagine standing there, beneath the pyramids, looking up at vastness. Which is more engaging? The picture? Or being there?"
Bernadette Lagman also spoke on the TEDx stage last Saturday. Lagman graduated from the University of California Davis, and then moved to Seattle for business. She took the opportunity to speak about her experiences with education and sense of self, and finding comfort in uncomfortable spaces.
Lagman's narrative came from a place of coping and how her experiences without opportunity evolved into her passion for pursuing them.
"No matter how limited my resources may seem, I am not defined nor rejected by my circumstances," Lagman said. "For those of you that have grown up in disadvantaged communities filled with negativity and resistance to change, getting into university was a huge milestone in creating a change in our lives."
Lagman coached the crowd with her personal experiences alongside advice for how to overcome situations of hardship by pursuing an education.
"I decided to use my negative energy and harness it to do something productive," Lagman said. She also identified the natural anxiety that accompanies change.
"It can be terrifying at times," she said. "Adjusting to new jobs, new friends, new cultures, it truly is the art of being comfortable in such an uncomfortable space."
---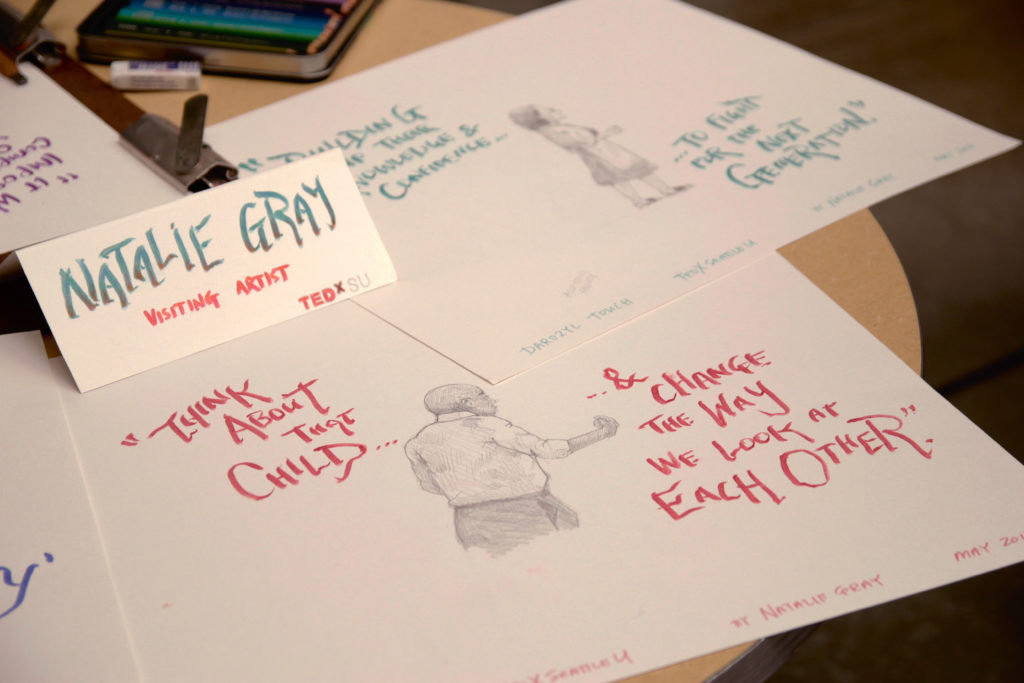 The visiting artist, Natalie Gray, designed sketches of the guest speakers during the TEDx talks.
---
Marcus Hayden was another presence that took the TEDx stage. Hayden is a mentor and an advocate for the youth and works to uplift and promote younger generations around him. His motive for speaking was to share how he believes one adult can make a world of difference for a student.
Hayden helps with restorative justice and healing with young at-risk students,and works alongside them to help guide their success. He believes that each student has a "legacy of greatness," and that legacy can be fostered through the willingness to help and support others.
"We know that advocacy and action is what this looks like, it looks like everybody supporting that person," Hayden said. "It takes an unwavering level of commitment to the cause of the young people."
Lastly, to wrap up the panel was Seattle U student Will Tipping, a senior strategic communications major. Tipping worked for multiple non-profits aimed at helping the lives of impoverished families and youth. He talked to the audience about the importance of having faith in youth, as well as supporting them unconditionally.
"In popular media representation, is this idea that youth are generally unconcerned, selfish, lazy; that's what publications talk about our generation," Tipping said. "The constant repetition of this rhetoric causes us to self-define."
To Tipping, self-definition is the cause for problems within younger generations, as well as arenas of community change because it stunts the potential of young students, instead of encouraging them to go forward and make a positive community change.
"If we don't continue to challenge this negative representation that we see about younger generations, the youth, as well as our negative perspectives on how we see the homeless, the impoverished and people who are going through tough situations in life, then we're never gonna get over that idea," Tipping said.
Throughout his speech, Tipping drove the point to his younger listeners that "you have the power to change the world, you have the freshest take on everything," and to the older listeners, "Thank you. Without you we wouldn't be here," Tipping concluded.
Other speakers on the panel included Raymonda C. Reese, Rick Newell, Dominique Davis, Darozyl S. Touch, and Glenn McCray. More information about TEDx events at Seattle U can be found at seattleuniversity.wixsite.com/tedx.
Maddy may be reached at
[email protected]
Leave a Comment