Half Japanese and 100 percent sassy, junior journalism major Nick Turner will take the lead as the editor in chief of the Spectator for the 2017-18 academic year.
---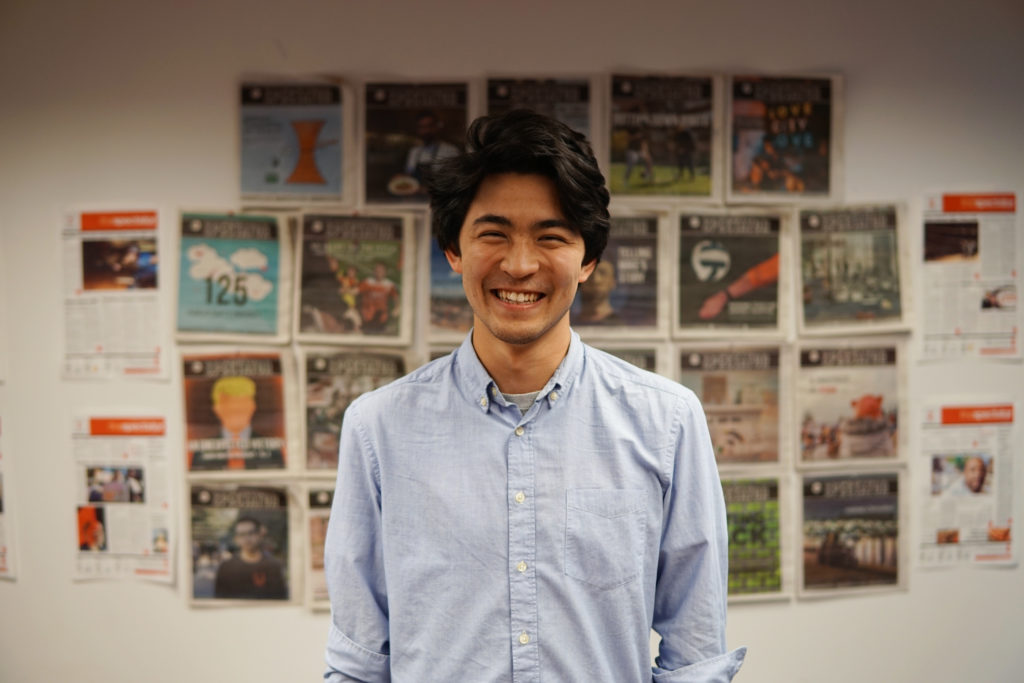 Nick Turner,the new editor in chief of the Spectator, grins in front of the 2016-17 editions of the paper.
---
Born and raised in Lake Oswego, Ore., Turner describes his childhood as "long and full of regrets," adding that adulthood hasn't been much different.
He's only kidding, of course, as he usually does in a tone as dry as a saltine.
During the setup process for the interview, as the videographer adjusts his camera, Turner grumbles about how he wishes a video wasn't being made about him. He doesn't like being the center of attention, which is something he'll need to get used to as the leader of the paper.
What won't take getting used to, though, is utilizing the skillset needed to be editor. Turner has worked at the Spectator for two years now, but his reach extends beyond Seattle University. His byline is well-known throughout the city and he's interned at various media outlets including Crosscut, King 5 and The North American Post.
At Crosscut, Turner worked alongside senior editor Joe Copeland, one of the most experienced editors in the city.
"Nick did an outstanding job on both news and more news-feature coverage," Copeland said. "He has a really good sense of news and of what to include and the importance of subjects. One thing I think that's a particular strength as an editor is that he really cares about the impacts of stories and issues on people and society. He's obviously got really high ethics and concern for getting things right."
During his time at Crosscut, Turner wrote a story called "Oil tankers could doom Puget Sound's orcas," which was Crosscut's second most-read story of 2016.
But his most personal work has been published in The North American Post, which is the oldest Japanese American newspaper in the Pacific Northwest. At the Post, Turner writes a series called "That Hapa Kid."
"Hapa, in Hawaiian, means 'part' or 'mixed.' It's typically used to describe a person of Asian or Pacific Islander descent," Turner writes in part one of his series.
In "That Hapa Kid," Turner discusses how he came to terms with his identity. Here's an excerpt from part one:
"In Japan, I felt like an intruder stealing something that wasn't mine. In the United States, I'm a minority, and that adds an entirely different level of complexity to my situation. Either way, I was the proverbial fish out of water—the ugly duckling—a square peg in a round hole.
"I can carry on thinking that I'm a counterfeit half-breed that doesn't belong anywhere, or I can ignore my own insecurities and take full advantage of the fact that I am literally the lovechild of two countries, both with a completely unique set of tradition, culture, and ideology that I can access simultaneously."
Turner says his identity as a Japanese American influences his reporting, in some ways that are obvious to him and others that are more implicit.
"We all come from different positions and that takes us in different directions," Turner said. "We have different starting points, and because of that we write different articles about that same subject."
He emphasized the importance of media representation of minorities, as well as striving to center marginalized voices.
"I don't believe in objectivity; I believe in fairness," Turner said. "I believe fairness has to do with giving every voice that deserves it time at the microphone for quotes in an article. Not every voice deserves that. We have violent voices and hateful and malicious voices that shouldn't be propagated."
When he speaks about news, politics and current events, Turner has a serious air about him. But his colleagues at the Spectator refer to him as funny, snarky and fun to be around.
Shelby Barnes, arts & entertainment editor at the Spectator, refers to Turner as "a burrito, wrapped up with chili peppers, substituted with milk to kill the spice after he delivers it."
"Nick is an interesting fella—I want word-for-word on this one—Nick is an interesting fella. No doubt," Barnes said. "Nick is a person who cares immensely about what he does, and this is one of them. Not to say that he won't be a hard-ass, but whatever, we'll work with it."
"He is probably gonna be a hard-ass," said Jenna Ramsey, current editor in chief of the Spectator.
"Oh, he's gonna be such a hard-ass," Barnes reiterated.
As for his plans for the Spectator next year, Turner said you can expect to see him "dumping all my responsibilities on my staff and my managerial team, blowing through the budget, pretty much just setting the paper on fire and then graduating and leaving it be."
When given a stern look, he revised his answer.
"I look forward to working with the Spectator for another year. The last two years have been the most memorable of my life and a huge part of that was the Spectator."

Tess may be reached at
[email protected]