Mayoral Race Raises Questions of Student Civic Engagement
"It's important to vote where you live," said Patrick Schoettmer, an instructor in political science at Seattle University. "A lot of students haven't made that connection yet."
---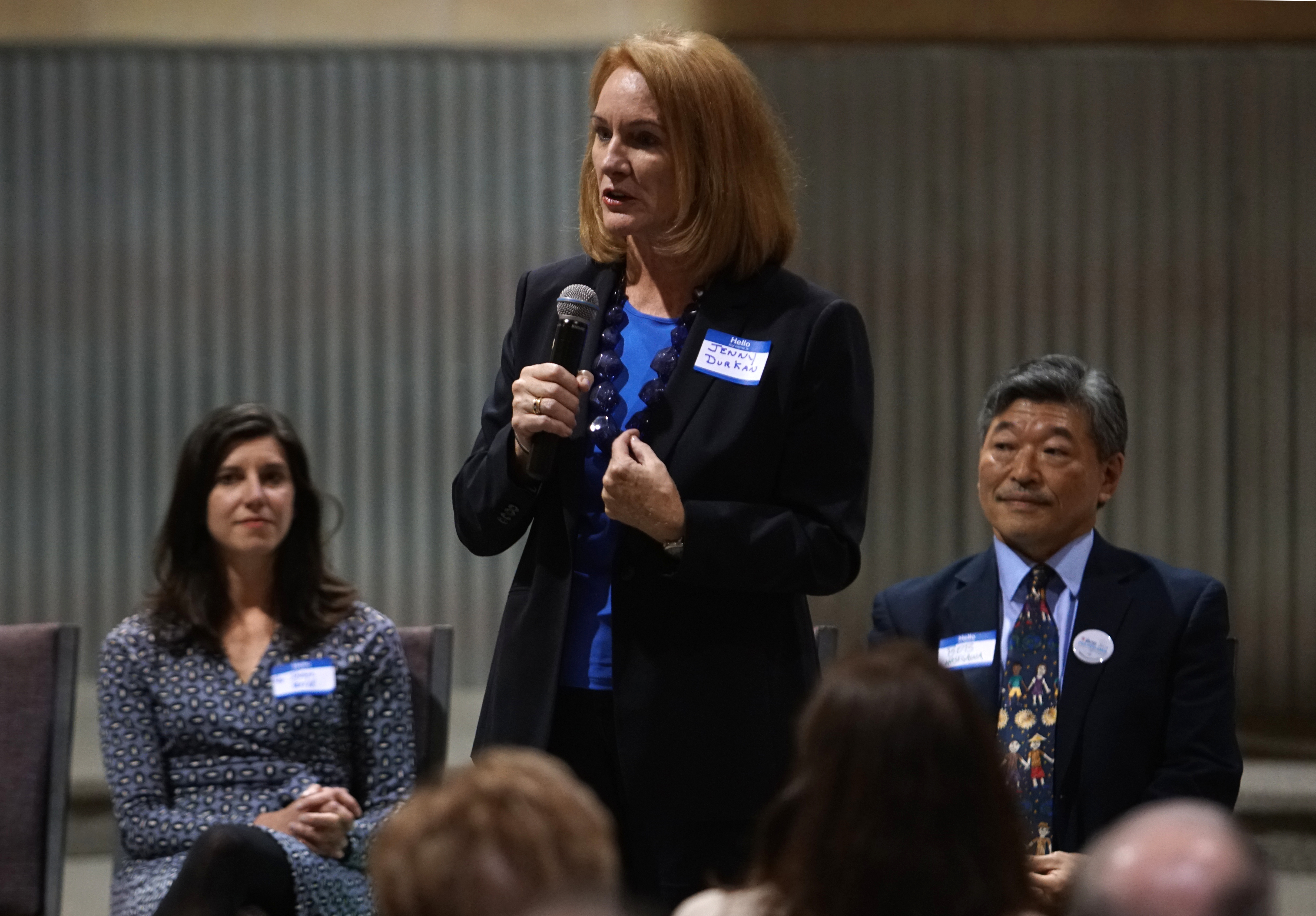 Three candidates took part in the forum last week. From left to right: Jessyn Farrell, Jenny Durkan and Bob Hasegawa.
---
In Seattle, we use what's called a "first-past-the-post jungle primary" to elect our mayor. Come November, this system will be tested when Seattle residents cast their vote for its next top executive.
A jungle primary, or a nonpartisan blanket primary, is an election in which all candidates for the same office run against each other all at once, regardless of their respective political parties; "first-past-the-post" means the first candidate to reach a plurality of votes is the winner.
In Seattle though, it should technically be called a "first-two-past- the-post" since only the two candidates with the highest percentage of votes in the jungle primary will move onto the next round. The election would then be decided in a straightforward vote between the final two candidates.
This isn't a common system, according to Schoettmer, and is used mostly by Western states. An alternative option is to have city council members directly elect the mayor, but Schoettmer believes that doing so would move Seattle even further away from a "proportional, representative system."
He went on to explain that there are two significant drawbacks to the first-past-the-post jungle primary, the voting system we currently use in Seattle. The first drawback is that candidates can make it to the second round with low support. Hypothetically speaking, a candidate could move onto the second round with just 15 percent of votes— meaning 85 percent voted against them—simply because there are so many candidates. This leads to the second drawback.
21 people are running for mayor of Seattle. Because we have so many candidates, Schoettmer explained, people who don't pay attention to politics will have a tough time figuring out what's going on.
"Political junkies love this kind of thing because you can get into the nuance of each candidate," Schoettmer chuckled. He was referring to himself. "Most voters don't engage in politics at that level."
Schoettmer added that with so many candidates, there will be a lot of vanity campaigns that likely won't make headway, but there will also be a handful of serious contenders that rise to the top: Mike McGinn, Nikkita Oliver, Bob Hasegawa, Jessyn Farrell, Jenny Durkan and Cary Moon.
Last Thursday three of these candidates—Farrell, Durkan and Hasegawa—gathered for the second mayoral forum hosted by the 46th District Democrats in Lake City at the Seattle Mennonite Church.
After opening remarks, each candidate was asked three questions, all of which touched on the more significant issues affecting Seattle like homelessness, housing affordability, income inequality, gentrification and growing racial segregation.
Farrell, who represents Seattle's 46th Legislative District in the Washington House of Representatives, presented herself as the candidate in the race that has "delivered on transportation and land use and affordability."
She spoke of her role in helping the city pass Sound Transit 2 and 3, transportation bills that allocate huge sums of money into transit expansion in Seattle.
Durkan, a former United States Attorney for the Western District of Washington under former President Barack Obama and Attorney General Eric Holder, took the neighborhood. She spoke of the importance of Seattle's diversity, and how the city's approach to housing affordability, homelessness and other issues will greatly affect not only its demographic spread, but also its reputation for inclusivity.
Hasegawa, a senator for Washington's 11th Legislative District and a delegate for Bernie Sanders during last year's Democratic National Convention, focused on finance during his time at the microphone. He repeatedly brought forth the prospect of creating a fiscally responsible, public bank "that he said will provide the financing for all the good things that we need to do with our city."
---
---
"I've seen the transformations come through this city.I've felt the pain along with all of you…We have to figure out how to accept the growth that's coming in," Hasegawa said. "We're talking about a structural change in the way government operates."
Schoettmer has partnered with the Institute of Public Service to create a poll to see how students at Seattle University feel about the ongoing race to decide the city's next mayor. Fundraising started two weeks ago. The poll would ask three questions: Who are you backing in the mayoral race? What do you think are the top three issues facing Seattle? Have you used, or do you think you will use, your vouchers?
Schoettmer took on this project because he feels students are disconnected from local politics. Maybe it's because they're from out of town, he said, or even out of state.
"That's a real tragedy for Seattle University students, because they're going to be living here for at least four years," he said. "A not inconsequential number of them will probably wind up getting a job in the area, making it their home eventually."
Schoettmer explained that a poll would help give us a look at the ground game, tell us where the tension lies and provide Seattle residents with a better image of how the race is going.
"It behooves them to pay attention to what's going on around them," he said. "And to think about getting involved in the politics that will most likely impact their lives on a day-to-day basis."
Nick may be reached at
[email protected]
Leave a Comment