Student Government of Seattle University (SGSU) held elections last week for positions for the upcoming academic year. The new members are excited to start their terms in SGSU, and look forward to representing the student body.
Pa Ousman Jobe
Meet your new SGSU Student Body President! Jobe is currently a junior business economics and finance major who is excited to grow with his fellow students who have a lot to say and he wants to share his seat at the table with them. In his new role as President, he would like to continue the work he has been doing at SGSU, as well as advocate for other discussions on campus, like greater transparency in policy and finances, improved services in CAPS and Disability Services and diversity on campus. Jobe believes that in order for anyone in a leadership position to excel, they must be willing to listen and learn.
Haley Sylvester
Sylvester has been elected as SGSU's new Junior Representative. She is an upcoming junior working on a degree in business economics with a minor in political science. Sylvester is excited to represent her class and to be the mouthpiece between the students and the administration. Student government is something she has been interested in for a while, and she has served as treasurer for Seattle U Model United Nations, a club centered around diplomacy and problem solving. Sylvester would like to ensure transparency between students and the administration as she steps into her role of representing the junior class.
Allison Gibbons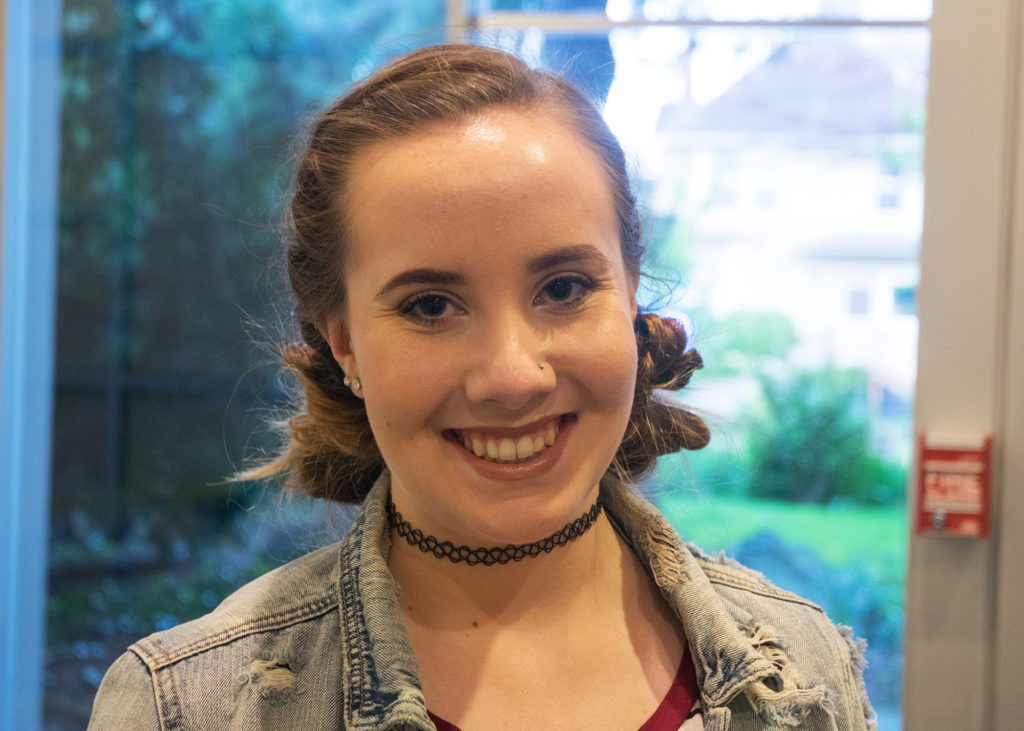 Allison Gibbons, elected Vice President of University Affairs for 2017-2018.
Gibbons has been elected as Vice President of University Affairs. Her main responsibility will be to represent students on anything regarding student life, academics and the quality of the institution. Gibbons is currently a first-year student planning to double major in criminal justice and psychology with a forensic studies specialization.
Gibbons is excited to have the unique opportunity to become more familiar with issues on campus and gain a deeper understanding of them. She would also like to get the campus more involved in showing up to events that have a big impact on the day-to-day life of students because she feels that there is a big disconnect between the university-level decisions that are made and the daily student life. Gibbons wants to make it easier for students to be involved in these decisions and engage the resources available to them.
Gabriel Narvaez
Meet your new Non-Traditional Representative—Gabriel Narvaez! Narvaez is a junior sociology major who is excited to work alongside a new group of individuals that he can collaborate with. Narvaez hopes to specifically work on implementing priority registration for students with children at Seattle U because he thinks balancing work, school, and parenting is difficult for anyone, and the inability to gain access to a spot amplifies that stress. With a background in work, commuting from out of town, and being a single parent, Narvaez believes he has the ability to relate to many students, which he can voice and bring to the table to discussions at SGSU.
Peter Haong
Haong has been elected as an At-Large Representative for SGSU. Hoang says he is excited to start working on the Gender Justice Center, to create a space for marginalized folks to feel more included, create a crosswalk outside of Xavier, and work on more subsidized ORCA cards for Seattle U students. Hoang has already learned a lot from his time with SGSU as Freshman Representative.
"[Student government has] made me grow as a person because it has shows me that not every conversation is going to be fluid and there will be some that are more challenging than others but it's important to learn from those conversations," Hoang said.
Jessica Martinez
Martinez is SGSU's new Executive Vice President. Martinez is a junior who is excited to experience her new role as well as learn how to make changes that advocate for those that are marginalized within the student body. Martinez says she is "also anxious to fulfill her new position because it seems to her that student government has only adhered to traditional leadership styles in the past." She believes it is important to have integrity in advocacy and action in order to be accountable and inclusive. Martinez also enjoys riding her scooter moped, her abuelita's hot chocolate, and tomato and cheese sandwiches.
A run-off election for the position of Vice President of Finance will be held Thursday and Friday between Tanish Bohjwani and Aminata Drammeh. To read about the candidates and cast your vote,go to https://orgsync. com/158023/custom_pages/16337.
Tess may be reached at
[email protected]