Dear Papa Jon…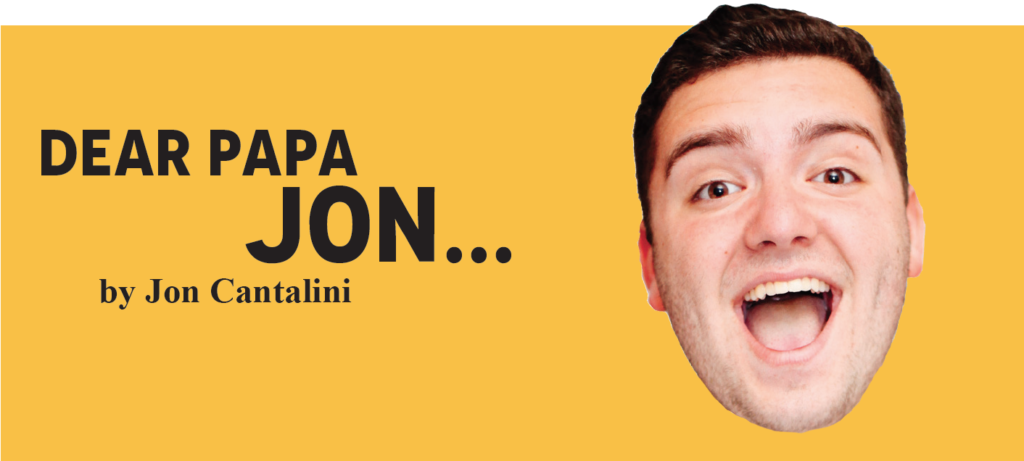 Q:
Hello Papa,
I am unable to dress for the Washington weather. It is always so cold during the dat and it gets so hot by the time I am out of class… What do I do?
Sincerely,
Hot'n Bothered
A:
Hello, Hot'n Bothered!
I suggest you put on layers. Put things on in the morning that you can take off and reveal something a little more comfortable. For this time of year all you really need is a light jacket!
Yours,
Papa Jon
Q:
Hey PAPA JON!
I do not know if I can do school anymore… I just need summer to come faster. How do I get through the end of the school year without failing?
A:
Hi, HELP!
We are in the same boat. This hot weather is making me want to leave school and hang out in the sun. What I suggest doing is go and hang out in the sun whenever you have time off. Whether it be eating lunch in the quad or doing your homework on the patio library, a little bit of sun time can cure your summer-time anxiety. Hey, maybe even go and get a mocktail from the Bistro!
Hang in there,
P. Jon
Q:
YO YO YO,
This weekend is one of my favorite weekends of the YEAR at SU. How do I make sure that I have the best time possible?
PEACE,
Fratty SU Boy
A:
Hello Mr. Frat,
My suggestion is that you have a safe time and make sure that everyone is safe around you. Be sure to put your running shoes on too (just in case you need to run for some reason). Also, GO TO THE BISTRO! I enjoy, more than anything, to see my fellow SU students with their face in a large pizza and a glass of water. Finally, remember, it is for the kids!
Work hard, play hard,
Papa Jon
To submit a question, go to http://ask.fm/DearPapaJon. I can't wait to hear from you all!! Love, Papa Jon
Leave a Comment