Seahawks 2017 Draft
Now that the 2017 NFL Draft is finished, the Seattle Seahawks have a whole new crop of talent. General manager John Schneider and head coach Pete Carroll put together a group that they think could help the team immediately, filling in important holes on the roster.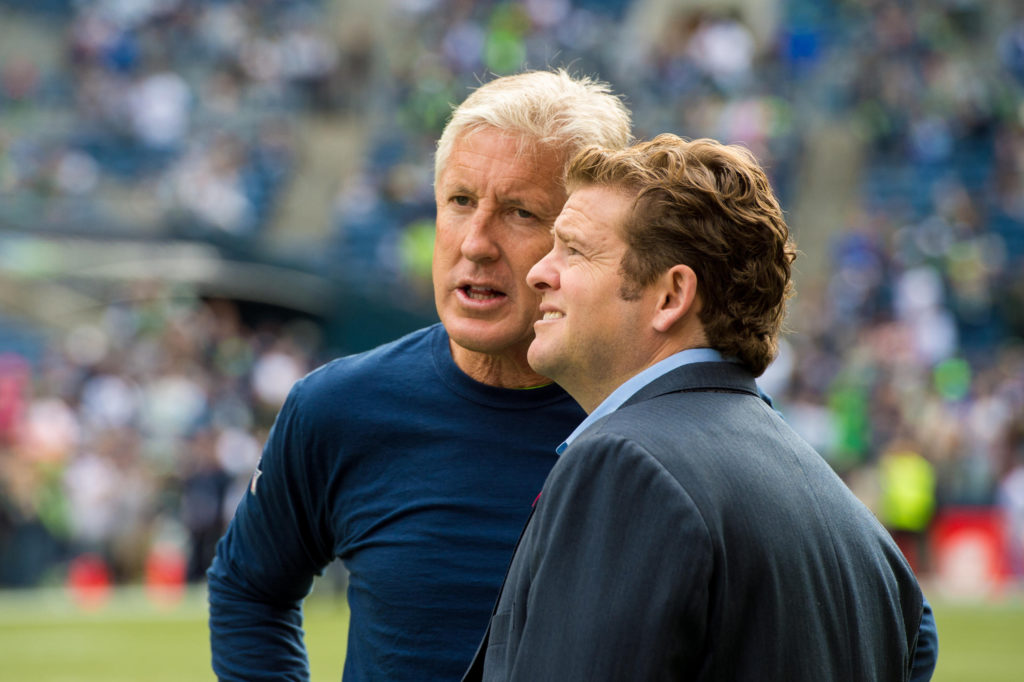 Head coach Pete Carroll and general manager John Schneider confer on the field during pregame.
All things considered, the Seahawks made out very well in the draft. They leaned towards building for the future with their defense, taking four defensive backs. It certainly looks like management is thinking into the future, once the current secondary, who make up the Legion of Boom, are past their prime. In total, they picked 11 players, due to a trade that took them out of the fourth round, but allowed them to gain four picks. Here is your 2017 Seahawks draft class.
Malik McDowell, DT, 35th Overall
With McDowell, the Seahawks got a guy who can play inside and stop the rush, but also possesses the speed and ability to attack the passer. He is a first round talent that they got for great value in the second round. He should be able to contribute immediately to the defensive line.
Ethan Pocic, OL, 58th Overall
The Seahawks need to fix up their offensive line, and they started the process by drafting Pocic, who has the ability to play all over the line. This could prove helpful as the Seahawks struggled to keep all of their guys on the field for stretches last year and he can plug in holes where needed. He has good feet and athleticism for his size.
Shaquill Griffin, CB, 90th Overall
Griffin was the first of many defensive backs picked in this draft by the Seahawks. He is tall and athletic, just like Seattle prefers on the edges. With DeShawn Shead still recovering from injury, Griffin could have an opportunity to contribute immediately. He would most likely play opposite Richard Sherman, or be used in the middle to guard the slot.
Delano Hill, S, 95th Overall
Hill played strong safety, free safety and nickel at Michigan, skills that Schneider and Carroll like because it allows for more versatility. They want guys in the secondary that they can play all over the field. He plays physically, reminiscent of current safety Kam Chancellor.
Nazair Jones, DT, 102nd Overall
Again, Jones is a strong and fast lineman that the Seahawks will be able to immediately deploy in their rotation. He sees himself as a fit in Seattle, saying, "I felt like they liked me a lot, I felt like they liked my versatility and everything that I bring to the field. Also, what sets me apart are the things I do in the community. I just thought it was a great fit and I think I hit it off with the guys in the meeting room."
Amara Darboh, WR, 106th Overall
Darboh gives the Seattle receiving corps some needed size. With their top-two receivers under 6-feet tall, Darboh's 6'2" frame will help on the sidelines. He doesn't have great speed, but he is a good route runner and played in an offense that is similar to Seattle's, so he will be familiar with the system.
Tedric Thompson, S, 111th Overall
Thompson is another big defensive back, but more of a project for the Seahawks. He most likely won't be ready to contribute right off the bat. He had this to say after being drafted. "It felt great," Thompson said. "I enjoy watching Earl Thomas and Kam Chancellor and just knowing that I'm going to a team with those guys and learn from those guys."
Mike Tyson, S, 187th Overall
Tyson has experience playing at cornerback and safety, which Seattle likes. This is what he had to say after being drafted: "I busted out in tears, to be honest with you," Tyson said. "My heart dropped, my stomach was touching the ground. I was really lost for words, it was like a dream come true, especially since you have Kam Chancellor coming from this area playing for the Seahawks. That was the only visit I took during the offseason."
Justin Senior, OT, 210th Overall
Senior is one of the most athletic tackles in this draft, but he needs to work on his fundamentals before he can truly contribute to the team. This is where offensive line coach Tom Cable will work his magic.
David Moore, WR, 226th Overall
Last season, Moore had over 800 receiving yards and 10 touchdowns.
Chris Carson, RB, 249th Overall
Carson is a physical runner who is not afraid of contact. He likes to run through the defender rather than around them, which can get him into trouble.
Willy may be reached at
[email protected]
Leave a Comment