Mayoral Candidates, City Council Gather for First Debate
Sex scandals, old rivalries and new faces abound in the race to decide Seattle's next mayor.
---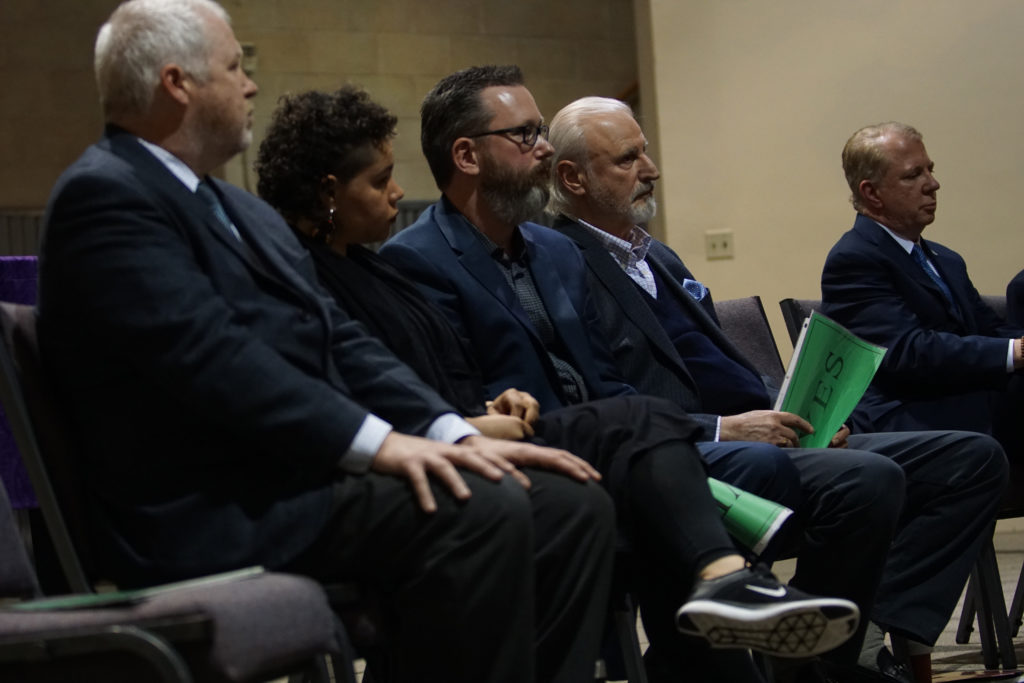 Five of ten registered candidates running to become Seattle's next mayor.
---
A lawsuit was filed two weeks ago in King County Superior Court which alleged that Seattle Mayor Ed Murray sexually abused troubled teens in the 1980s.
The plaintiff, a 46-year-old man from Kent, Wash., claimed that Murray "raped and molested" him over the course of several years, starting in 1986 when the plaintiff was just 15-years-old. The mayor publicly denied the accusations, going so far as to seek a physical examination of his own body to disprove claims made in the lawsuit.
The scandal dealt a serious blow to Mayor Murray's bid for reelection, one which many believe is now doomed to fail. Patrick Schoettmer, an instructor in political science at Seattle University, believes the lawsuit is "immaterial," and that it no longer matters whether the allegations are true, at least not to voters.
"The court of public opinion moves much quicker than the court of justice," he said. "Voters are good at remembering bad things. They're bad at remembering why."
Just days after the lawsuit was filed, former mayor Mike McGinn and urban planner Cary Moon jumped into the race. The two latecomers are running alongside Nikkita Oliver, Jason Roberts, Alex Tsimerman, Mary Martin, Casey Carlisle, David Ishii and Keith Whiteman.
---
---
McGinn and Moon will, of course, deny that their bid had anything to do with the timing of the lawsuit, Schoettmer explained, since neither candidate wants to be thought of as an opportunist.
"If you were on the fence about whether or not you wanted to jump in, the scandal blowing up made the choice a lot easier," Schoettmer added. "The iron is hot, now is the time to strike."
But controversy was nowhere to be found when seven of the 10 declared mayoral candidates, and those running for two at-large seats on the city council, gathered at the Seattle Mennonite Church in Northgate last Thursday for a debate hosted by the 46th District Democrats. At the debate—which was more of a forum or town hall meeting—each candidate presented their platform in what was technically their first public appearance together.
Nikkita Oliver, a third-party candidate running as an independent, announced her candidacy in March. Schoettmer explained that, with a candidate like Oliver, voters will scrutinize them more than usual. But at the same time, Schoettmer added, since Oliver doesn't have much of a record to run on, she's a "tabula rasa," or blank slate, and so people are more willing to read into what they want to be true, rather than what might actually be true.
---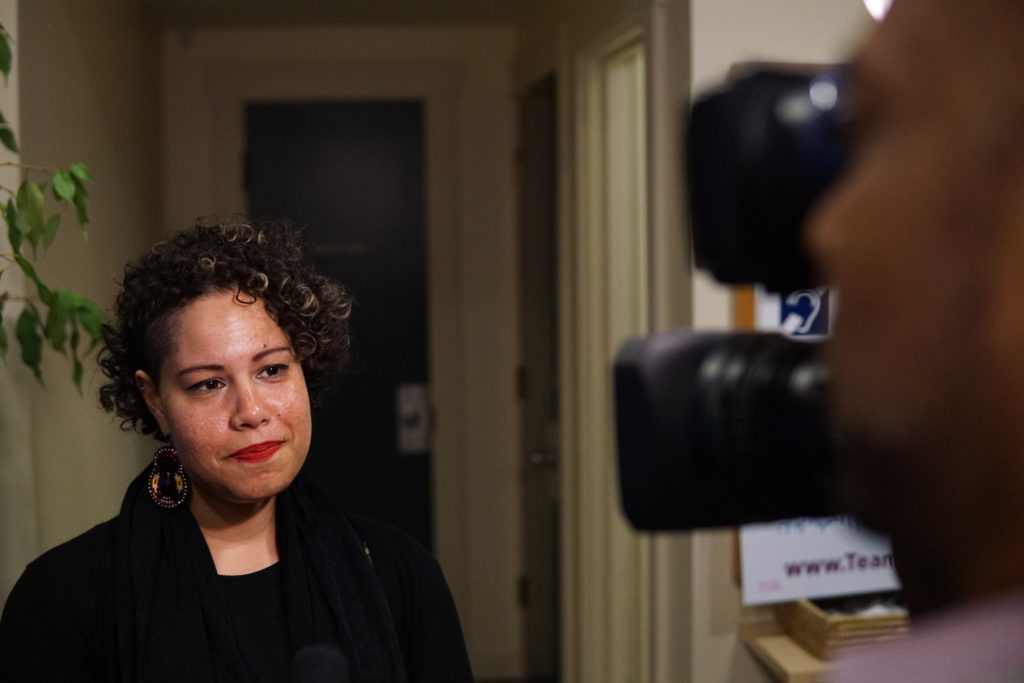 Mayoral candidate Nikkita Oliver being interviewed after speaking in a forum at Seattle Mennonite Church last Thursday.
---
"People are not feeling as secure, and when people are feeling uncertain, if they're feeling desperate," Schoettmer said. "They're more likely to take risks on less conventional candidates."
The next mayor will inherit the burdens of an entire city when they take office. After the debate, Oliver explained that she wants to focus her efforts on homelessness, housing affordability and other issues that disproportionately impact vulnerable and marginalized populations.
"I was invited to get into this race on behalf of a lot of communities," Oliver said, describing her relationships with organizers at the grassroots level. "By virtue of that, we have some very deep roots into communities that are looking for change, and need change."
"When we serve the most impacted in our city well, when we work together well to further solutions, everybody is going to be healthier," she added. "And I think those folks are really going to come to the polls and turn out to bring a candidate into the forefront that will do that."
McGinn struck a fiscally conservative note, pointing to Seattle's regressive tax system and explaining that the city needs a more frugal, responsible budget. Rather than build on the progress he made during his tenure as mayor, Schoettmer believes McGinn will try to re-envision himself. The former mayor comes from a more "controversial era," Schoettmer said, and he doesn't play well with others.
"Being a bomb-thrower in the era of Trump is probably not the greatest calling card," Schoettmer said, describing McGinn's style. "That could elicit pretty easy associations that would not be ideal in a city as liberal as Seattle."
Murray and McGinn are widely considered the top contenders. The latter served as Seattle's mayor for four years until the former claimed his seat in a decisive victory in 2014. Now the two face each other in an unexpected rematch, but things are much different this time around.
Murray's bid for reelection has been shrouded by suspicion and condemnation in the days and weeks since the lawsuit was brought to the media's attention. But the incumbent made no mention of it at the debate, and focused instead on a proposal for a city income tax on "high end" households along with his usual talking points like the "grand bargain," building affordable housing and fighting homelessness.
"The people we elect will determine, to a very large extent, what the next century looks like for this city," Schoettmer said. "We are today building the Seattle of tomorrow. What will that Seattle look like?"
Nick may be reached at
[email protected]
Leave a Comment