Tennis Wins in Regular Season Finale
It was senior day and the seniors had their eyes and their rackets on the win, especially playing on their turf. During the final match of the regular season, Seattle University's men's and women's tennis team both brought home a win on Thursday, April 13, against Puget Sound, 7-0.
---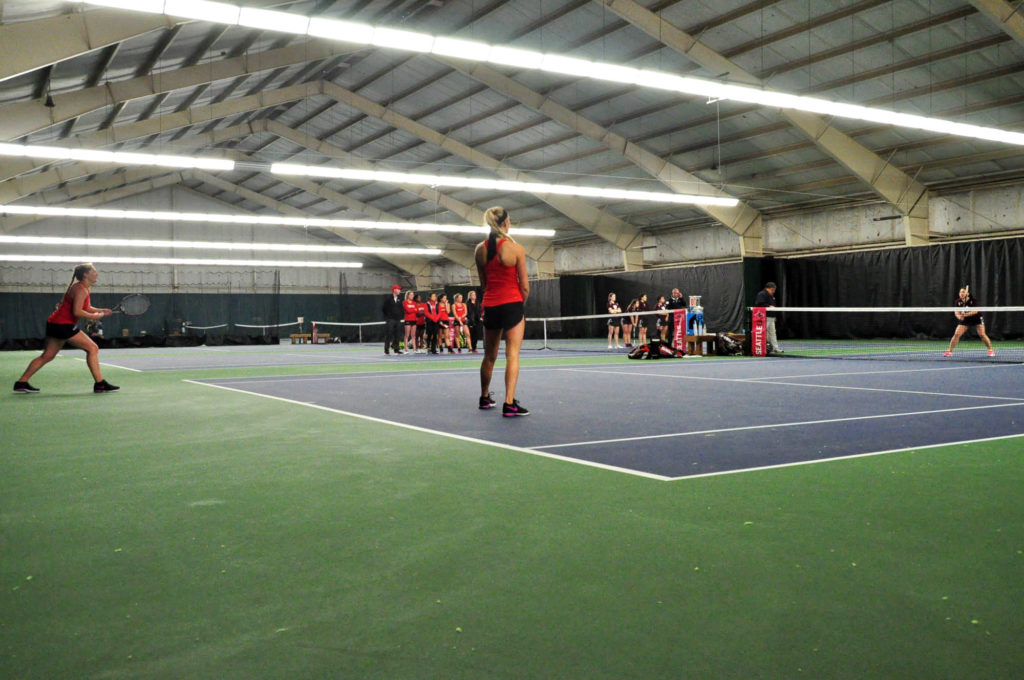 SeattleU's Kailyn Skjonsby (Sr.) and Madison Maloney (Jr.) beat their Puget Sound opponents 6-2.
---
"It's always nice to win your last regular season match, especially if it's a home match," said Adam Reeb, head coach for Seattle University's tennis teams. "It's a good way for the team to finish the regular season and a great way for our seniors to close out their career at SU."
Both teams didn't earn the win without a challenge. Usually, senior day comes with it the pressure for the senior student-athletes to perform their best. This heavy pressure can often deter the student-athletes from
executing to their fullest potential. "We knew it was an opponent we should do well against, so the challenge there can be just keeping your focus and energy up during the match and not playing down to your opponent," said Reeb about how the student-athletes overcame their challenge. "I think we did a great job with that across the board."
Seattle U senior John Stormans and sophomore Michael Schoettler won 6-1 in doubles no. 2. Storms continued this success playing in singles no. 3, dominating 6-0.
The women senior student-athletes Barbara Carey and Kailyn Skjonsky both won their singles and doubles.
The men's tennis team had tallied five loses before their final win of the regular season, a season that wasn't looking too good for them.
What made this match special was that it completed the senior's time playing tennis as Redhawks at Seattle University.
SeattleU Senior, Barbara Carey, gets ready to serve against her University of Puget Sound opponent.
"It's a culmination of so many years of hard work," said Reeb. "Connor [Leahy] and John [Stormans] have given everything they have to our tennis program, and we're so grateful for that. It was a special thing to finish their careers at SU with a win at home in front of their friends and family."
Playing their final match of the regular season, now both Seattle University tennis teams are looking forward to the Western Athletic Conference tournament in Las Cruces, New Mexico. The WAC matches begin Friday, April 28 and run until Sunday, April 30.
Seattle University will have another chance to beat the teams they lost a couple of points to during the regular season, like Chicago State University. On Sunday, April 2, Seattle University's tennis teams was short a point of tying the match against Chicago State, 4-3.
"We played these teams close in the regular season," Reed said, "while we didn't get the results we were hoping for, I think we learned a lot and will be an even better team going into the tournament."
The seniors might have finished their regular season, but they, along with the other tennis student-athletes still have a tournament to win.
Yesenia may be reached at
[email protected]
Leave a Comment