Redhawks Battle, Fall Short of Win
Seattle University softball failed to keep their lead on Friday as they fell short in two back-to-back losses on Saturday in a series against New Mexico State University this weekend. The Redhawks (14-24, 3-3 WAC) fought hard against the Aggies and won the first game on Friday, but after a stormy night cut the second game short that was then resumed Saturday, the Redhawks ultimately lost the series.
"As a whole, the second game we ran into a great offensive team and the first and third game we fought," said Head Coach Geoff Hirai. "I mean, that's the one thing we teach, is to fight and work ethic. And I can't be more proud of these kids."
The Redhawks certainly fought. In the first innings of the third game, the teams battled to get runs on the scoreboard until the bottom of the third inning when Paige Bouska hit to drive Kayla Gonzales to home to take a lead of 1-0. The Redhawk's lead didn't stick when in the top of the fifth the Aggies crashed to the top with a whopping four runs, pushing to the front at 4-1, until Gonzales hit a solo home run to keep the Redhawks in the game. The battle continued with both teams gaining two runs in the seventh inning to ultimately end the game 6-4.
This was Gonzales' second home run hit of the season, and as a senior she says it felt pretty good. "I'm a senior so I only have a couple games left, and [I'm excited for] just really taking advantage of the rest of the season and going hard and proving people wrong," said Gonzales.
The Redhawks have been consistent contenders and proving people wrong this season, with a win last week against one of the harder teams in the conference, Grand Canyon University. The team is confident in their ability, mentality and commitment to persevere; they look forward to a season full of wins.
---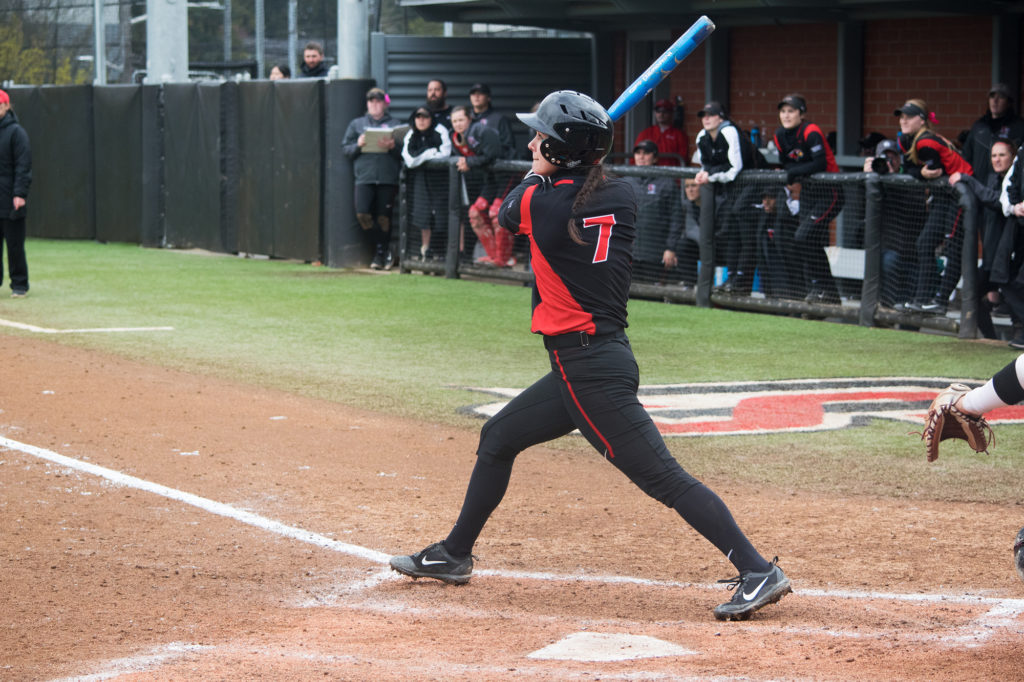 #7 Savannah Loomis gets a single in one of the three games Seattle U played against New Mexico State.
---
"All 18 of these kids, even the ones that are hurt, they are totally bought into what we're trying to do and it's fun to coach when they're totally bought in," Hirai said.
The team has the fight in them, they just need to work on the "little things", Hirai explained, particularly during the WAC tournament to make it to regionals.
With a current 3-3 WAC record, the team has an enormous amount of potential to pull ahead for a successful season, and with some colossal teams out of the way, the path ahead is hopeful.
The Redhawks head to Utah Valley next week for another series beginning on Friday, April 14.
Tess may be reached at
[email protected]