Adjuncts Speak Out on Mission Day in Letter to Fr. Sundborg
Traditionally, Seattle University's Mission Day is reserved for faculty exploration of the university's mission, which states that Seattle U is dedicated to educating the whole person and empowering leaders for a just and humane world. This year, after a Mission Day event hosted by SGSU, faculty lived out the mission in a rather literal manner, delivering a letter of demands to President Fr. Stephen Sundborg, S.J.
---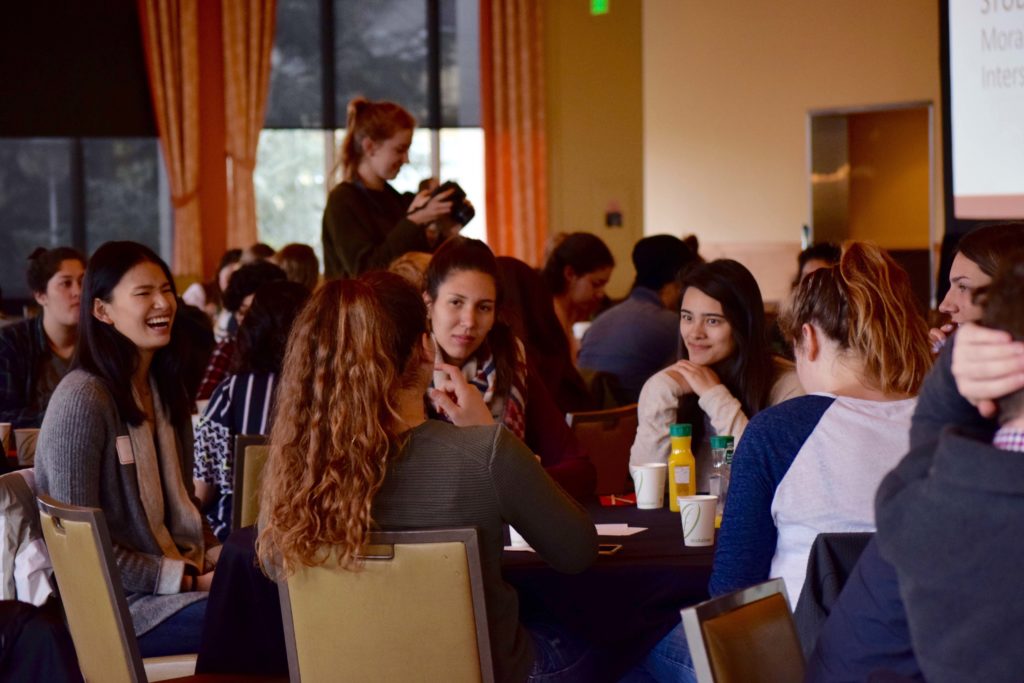 Students participate in group discussions at Mission Day in order to reflect on SU's mission.
---
The letter, delivered to the administration office on Thursday afternoon, said it was submitted in the name of a union that the Administration of Seattle University, Fr. Sundborg and the Board of Trustees "refuse to recognize." The letter contains a list of demands which address issues of budget transparency, job security and employee benefits.
SACRED, or Seattle University Adjuncts for Critical Research on Education and Democracy, participated in the letter delivery and requested a response by the end of April. The group was created in fall of 2016 to provide a forum for students, faculty and community members to discuss the impacts of budget problems and to work in solidarity with the adjunct faculty.
"The letter stresses the human costs of those cuts," said Seattle U film professor and SACRED co-founder Ben Stork, "and the problems of the budgeting process and the way that it doesn't take into account the actual Seattle University community and really follows the dictates of the market and doesn't reflect an educational mission, so much as a financial mission."
Stork, along with SACRED co- founder Julie Harms Cannon, organized a group of non-tenure track faculty, tenure track faculty, staff and students to compose the letter.
"On a day like today, when they want to be celebrating 125 years of amazing work, they're neglecting the fact that a lot of those years have not included work that is living up to the mission," Harms Cannon said. "It's deeply saddening to me that folks who are charged with sharing the mission to our students, the faculty, are not given adequate means to really work with our students."
SACRED had the support of students from Reignite the Mission, a Seattle U student group which organizes to end racism, sexism, hetereosexism, cissexism, classism and disaster capitalist practices on campus.
"As students, obviously we benefit from faculty that are treated ethically and with dignity," Seattle U senior and Reignite the Mission representative Rose Lassalle-Klein said. "So we'll receive more quality education if our adjunct in contingence are supported sufficiently as human beings that deserve a fair wage for their work."
Seattle U student Gabriel Narvaez and Student Government of Seattle University Vice President Braden Wild were the minds behind this year's Student Mission Day event, as they both shared a vision to provide students an engaging opportunity to analyze the Seattle U mission.
For the first time ever, this year's Student Mission Day event was held in the Campion Ballroom, instead of the traditional Connelly Complex. This year's theme focused on intersectionality, and the event was titled, "Moral Responsibility in an Intersectional World."
Wild had hopes that this year's Student Mission Day would get students thinking about the university mission, and broaden their perspectives.
"There's no agenda behind what the mission looks like or how you engage with the mission," Wild said. "Our goal in setting out to do this was, 'Let's get students thinking and engaging with it.' And every student is going to think about it in a different way, but we want to broaden your perspective on how students engage with it, what different identities and perspectives they hold."
Natasha Martin, Seattle U Chief Diversity Officer, was a keynote speaker at Student Mission Day. She spoke to the significance and complexities of intersectionality.
"Intersectionality is a manner of analyzing and understanding complexity," Martin said. "And why intersectionality is so helpful is because it allows us the ability to tell a more complex story. It allows us to have a more textured understanding of the world, of people, including ourselves, as well as helping us to better understand the fullness of our human experiences."
After attending Student Mission Day, electrical engineering student Mahekdeep Singh expressed that his major lacked opportunity for discussions about how to apply topics like intersectionality to his future career. He said that, while it put him out of his comfort zone, he felt closer to his peers after being able to engage with them on serious topics.
"It was amazing to see people from different backgrounds," Singh said. "When we had the fishbowl, people came together to share their experiences and everybody was listening. There was not like 'you're wrong, you're right', it was just everybody trying to take in their personal experiences. And I think, to an extent, everybody related, even if they didn't, they tried and I think that's what counted for me."
Wild said that Student Mission Day will continue again in 2018, and that planning for next year is already underway.
"As promising as it is to see all of the faces in the room that we saw, I think it's also obvious which faces are not here and how small this event really was, and why this room isn't filled," Dian "D.D." Meakin, a transfer student studying sociology, said about the scope of the event. "I get it that it's the first year, but this the relevant topic. It would be really great to see some of the really vocal groups on campus participate in something like this."
Gabriel Narvaez and SGSU representatives are planning to present a comprehensive report of the results of Student Mission Day, including the insight and concerns of the students who participated.
SACRED will wait to hear back from Fr. Sundborg about where he stands on their demands. They expect a response by the end of the month of April, and will continue to collect online signatures.
Haley may be reached at
[email protected]
Leave a Comment