New Men's Basketball Coach Hayford Sees Bright Future
Jim Hayford was announced as the new Head Coach of the Seattle University Men's Basketball team in an email sent by Director of Athletics Shaney Fink to students, faculty and staff on Wednesday, March 29.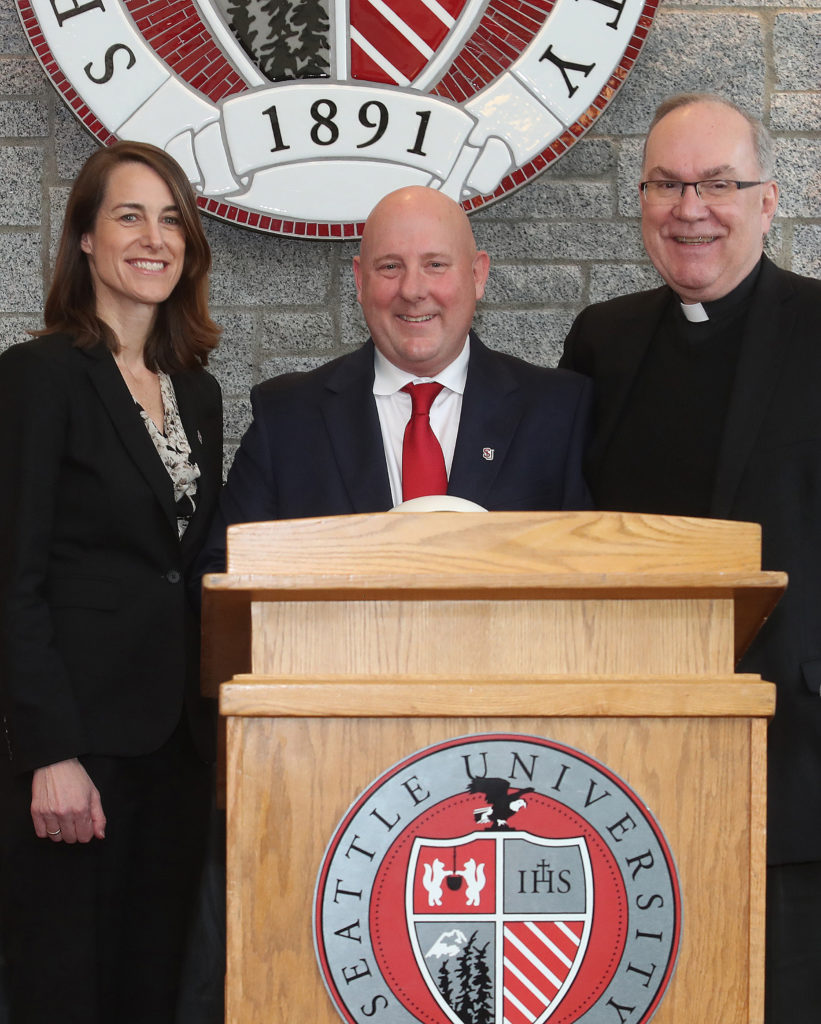 New Mens Basketball Head Coach Jim Hayford poses with AD Shaney Fink (left) and President Father Stephen Sundborg (right).
"Following a thorough national search, I am thrilled to announce that Jim Hayford has accepted the position as Men's Basketball Coach at Seattle University," said Fink in the email.
Hayford has served as head coach for a total of 18 seasons. During these 18 seasons he has had 360 career wins. He has coached at Eastern Washington University, Whitworth University and at the University of Sioux Falls. At Whitworth, Hayford coached nine national postseason tournaments and another three at EWU, for a total of twelve postseason tournaments. This is a direction he promises to take the Redhawks in.
"The alumni here is rich and the tradition is rich, and I embrace it and I want to connect this generation with that generation with a trip to the NCAA tournament," said Hayford at a press conference on Thursday that introduced him to the university.
At the conference, Fink explained what she and the school were looking for in a head coach. Some of these attributes, to name a few, included someone who was experienced, and had developed a blueprint laying the process to get to championships and a passionate educator—all of this in relation to the Jesuit-Catholic tradition.
"We were looking for a passionate educator who embraces the mission and values of Seattle University, who had demonstrated commitment to graduating student-athletes and who understands our Jesuit Catholic tradition," Fink said.
Upon looking at different prospective individuals, Hayford seemed to fit what the Seattle U were hoping to see in a coach.
"We found a gem in Coach Hayford," Fink said at the press conference.
Hayford then had the opportunity to speak about himself and about the type of community he wanted to build with the student-athletes. He not only spoke to the student- athletes, all of whom were present at the press conference, but he spoke to various and multiple audiences that were present, such as staff and faculty, alumni, the Seattle student-body and the city of Seattle.
First, Hayford spoke directly to the players standing to his right side.
"We're going to build this program with love and hard work and with the mindset of growth," Hayford said. "Our focus is going to be each one of you being the very best that you can be, not just on the court, but in the classroom and in the community."
Following this, he moved on to the faculty and staff who were standing in the audience and applauded between each speaker at the conference.
"I've come to work alongside of you to teach and to serve. My classroom is the gymnasium, come watch any time you want. I'd love to have you see how I teach," Hayford said.
Then he spoke to the alumni, most of whom were sitting in the chairs in front of the podium. He put emphasis on teamwork of not only those who work at or attend Seattle U, but of the alumni.
"One of the most obvious and attractive assets of the university is the quality of people who have attending this Jesuit-Catholic university," Hayford said. "And I want to be clear to the alumni, we need your involvement and we want your involvement."
Finally, he spoke to the city of Seattle, a city that he and his family are glad to live in due to its successes and opportunities to be the best one can be.
"I love Seattle, and we want to make our program a program that you love, but I do know this, Seattle loves winners and our teams are going to win and so Seattle I invite you to join us on the journey," Hayford said. President Fr. Stephen Sundborg, S.J. also had the opportunity to comment on the new hire of the head coach of the men's basketball team. Sundborg not only focused on the new coach and the men's basketball team, but on the other teams that have had successes this year.
"We're so proud of our 350 student-athletes in Seattle University, how they compete, what they're like and what they do in the academics, what their values are, how they serve their communities, what they carry forward to their whole lives," Fr. Sundborg said.
Hayford and his family are excited for this new adventure and look forward to his future wins coaching the Redhawks.
Yesenia may be reached at
[email protected]
Leave a Comment