As environmentalists continue to fight the Direct Access Pipeline in North Dakota, the movement has been mirrored on campus by Sustainable Student Action (SSA), a group demanding that Seattle University divest from the fossil fuel industry.
---
---
University President Fr. Stephen Sundborg, S.J. spoke directly to the student body at an event hosted by SSA on Wednesday, March 1, explaining why Seattle U has yet to withdraw its $12 million in indirect investments in fossil fuels.
"I felt like, if anything, one of the biggest successes of the event was that a lot of clarity was gained," said senior sociology major and SSA member Monica Chan. "I feel like administration and students were able to get on the same page of understanding where each group was at."
At the event, Fr. Sundborg said climate change is a priority, but divestment is not the most effective way to enact change.
"I believe that divestment by a university from its indirect investments in fossil fuels is an important thing to do and it's one measure to take in order to counteract the climate change that we're experiencing," Fr. Sundborg said. "I'm not fully convinced that it's the most effective measure, or that it's a significantly effective measure compared to a lot of other things that we could do and should do in our world in order to attack and to counteract climate change."
He added that the university is exploring ways to divest regardless. Just last month, the city of Seattle voted to end its $3 billion relationship with Wells Fargo because of the banks' funding of the Direct Access Pipeline (DAPL). If Seattle U were to divest from fossil fuels, it would be the first Jesuit university in the country to do so.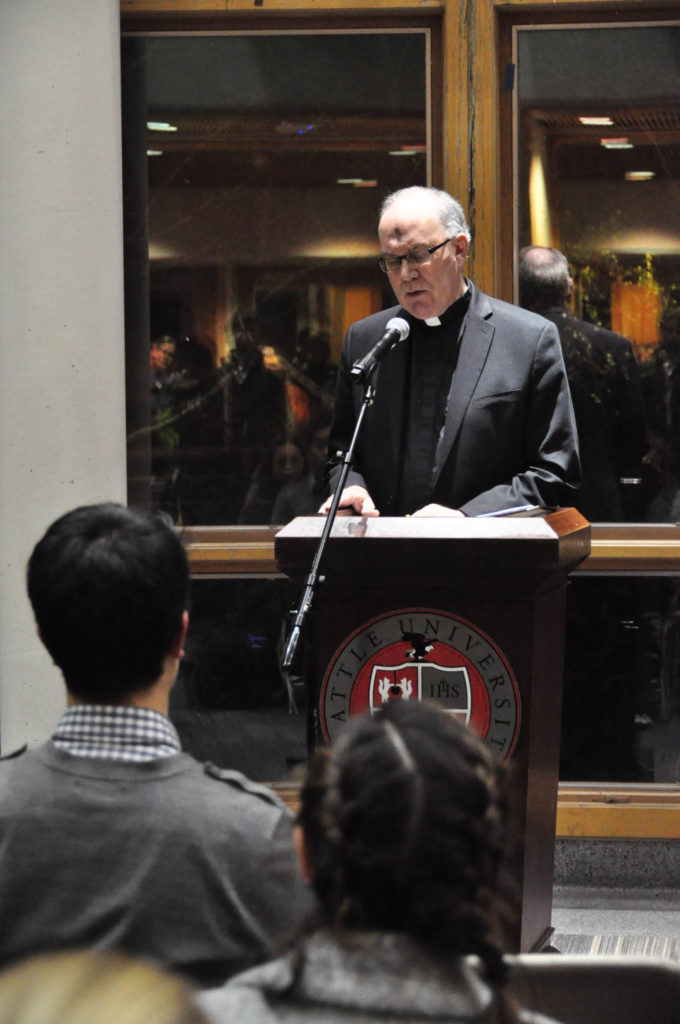 Fr. Sundborg addressed concerned students about SU's monetary relationship with companies that fund fossil fuels.
The event also featured Matt Remle, a local leader most known for helping convince the Seattle City Council to divest from DAPL.
He spoke to convey the unjust practices that the fossil fuel industry engages in.
"One question that I ask folks is, where are your loved ones, grandparents, great grandparents, laid to rest?" Remle said, describing the situation in North Dakota. "Just think: how would you feel watching a bulldozer go right over their burial sites? I imagine that you would be pretty upset, pretty angry, pretty hurt. And that's exactly what they did."
Chan argued that these are the practices from which SSA calls on the university to divest. She said divestment is a way for the university to condemn these practices, instead of showing implicit approval of them.
During a Q&A session at the end of the event, SSA members Rachel Levelle and Nicolas Cruz asked Fr. Sundborg about the divestment policy and his personal beliefs.
"In the end, the $12 million that we have invested isn't what it's about," Levelle said. "It is about being a part of this larger movement and making that statement that no, the fossil fuel industry can't move forward when they don't have the permits and they can't be illegally drilling and transporting things across the country."
Fr. Sundborg responded simply, "I agree with that."
As for what Seattle U is actively doing, Fr. Sundborg said its impact comes from its alumni and how they've been empowered to effect change. In that way, he argued, education is the most important thing Seattle U can do.
---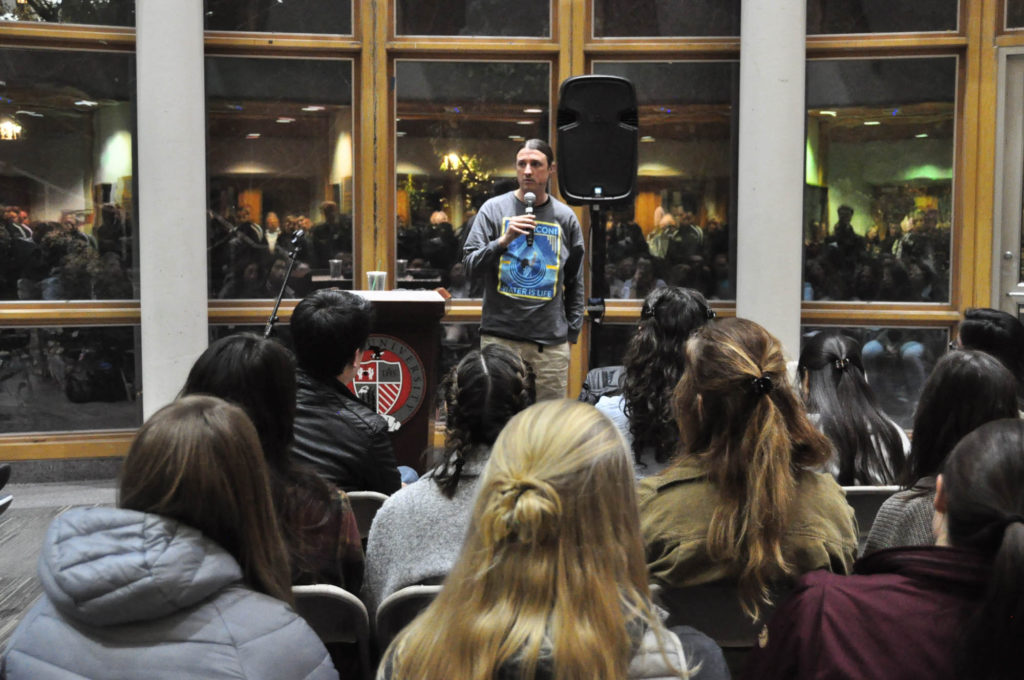 Students listened to a personal account of what the DAPL has done to the Standing Rock Tribe.
---
Finally, Cruz called on Sundborg to live up to what Superior General of the Society of Jesus Pedro Arrupe said in a speech in Valencia, Spain in 1973.
"He talked about what is the role of Jesuit education and have we done the duty of the Jesuit education, and one of the things that he said very clearly in [his talk] was drawing a profit from unjust sources," Cruz said. "How can we educate someone on how to support marginalized communities and invest in those communities' destruction?…If I go into a position like yours and I see your example, what am I actually learning from you in that sense?… Right now I think that's what your students are looking for, and I'm not seeing that yet, and I call on you just as Arrupe calls on others to do that."
Fr. Sundborg's response seemed to indicate more conversation in the future.
"It's a good point that you make," he said. "We need to be accountable to that and accountable to what we profess, so I accept your challenge."
Josh may be reached at
[email protected]