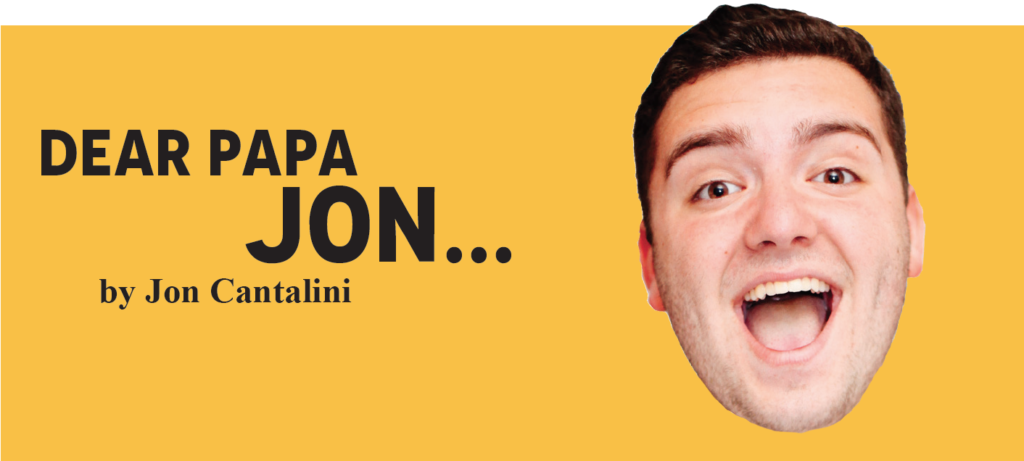 Q:
Hello Papa Jon.
My roommate always speaks Dutch to me when he sleeps. What do I do?
sincerely,
A concerned roommate
A:
Hello concerned roommate!
I would have to say that you should take this opportunity to learn a new language, maybe Dutch? I don't know, just throwing that idea out there. When you do that you could talk back to them and see if they say any scandalous things.
Vaarwel,
Pa Jon
Q:
Hi Papa Jon,
I have a final group project and all my teammates suck and have terrible ideas. How do I address this issue?
Help. Me.
A:
Hello, A student!
Oh gosh, I am so sorry…I have been in that predicament before. I suggest that you make sure that you and the rest of your group knows what the guidelines for the project are. That way you can be a little shady and tell them that you don't think that the ideas fit within the scope of the assignment. If that doesn't work, then you can always incorporate their ideas into a larger theme that makes more sense. this way they feel satisfied, but you can also get an "A".
Good Luck,
Jon
Q:
SAHHHH Papa Jon,
My roommate is in desperate need of a wingman, what should I do?
Let me know brah,
Asking for a friend
A:
Hello "Asking for a friend,"
I suggest that your "roommate" find a mediocre looking friend and ask them to go out with them. You cannot have them looking better than you, so you better approve their outfit before you go out. When you're at the destination of the prowl (bar, library, etc.) point people out that you are interested in and tell your friend to go up and start talking to them. Once they have started talking with the intended target, that is your time to swoop in and NICELY ask the person how they are doing. After that, it is history.
Hope it works out,
Papa
To submit a question, go to http://ask.fm/DearPapaJon. I can't wait to hear from you all!! Love, Papa Jon