Time Out Session: Men's Basketball Seniors Reflect
As the season wraps up, Seattle University Men's Basketball senior student-athletes Emmanuel (Manny) Chibuogwu, William Powell and Brendan Westendorf reminisce on their time playing for the Redhawks.
---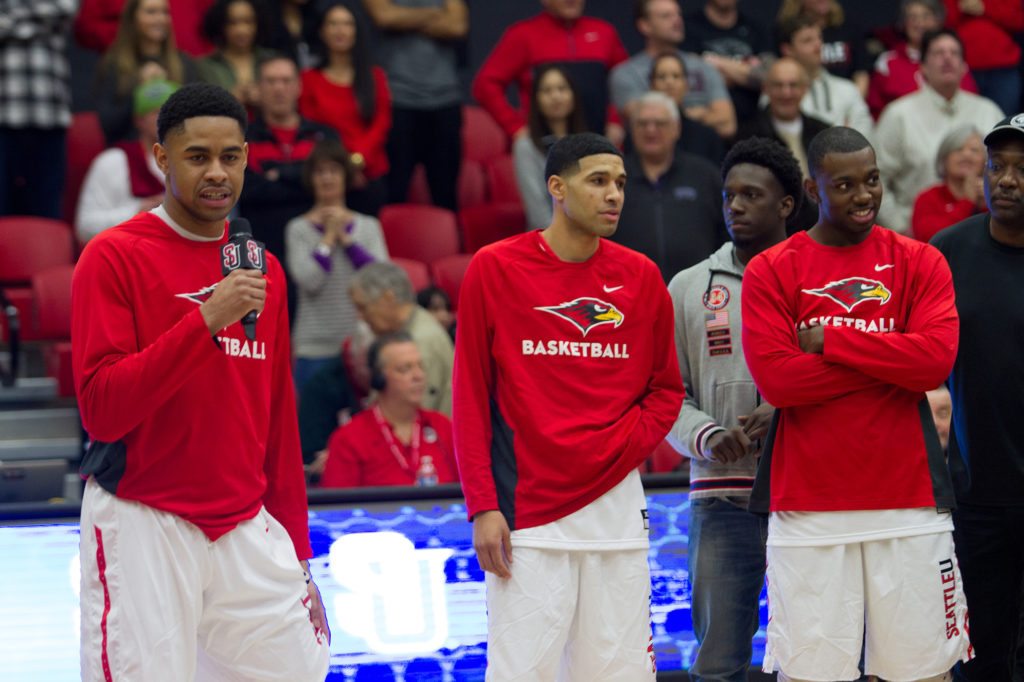 Seniors Emmanueal Chibuogwu, Brendan Westendorf and William Powell addressed the crowd at Connolly in their final home game for Seattle U Men's Basketball.
---
Q: How would you sum up your experience playing basketball at SU?
EC: It's been good. It went by fast. It's hard work and takes a lot of energy, but when you get to your final year, you look back on the experience on and off the court and you cherish them whether that was running on the track, weight room, practices, games; all that holds a special place in your heart for the rest of your life
WP: My experience here was a unique one coming from Alabama, down south to Seattle. I had a major culture shock. But I've had a fun time.
BW: My experience here has been fun, especially playing at home and playing with Manny, who I've grown up playing with and against, and playing with Will who's from a different area. Even though it's been a short [experience], it has been pretty incredible.
Q: When you think about your time playing here, what memory first pops up?
EC: I know this isn't one specific memory but just locker room. I think that's a big part of sports culture, especially basketball and here at Seattle U. Basketball aside, everything kind of just goes away for a second, we just hang out as a family, we laugh, talk about stuff and cherish the moments with each other.
WP: Going off with what Manny said, I don't think you can narrow it down to one experience, but just the memories you make with your teammates outside of basketball.
BW: I think going off of what these two said, I don't think there's ever one specific memory that you can draw from because you're taking several trips together, we live together, practice, workouts. So from the moment you're here, we've been through it all together. You kind of just take it all in.
Q: What will you miss most about playing basketball here?
EC: Probably the games. Games are what we practice year-round for, but I think more importantly, just being on the team. I think people take being on a team for granted and after this we won't have another opportunity in life to be a team with a bunch of guys who are your age, who all go to the same school, represent the school together, live together, do everything together. So I think just being on the team is what I'm going to miss most.
WP: I would say competitive actions in the game and just going out there and playing.
BW: I think what I'll miss most is the day to day that comes with being on the team and winning together. Like what Manny said, it's a unique aspect especially in college life. Not everybody has that team experience so that is something I'll definitely miss cause once you move on from this it becomes more of a job versus what you do together outside school.
Q: How has your bond as teammates developed through time being here?
EC: Well when I first got here I was the youngest on the team, so the older guys took me under their wing. You learn about college, you learn about college sports wisdom, you kind of get that younger brother feel. This year, being one of the older guys on the team, it's my turn to take the younger guys under my wing, kind of give them tips on not just hoop, but school, how to deal with it all. Lifelong relationships were built through this.
WP: I've had strong bonds with all my teammates, even if we don't communicate with people who have graduated. We just pick up where we left off, pretty much.
BW: Instead of looking at them as teammates, I look at them as brothers. I came in one of the oldest and didn't have that time to have people take me under their wing but the guys that were already here picked me up when I needed it. Outside of basketball, you'll always know someone has your back. That's how the bonds go and I think it'll continue even after we leave, when we come back and watch the guys that are coming in years after us, they're going to be able to talk to us the same way we talked to the guys that came before us.
Yesenia may be reached at
[email protected]
Leave a Comment