The transition into university always presents a challenge to incoming students, and even more so when the transition is from one university to another. Transfer students make up about 30 percent of Seattle University's undergraduate student body, but are a group that often goes unrecognized and underrepresented.
---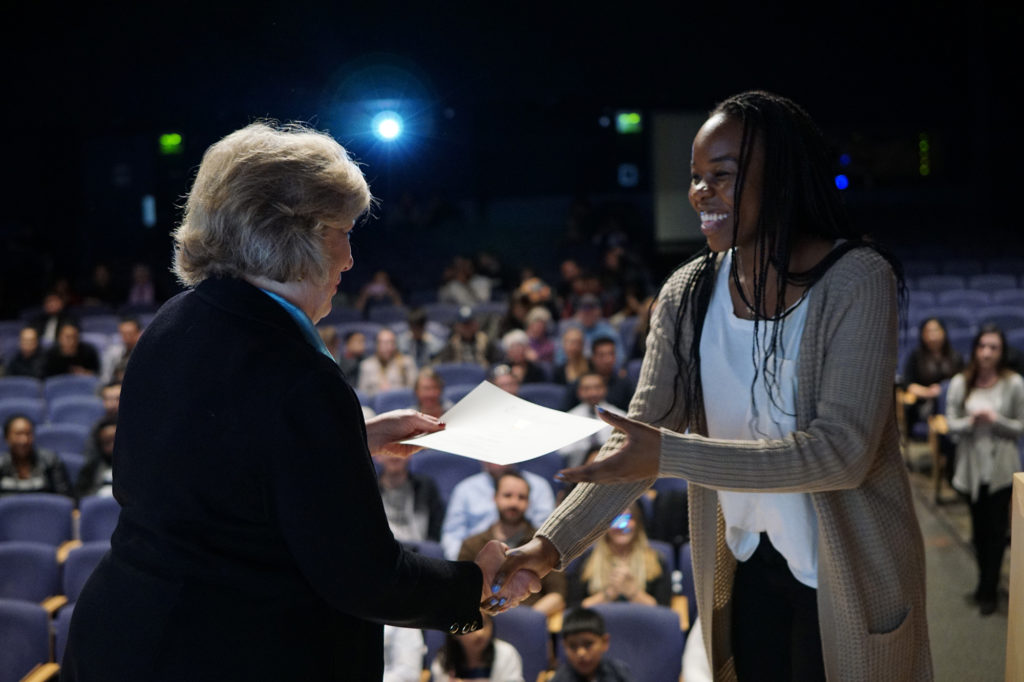 Kristen Swanson, the Dean of the College of Nursing, hands a certificate to a newly inducted member of Tau Sigma.
---
It is because of this that efforts of Tau Sigma Gamma Nu, a fraternity based on supporting transfer students and their academic achievements, have become significant to our campus culture. Tau Sigma's seventh induction ceremony was both a welcoming to the new wave of members and a proud sendoff to the fraternity's graduation seniors.
To be in Tau Sigma, a transfer student must not only endure the challenges that come with their transition, but thrive despite them. Every member of Tau Sigma has at least a 3.5 GPA, but many graduate with much higher averages and awards, spurred on by their fellow fraternity members.
"It's an honor to be here," said Dean David Powers from the College of Arts & Sciences "This is a wonderful opportunity to recognize our transfer students that are so important to our campus."
Powers was part of a panel with deans from other departments who shared their experiences working with the students receiving recognition. They spoke of how Seattle U's values of academic excellence, diversity and social justice are all enhanced by the presence and perspective of our transfer students.
When the panel of deans commemorated their academic achievements and contribution to our campus culture, it was Noelle Rollins, assistant director of transfer admissions, that communicated the unique experience and challenges they face.
The first thing she emphasized was the fact that no two transfer student experiences look the same, even in the process of transferring itself. Seattle U might be a someone's second attempt at finding a school that suits them, but it could very well be their third or beyond. These students have transitioned from schools across the country and even across the world, each at different points in their college career.
These two factors alone account for a wide variety of backgrounds among our transfer students and can complicate the decision on whether or not to transfer.
One of the groups that Rollins alluded to as having a difficult decision were our transfer students that are also adult learners. Having come back to college later in life herself, she empathized with the hesitation to finish a degree in the presence of a steady job and family commitments. Rollins also noted that making the decision to return to college as a transfer brings its own anxieties about credits being accepted and the impact on one's time until graduation.
The other group Rollins specifically recognized in her presentation were international students transferring to Seattle U. She commended them on their decisiveness in going to another country and leaving behind their familiar surroundings. For international transfer students, the change to Seattle U is not only based in adapting to a new campus climate, but to an entirely new culture as well.
Though the transfer students that attend Seattle U are a diverse group, they do have some core similarities that define their experience. Every transfer student, in some way or another, has had to take a risk in going to a new school and look introspectively to realize that their previous institution was not working for them.
Though it looks different for each transfer student, they all had had to break out of an established lifestyle to be where they are now and adapt to the academic rigor offered by our university.
"We recognize and embrace the unfamiliar by making something new from it," said Mariah Edwards-Hetflin, Vice President of Communications for Tau Sigma. "We are each our own glass piece that comes together to make a mosaic."
Though a significant amount of space was given to recognize the hurdles transfer students have to overcome, the induction ceremony was also a recognition of their accomplishments.
"As a transfer it is nice to have been recognized by Tau Sigma," said Cade Taylor, a first-year film studies major. "It is great to know there is a community of other transfer students who want to engage with the school and community."
For more information on Tau Sigma and transfer students at Seattle U, visit www.seattleu.edu/deanofstudents/.
Carlos may be reached at
[email protected]