Unmasking Anarchy at Seattle U Club Workshop
As most of campus sat hunched over tests and papers on Thursday night, a small group of students and Seattle community members traipsed their way over to a classroom in Chardin Hall for an Anarchy Club Workshop.
---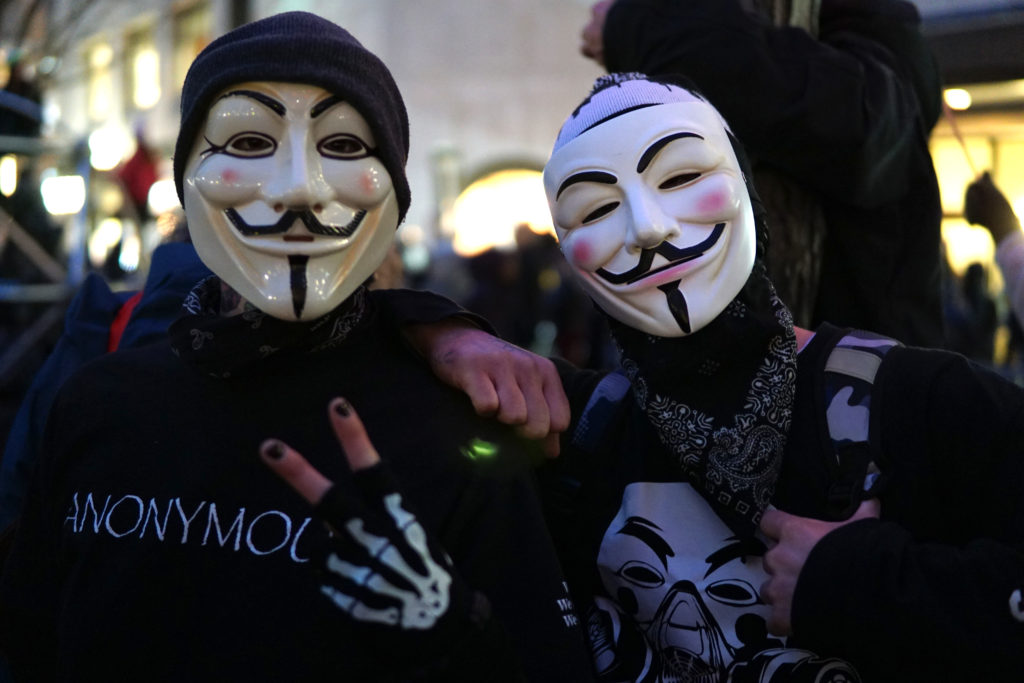 Self-proclaimed anarchists at a protest in front of Westlake Center, the day before Inauguration Day.
---
The group's background knowledge on anarchy was diverse. A few Seattle University students flipped through flyers as they sat, eager for a deeper glimpse into a topic that sparked their interest.
Others, like experienced anarchists Kiran Oommen and Max Chee-Garza, guided notable political activist and author Shon Meckfessel to the front of the room.
Meckfessel spent the first hour spiritedly and thoroughly presenting the history of anarchy around the world. He began by clearing up a common misconception about the word "anarchy."
Hesaidthegeneralpublicimagines the word as a synonym for chaos and violence. In reality, he explained, anarchists use violence on objects— not people—to create a more peaceful, equal and self-governed world.
Meckfessel described his view as "a belief that we do a better job at making the rules than authority figures."
He continued by launching into the rich history of the word "anarchy" from the first self-proclaimed anarchist, Pierre Joseph Proudhon to anti-bureaucratic C.L.R. James.
Meckfessel addressed some memorable moments for anarchists; in 1977, two gay men shoved a pie into Anita Bryant's face. Bryant was an influential anti-gay advocate and the anarchistic incident with the pie quickly turned her into a laughing-stock. Similarly, white supremacist William Luther Pierce was picking up momentum as a leader until a few anarchists threw eggs at him during a speech, and immediately stripped him of his powerful image.
Meckfessel then seized the room's unwavering attention with a story about a riot in Greece. In 2008, a fifteen-year-old boy was shot by police for being an anarchist in the central district of Athens. Anarchists rioted around the entire country for three full weeks, burning banks and other representations of authority.
The riots continued sporadically, until three bank employees were killed in one of the fires. The deaths weren't tied to the anarchists—the bank employer locked the workers inside the bank—but, each Greek anarchist felt personally responsible for the casualties.
Meckfessel used this as an illustration of the discrepancy between the desire to hurt the people and the desire to hurt the system—anarchists strive towards the latter.
"Anti-capitalism tries to show disrespect for property and respect for life," he said.
Meckfessel spent the next hour of the workshop answering audience questions.
"How do we de-stigmatize the word 'anarchy'?" one audience member asked.
Meckfessel said anarchy has been crucial to achieving universally appreciated parts of life. For example, without unions, he said, we wouldn't have weekends. He also touched on the importance of accepting different opinions and maintaining humility through those tough conversations.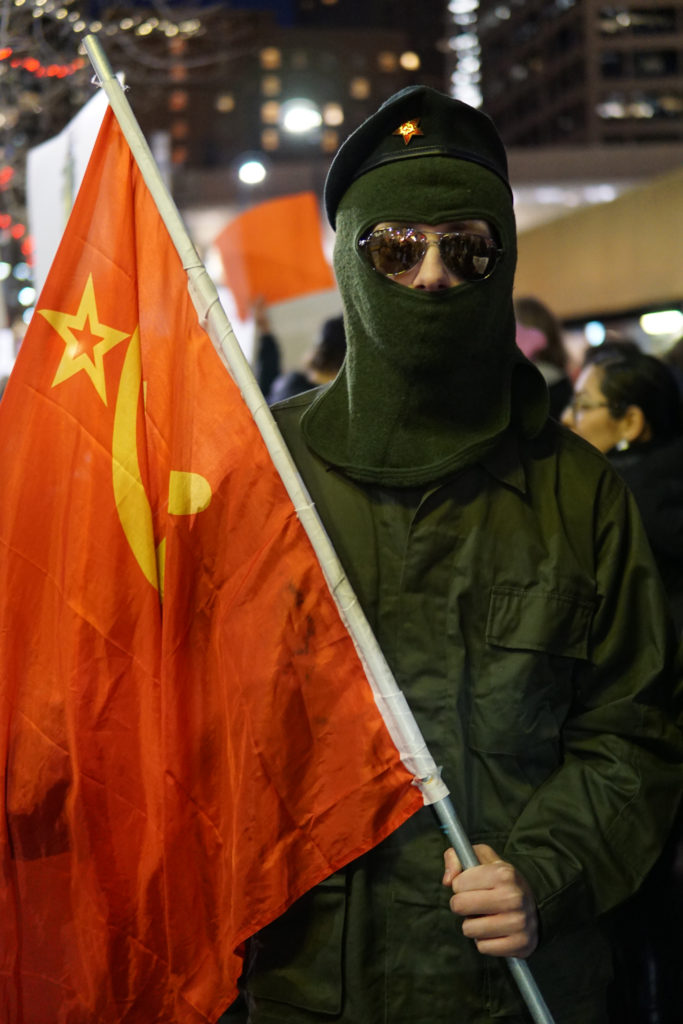 A self-proclaimed anarchist at a protest in front of Westlake Center, the day before Inauguration Day.
After the event, Kiran Oommen, Seattle U sophomore sociology major, spoke about his observations of the student community.
"There's a sense of left, even far left folks, who are potentially sympathetic with a lot of anarchist ideals," Oomen said, adding that mainstream media and public opinion have contributed to the perception of anarchy as a "dirty word."
Oomen said the more nuanced, complicated anarchy discussions are often overlooked when people only see anarchists "block up" with masks and break windows.
"They just get scared," Oommen said. "And there's no intellectual conversation that happens there. I don't think that's productive. I want to work to fight that."
Self-described student anarchist and freshman biochemistry major Max Chee-Garza expressed a similar view.
After echoing Oommen's desire to eliminate the "mainstream" connotations of anarchy, Chee-Garza spoke up about his personal choice to become an anarchist.
"I see the immense amount of poverty around the world," he said. "I see the state, and I see who profits off of their misfortune. That's why I'm an anarchist. It's because there are people of the same kind of privilege that I have who perpetuate the suffering of others."
Chee-Garza then brought the issue into the larger conversation by relating it to modern politics. He asked the theoretical and thought-provoking question: what would happen if the protestors at Standing Rock fought back?
"Would we demonize those at Standing Rock? Would we demonize the veterans who stood with them?" Chee-Garza said.
Meckfessel, Oommen and Chee- Garza all urged interested students to contact the anarchy club, which they can do by emailing Oommen about upcoming meetings. The next meeting, he says, is on Monday, Feb. 27 in Chardin at 8 p.m.
"They should get in contact with me," Oommen said. "I have lots of information that I distribute freely from my room. They'll probably see me around; I usually look like an anarchist."

Editor may be reached at
[email protected]
Leave a Comment