If you remember the Garbology event from two weeks ago, it's probably because you noticed a mountain of trash piled in front of the Lemieux Library. That waste was collected and sorted in full view to kick off Seattle University's participation in RecycleMania, a national tournament running until April 1.
---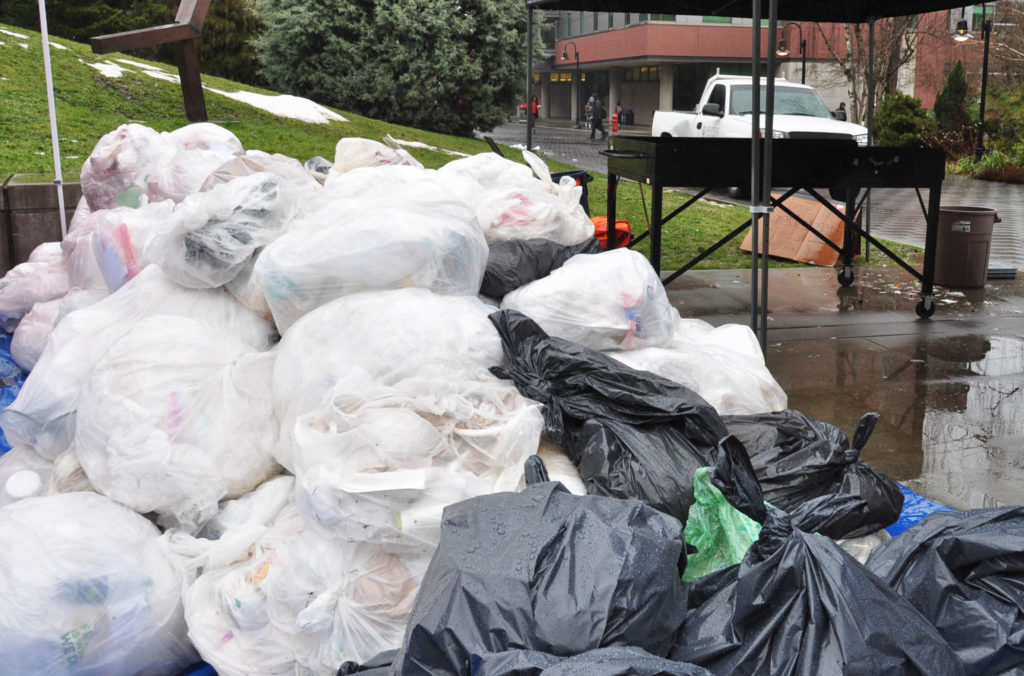 Garbology, RecycleMania's kickoff at SU, diverted 78lbs of recyclables and 169lbs of compostable materials from the landfill.
---
The point of the event is for students and faculty to think critically about how much, and how often, they toss items away for good. That mission of waste diversion is part of a larger goal carried out by Seattle U's Center for Environmental Justice and Sustainability (CEJS).
The CEJS is located in the Bullitt Center just off campus, and has a "mission to inspire care for our community through the research and practice of social, economic and environmental justice."
Helping lead that charge is Sustainability Manager Yolanda Cieters, who spoke about RecycleMania and Seattle U's commitment to environmental stewardship.
"A lot of this is related to our sustainability efforts on campus, which we had documented for the first time last year in a report called the STARS report," Cieters said.
The Sustainability Tracking, Assessment and Rating System, or STARS report for short, is a program by The Association for the Advancement of Sustainability in Higher Education (AASHE). It's a consortium of many higher education institutions in the United States.
The STARS report is a transparent, self-reporting framework for colleges and universities to measure their sustainability performance.
The score is built on participation in four main categories: academics, engagement, operations and marketing. After just one year of participation, Seattle U received a gold star rating of 69.41.
Our university's STARS report was so good that, according to ASHEE.org, we were selected to be one of 13 Centers for Sustainability Across the Curriculum, which will partner with AASHE to offer workshops and other professional development opportunities on sustainability in the curriculum.
"It was great to document everything that we are doing on campus," Cieters said. "Then also see, 'okay, now we can really identify where [we] are actually performing pretty poorly, and where can we still advance and do a lot more."
For instance, using your own Tupperware and to-go containers at C-Street can help reduce our compost waste stream.
"I think about it a lot," said Tori Hoff, a junior electrical engineering major. Like many, Hoff makes an effort, but acknowledges that more can always be done.
"I try to compost as much as possible and use reusable containers for my lunch everyday," she said. "When I go to the grocery store I always bring reusable bags and try to buy brands that have recyclable packaging."
It's a good strategy, and one that is promoted by those most aware of how to make an individual impact in larger sustainability efforts.
Eric Elliott, the Recycling Coordinator and Compost Technician for Seattle U, continues to actively educate and lead the campus-wide effort toward sustainability.
"Think about what you buy, and whether or not you really need it, because once you have something in your possession, it is your responsibility—to the environment and everyone else around you—to make sure it gets used and disposed of in the least harmful way possible," Elliott said.
The various receptacles on campus provide an opportunity to make the largest direct impact, and empower students to sort their trash. Based on the level of trash diverted at RecycleMania, this is an area in which students believe they could improve.
"I think I could do better!" said Jori Kristen Acacio, a senior strategic communications major. "My personal problem is that with the whole garbage, recycle, and compost system I sometimes get confused as to what's considered recycle or compost, and sometimes I end up throwing things away and disposing things in the wrong area."
While the CEJS homepage states that The City of Seattle diverted 57.1 percent of its compostable trash from landfills in 2015, it has set a goal to divert 70 percent of its waste by 2022.
The national diversion rate is about 34.5 percent, but some cities like San Francisco, which leads the country with an 80 percent waste diversion rate, and Portland, with a 70 percent rate, do much better.
These numbers have been a motivating factor in driving our university to contribute to environmental sustainability.
That goal of environmental sustainability involves every individual on campus. Taking the RecycleManiacs pledge to reduce your waste is one way to show your support.
Taking the pledge is about identifying the positive changes you can commit to when it comes to producing and disposing of garbage. There will be many opportunities to sign up around campus in comings weeks. More than a pledge however, it's about personal vigilance.
"[Our] 'trash' doesn't just disappear after you put it into a can," Elliott said. "So please remember that it's up to each and every one of us to be a responsible consumer, because our waste says volumes about us."
Les may be reached at
[email protected]