What Seattle U Army ROTC Cadets Do on the Weekend
After spending the better part of the week cramming for midterms, 50 Seattle University students spent the weekend of Feb. 11-12 training at Joint-Base Lewis McChord (JBLM). These Army ROTC Cadets put their lives on hold for two days of crawling in the dirt, pulling security and— most importantly—learning to work as leaders a part of a team.
Cadets work together to complete an FLRC lane, using two logs to climb over a wall.
Each quarter, cadets pack their rucks and head to the base. Field training exercises (FTX) last between two to three days and are comprised of different training opportunities. Each cadet is pushed to their limits and challenged in a new way. Arriving around 0600, they immediately went to work setting up shelters. An hour later, each squad was moving to their respective lane to conduct training.
Saturday was broken up into three phases: four Field Leadership Recreation Course (FLRC) lanes, two Situational Training Exercise (STX) lanes, and HMMWV (High Mobility Multi-purpose Wheel Vehicle) Egress Assistance Trainer (HEAT)/Patrol Base Operations. Sunday was devoted to drown proofing at Keeler Pool.
The FLRC lanes are designed to create team unity to complete a mission. The senior cadets (also known as Military Science Level 4 or MS4's) presented the junior Cadets (also known as Military Science Level 3 or MS3's) with a "mission" and coordinating instructions.
The MS3s then disseminate the information to their squad members and create a plan to accomplish the mission. A typical mission involves crossing an obstacle using only a few pieces of wood. The entire squad was required to cross the obstacle and take all the equipment across.
As a first-year Cadet, Hannah Koval really enjoyed this portion of the weekend and believes her squad truly benefited from it. "I felt that it was a great team building exercise and as a squad we grew closer," Koval said.
The Cadet Battalion Commander, Rebecca Roudbari, agreed with Koval. "I was impressed with the coordination the squads had on FLRC lanes," Roudbari said. "The tasks weren't easy and they required help from juniors to freshman. By working together, most Cadets were able to successfully complete the obstacles and learn different aspects of leadership from each [lane]."
STX lanes were a bit more tactical but still heavily dependent on teamwork. Each lane was run by MS4s who acted as the oppositional forces (OPFOR).
Once again, the squads received a mission, devised and executed their plan. Both missions involved conducting an attack on OPFOR, one with a bunker and one without. The lanes were especially challenging for the MS3s who acted as squad leaders, which required them to demonstrate proficiency in land navigation, thorough knowledge of tactics and battle drills, and an ability to lead up to nine individuals.

---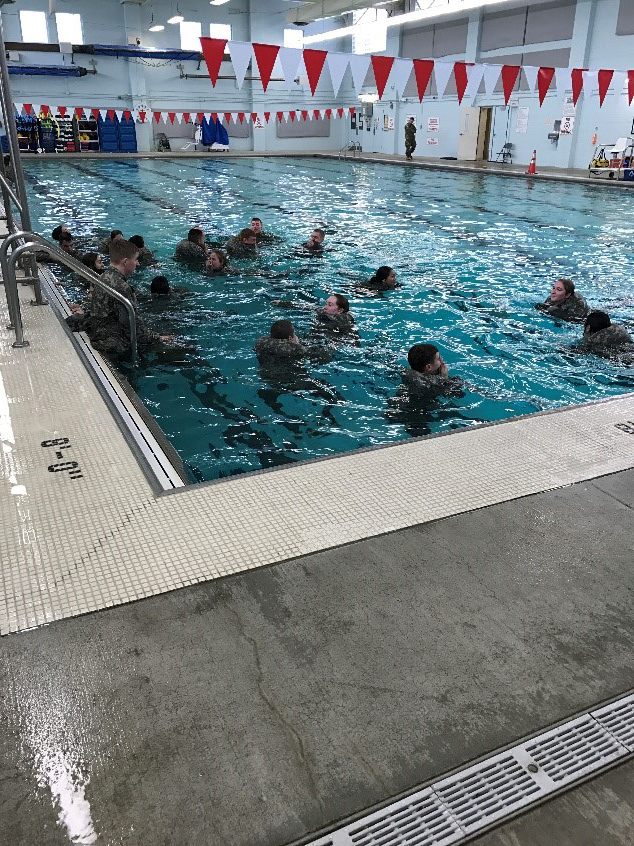 The Brady Battalion learns how to transform their uniforms into flotation devices during drown-proofing.
---

Adam Freed, one of the MS3s, expressed his appreciation of the weekend training.

"The development and training taking place during a FTX is irreplaceable," he said. "We finally get to practice the skills we've been learning and put them to practical use and get immediate feedback. This is not only to help us develop into successful leaders in the U.S. Army, but also into successful leaders for life."

The third part of Saturday consisted of HEAT training. Unlike FLRC and STX, which have been conducted before at FTXs, HEAT was a completely new experience for all cadets. The training is designed to give soldiers an idea of what it is like to rollover in a HMMWV and how to prevent injury and escape from the vehicle.

While the rest of the cadets practiced setting up a patrol base, four cadets at a time were strapped into the HEAT trainer and literally rolled around. Foam blocks, and the occasional canteen, were left loose to simulate objects being thrown around the vehicle in the event of an accident. When the simulator was completely upside down, the cadets had to unbuckle themselves, get out of the vehicle and set up a rally point to ensure the entire team made it out.

After a night pulling security in buddy teams, the battalion packed up all the gear and headed to Keeler pool for a class on drown proofing. Cadets were taught how to use their uniform to create a personal flotation device, which could increase an individual's chance of survival in the water. The training lasted only a few hours, after which cadets were transported back to Seattle U and released for the remainder of the weekend.

Exhausted yet upbeat, MS2 Nicole Schripsema commented on how much fun she had that weekend. "The comradery between the cadets was encouraging. I enjoyed the training more than last quarter and really feel like my base of knowledge grew over the weekend."

Helen may be reached at
[email protected]
Leave a Comment