Seattle Ignited Women Project Struggles to Reach All Women
The Seattle Ignited Women Project met in the Pigott Auditorium for the first time on Saturday, seeking to redefine what success and strength mean as a woman. But some thought the event's impact was limited due to its narrow definition of success and its reliance on speakers from only one industry to speak about their experiences.
---
---
Allison Tenney, a soccer and performance coach at Seattle University, organized the inaugural event. Tenney said that after attending a fitness summit over the summer where she heard writer and activist Erin Brown speak, she started thinking about hosting an event where women could come together to share their stories of success.
Tenney said that the event is aimed at a wide audience of fitness enthusiasts and gym goers, as well as anyone interested in joining the conversation of what it means to be an empowered woman.
"I want to enhance and expand the conversation of female empowerment, strength, success, autonomy, opinion, and voice," she said.
Although this event does achieve these goals, the limitations of the chosen speakers could restrict all women from gaining the skills advertised. All three speakers were white women, and all work within the sports industry, making their definitions of success limited to their experiences within those constraints.
The three speakers were Erin Brown, Dianna Russini and Lori Lindsey.
Brown is a writer, speaker and activist whose work focuses on women, healing and autonomy. Russini is a sports anchor for ESPN SportsCenter, with years of experience covering news and sports for NBC all over the Northeast. Lindsey, a former professional soccer player, had a career spanning 13 years, which included helping the U.S. National Team to the 2012 Olympic Gold in London.
---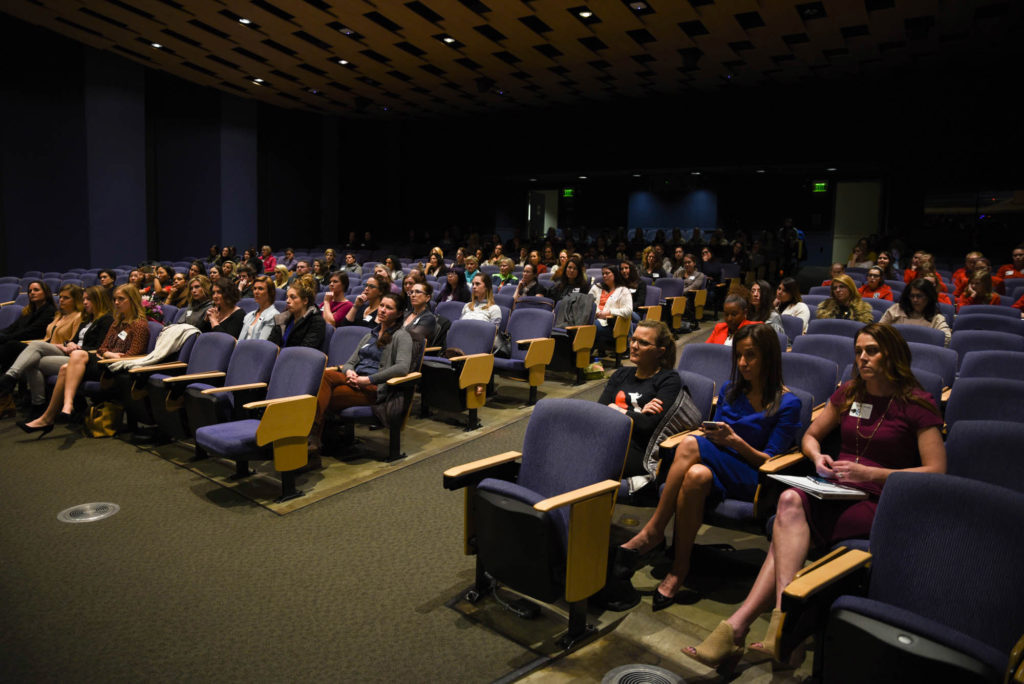 Audience members listening to the speaker at the Seattle Ignited Women's Project event.
---
"As for my part, I primarily work through personal narratives which are both statistically significant and my own," Brown said at event. "I always work with an intersectional lens and an awareness of the limitations of what I can speak to."
Though the speakers acknowledged their restrictions, some audience members thought they still struggled to appeal to all women due to their collective lack of diversity.
Senior strategic communication major April Jingco said this event served as an example of intention versus impact.
"I can see the intent is to unite women and show them really prominent things in their field, but the impact for me as a woman of color, and as someone who doesn't identify as someone who is interested in athletics or sports, doesn't seem very inclusive to how I identify as a woman," Jingco said.
She also said that redefining success as a woman is a very broad concept, and that this event seemed like it was catered to a very specific group of women, which is not something she can relate to.
Jingco offered a few suggestions for future versions of the event. She said that although she isn't personally interested in sports, she would be interested in hearing from a person of color, or a queer person of color in the sports industry, about the ways their identities have affected their experience.
---
Lori Lindsey, Professional Soccer Player & Performance Coach, speaking at the Seattle Ignited Women's Project event.
---
The cost of attending the event could also inhibit some from being able to go. Early bird ticket prices were $65, and regular price tickets were $75, plus taxes and fees. The event was free for students with a valid ID, but if the target audience was women who want to be motivated by successful people, that cost could hinder many middle class working women from attending.
Tenney said that she is always looking for diverse speakers that will hold the attention of a wide range of attendees in any given audience, especially at this time in history.
"I think these three [speakers], for year one, accomplish that," she said. "Dianna is one of very few women in the sports reporting world at the top of the 'chain' at ESPN. Lori is openly gay and an amazing advocate and voice for the LGBTQ community, and Erin has a very powerful personal narrative that many connect with."
The first Seattle Ignited Women Project showed its growing pains this weekend, but also seems to be aware of, and willing to work on, its shortfalls for future events.
Anna may be reached at
[email protected]
Leave a Comment