Recyclemania Cleans Up Seattle U Campus
On a wet day in front of the Lemieux Library and McGoldrick Learning Commons, students donned rubber gloves and rain coats to sort through a mountain of Seattle University's trash. Plastic bags were piled high on tarps, waiting for their insides to be meticulously inspected and re-sorted by diligent volunteers.
---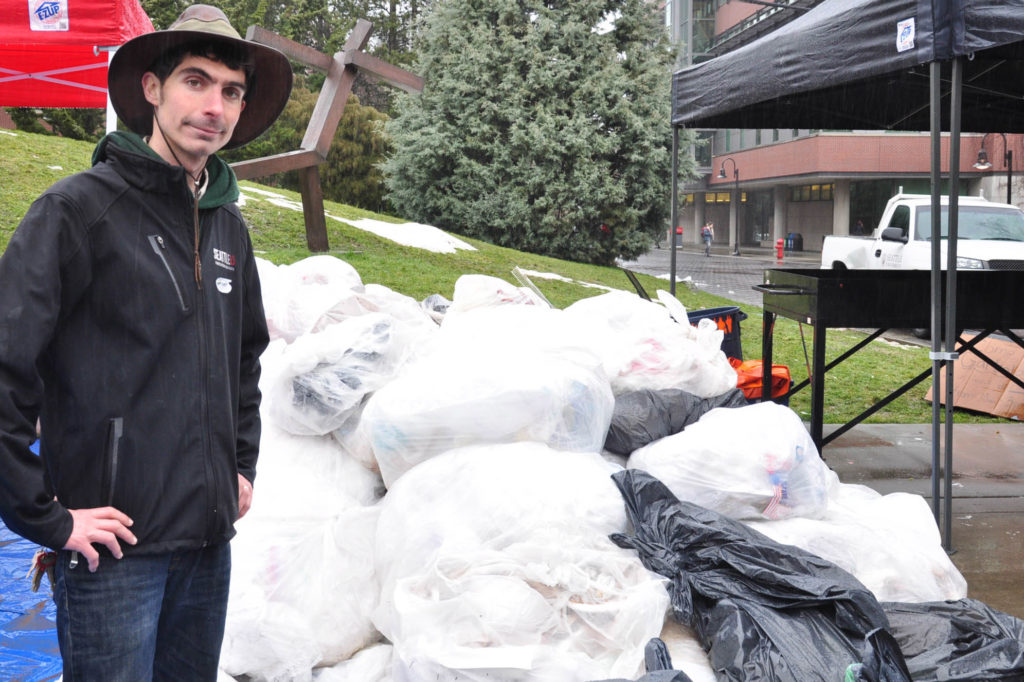 Eric Elliot, SU's Recycling Coordinator and Compost Technician, kick-started RecycleMania with the Garbology event.
---
Last week Seattle U kicked off its participation in RecycleMania, a competition between colleges and universities to promote decreased waste and increased waste diversion. This is the first year Seattle U will take part in the national tournament, and it has set a goal of 80 percent diversion by the event's end.
The 2017 tournament began on campus with "Garbology," an event where volunteers sifted through one day's worth of trash to see how effectively we, as a community, divert our waste into the appropriate recycling, compost or trash cans on campus. Of the 323 pounds of trash collected that day, 247 pounds of recyclables and compostables were diverted from the landfill.
Happily slogging around in the rain was Seattle U Recycling Coordinator and Compost Technician Eric Elliott.    
Despite the inclement weather, he greets curious onlookers enthusiastically and provided important information.
"I've participated in RecycleMania as a student, and I thought it was a fun way to spread an important message: we, as a university, have a responsibility to work to reduce the amount of waste we send to landfills each year," Elliott said.
During 2016, 69 percent of Seattle U waste was diverted, recycled, turned into compost or reused. However, 31 percent was sent to landfills, which equals about 150 pounds of waste per full-time student.
Yolanda Cieters in the Sustainability Manager for Seattle U's Center for Environmental Justice and Sustainability, and explained RecycleMania's goal to increase awareness, and increase the community's waste diversion total from 69 percent the previous year.
"There is still a lot of waste generation, and doing a competition like RecycleMania is definitely a tool to engage our community, where are we today at Seattle U as far as recycling, and composting, and waste," Cieters said.
She said the goal is 80 percent waste diversion as a campus for the rest of the year.
Sierra Suafoa-McClain is a sophomore business major, and works for the Grounds Department on campus. Her work and passion for the environment compelled her to get involved with Garbology.
"My own motivation to volunteer comes from wanting to educate myself and my peers on how we can reduce our impact on the environment," Suafoa-McClain said. "I think that RecycleMania is an excellent way to make long-lasting habits of proper waste disposal, and that if the students and faculty of Seattle U build up those good habits over the next eight weeks we can each take that knowledge and teach others."
Garbology was the optical emphasis the RecycleMania mission needed to start off the event with a powerful impact.
"Knowledge is power, and power is change, so the more we know about how to stop harming the Earth, the faster it'll happen," Suafoa-McClain said. "That's why I encourage everyone to take the pledge for change."
While Garbology may be over, RecycleMania is more about building a sustained awareness and improving the habits of everyone who produces waste.
"At the same time, we did a pledge. A week before, and at Garbology as well, we asked our campus community to take the recycle pledge. I think we had more than 150 folks who've signed up, but it's still possible," Cieters said.
The pledge includes a list of proactive steps and preventative measures RecycleManiacs can selectively agree to take part in, or engage in more responsibly. The end goal is to raise consciousness and solidify good habits that can have a positive impact on the environment.
"We're still sending messages out and reaching out to folks to take the RecycleMania pledge. There's a gift card involved at the end, and they would be announced as our RecycleManiacs of the year," Cieters said.
Through April 1, volunteers will periodically be in the Student Center to encourage individuals to sign the RecycleManiacs pledge. If you would like to help Seattle U reach its goal, there will be several opportunities to do so in person, or you can get other information about King County's recycling policy, as well as helpful sorting tools at https://goo.gl/5PxeJX.
Les may be reached at
[email protected]
Leave a Comment