Upon initial glance, Seattle University appears to be full of late-teen and early- twenty-something undergraduates. But unbeknownst to many, there's a population of adult learners who occupy this campus. They range in ages and backgrounds, and the number of these students is growing by the year.
---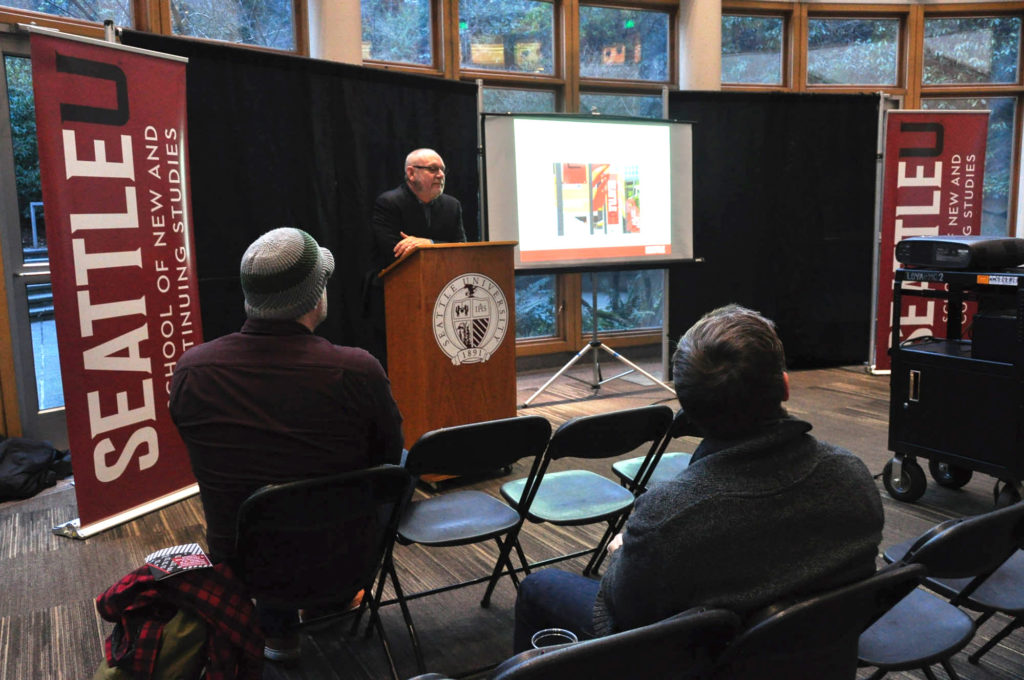 Prospective students learn about SU's newest college of New and Continuing Studies.
---
Seattle U's School of New and Continuing Studies is nearing its one year anniversary, and is providing the university's adult students with the skills they need to succeed in today's workforce. The SNCS was just created last spring, but it has a long history prior to that.
Jesuit institutions are known for their night schools—programs that allow working class Catholics to get their education in addition to working full-time jobs. Almost all Jesuit institutions today that are located in urban areas have some type of a night school or adult education program that can be completed alongside a career. However, until last spring, Seattle U didn't have a night school for adults over 25 years old.
"About 25 years ago, Seattle U had a school called The Evening School," said Rick Fehrenbacher, the inaugural Dean of the School of New and Continuing Studies. "It had about 500 students in it, and they were all part- time adult students. Seattle U hadn't done it for awhile, and so now they just decided to kick it back up."
The School of New and Continuing Studies offers three programs, two degrees and one certificate. The degrees are both Bachelor's of Arts, titled Digital Technologies & Cultures and Organizational Leadership. The school also offers a Web Development certificate.
"This is a school for adults who are living their lives and trying to manage school, in addition to a multitude of other things. And most of us have been in that same place," said Viviane Lopuch, director of the Organizational Leadership program.
Lopuch was an adult student for 25 years before she became director of the program.
"We understand what that experience is like," she said. "These degrees provide evidence that you now have the grounding to do this, not just the academic grounding, but the training in addition to the actual work you do every day."
The Digital Technologies & Cultures major aims to prepare students for the 21st century workforce. The program includes learning basic coding and web skills in order to be able to produce quality content online. In addition, students read criticism of digital media to understand it from many different perspectives.
"We are constantly surrounded by media," said Wanda Gregory, director of the Digital Technologies and Cultures program. "What we want to do is to have people understand technology and the impact it has on a working professional, and the personal aspect as well."
The other degree program is Organizational Leadership, which is primarily a management degree.
Students discern how to lead organizations through learning the practical skills needed, such as business law and finance. They also gain desirable leadership skills in communication, critical thinking and team leadership.
The third program the School of New and Continuing Studies offers is the Web Development certificate. This certificate had already been offered for a year before the creation of the School of New and Continuing Studies, but was moved into the new school last year.
The Web Development certificate is a one-year program where students learn the coding skills required to become a Front End Web Developer.
"They offer this in coding boot camps, but those often take about 16 weeks of pure, dedicated time," Fehrenbacher said. "You have to stop working and you have to do just that. We've had a lot of people come in who are just looking for a change of career, who are working while getting this degree at the same time, and then they move on to a job in the technology field."
The program offers unique classes such as Introduction to Javascript Programming for the Web, which varies from other courses of this kind because it requires no previous knowledge of Javascript, whereas others generally require at least a basic understanding of the coding language.
Now that the School of New and Continuing Studies is in full swing, Fehrenbacher says that their student population is "all over the place.
"The school has students who are 25 and students who are in their fifties, and of all races and ethnicities," he said. "It's a different kind of vibe than what's across campus in some ways."
The dean also said that they will eventually add more majors, and are working to expand the size of the student body. As the School of New and Continuing Studies nears its first anniversary, it aims to continue meeting the needs of adult students in a rapidly changing world.
Anna may be reached at
[email protected]