SU Swimming Gains Momentum
Seattle University's swim team was in their own world at the Connolly Center this weekend. With the smell of chlorine in the humid air, the constant shouts, cheers, and clapping of supporting fans and teammates and shouts of "S-U-relay!" echoing across the pool deck, it was easy to forget about anything other than the meet. Especially when the Redhawks put on such an incredible show: the women's team (9-6) defeated rival Simon Fraser University (SFU) 119-84, and the men's team (6-4) 138-65.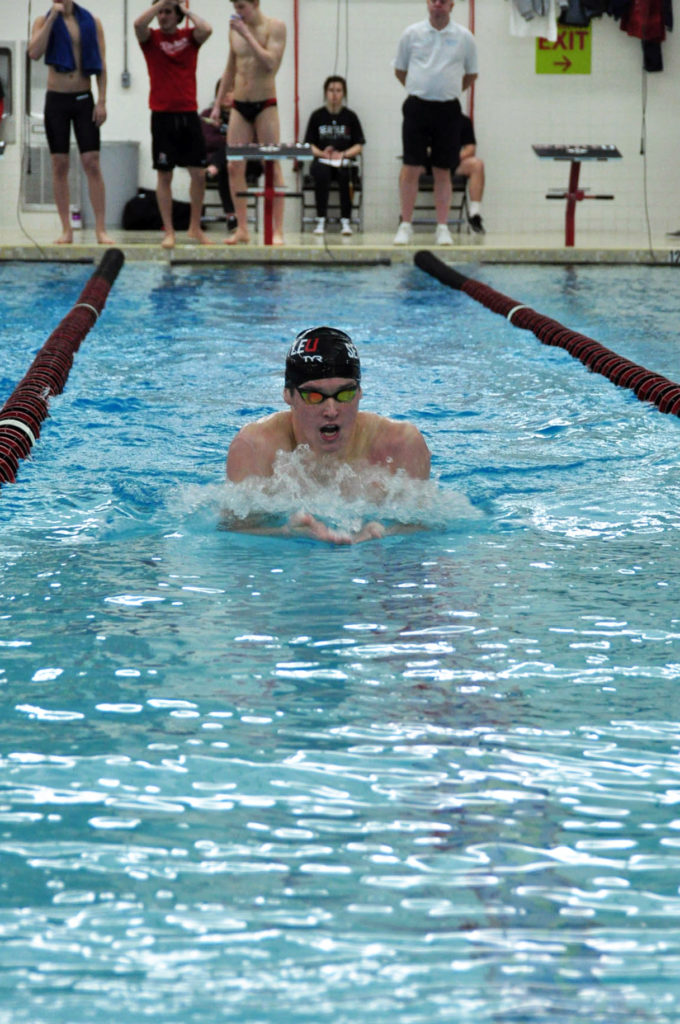 Sophomore Grant Gooding swims breaststroke in the men's 400 yard Individual Medley.
"We expected it to be a little bit closer than that, so I think we all did pretty well," said men's captain Alec Barnard, a senior at Seattle U.
The meet began with Seattle U neck-in-neck with SFU. But as the day went on, Seattle U gained a solid lead against the team from Canada.
Head coach Craig Nisgor, who is in his sixth year with Seattle University, was also proud of his swimmers.
"I really feel that the team came together as a team," he said. "I believe, if I look back over the records, this is the largest margin of victory we've ever had over Simon Fraser, on both sides."
The support Seattle U's swimmers have for one another absolutely showed throughout the entire meet. The most exciting race was the men's 500-yard freestyle. For most of the 20-lap race, freshman Austin Barnard trailed SFU swimmer Mackenzie Hamill by no more than a foot. The swimmers remained neck-in-neck, fighting for position, until the last 75 yards with Barnard pulling ahead, winning the race by .51 seconds with a time of 4:41.22.
Looking back on the season, with both the men's and women's teams earning winning records, Nisgor wouldn't reveal the team's secret to success.
"We have nationally-ranked swimmers in both breast strokes, we have backstrokers who are top 8 in the league right now, we also have some butterfliers who are top 8 right now, so it's hard to say what our actual overall strength is," Nisgor said. "It's not like we have one specific event that we're stronger in and that's it."
Women's Captains Blaise Whittenauer-Lee and Annika Perry, both seniors, are excited for the final stretch of the year.
"This part of the season is really a mental game," Whittenauer-Lee said, "because we all put in the work up to this point, we just have to keep it together and keep having fun. Then we get to go to conference and just blow it up."
Perry said she's ready for the finale of her swimming career at Seattle U.
"It's been a big journey for the four years. I feel like we've seen the team evolve a lot so I'm really excited to see what we do at conference."
When asked of his goals for the WAC championship, Nisgor kept it simple. "Go as fast as we can."
Sam may be reached at
[email protected]
Leave a Comment