SU Wins Their First WAC Game of the Season
Entering their third game of conference play, Seattle University's men's basketball team beat Chicago State University on Saturday, Jan. 14, at KeyArena with a score of 65-50.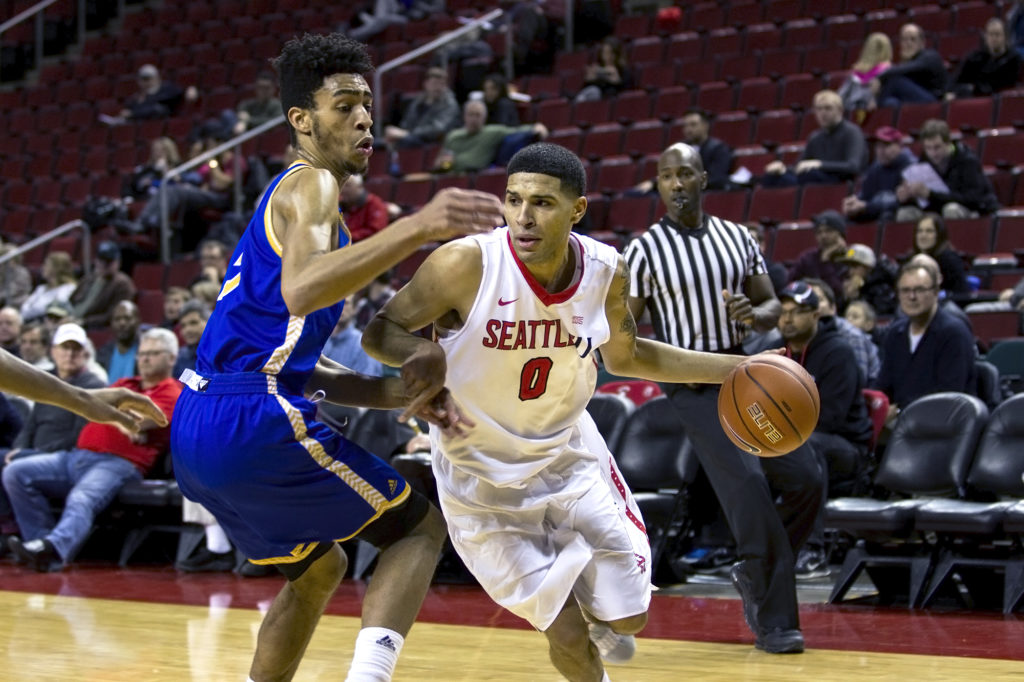 No. 0 Brendan Westendorf was aggressive all night, shooting 8-18 FG and totaling 3 assists and 5 rebounds
"The guys have worked hard and put ourselves in a position where we can get it done, so it feels good to be able to put it all together," Head Coach Cameron Dollar said about their first conference win.
The game was highlighted by freshman Matej Kavas who scored a career-high 24 points. It was a great showing from Kavas who redshirted his last season after tearing his ACL and missing the whole year.
During the first two minutes of the game, the Redhawks seemed frustrated as they tried to pull away from the Cougars. It wasn't until senior Brendan Westendorf scored a 3-pointer that the arena's mood, hosting mostly Redhawks fans, seemed to lighten.
By the end of the first half, Seattle U was leading Chicago State with two points. Westendorf had scored four field goals and two 3-pointers along with Kavas, who scored four field goals and one 3-pointer, but it didn't come easy.
"[The Cougars] don't ever stop playing, that's just something we have to get used to especially when we get into conference," Westendorf said. "Some teams you don't know if they're going to do that or not. Chicago State does it the whole time."
Last season, Seattle University won both games against Chicago State during their WAC match. Breaking a tie, at the game's ending buzz, Westendorf shot a 3-pointer which gave Seattle U the win.
Coach Dollar helped the team prepare for Chicago State. Chicago State's head coach Tracy Dildy is in his eleventh season coaching for the Cougars. They've always posed a good challenge for the Redhawks.
"They're hard to get away from and they make you play it all the way out. So we expected that coming in," Dollar said.
The Redhawks play their fourth game for the WAC series on Jan. 21 at Phoenix, Ariz. against Grand Canyon University.
"We beat them [Grand Canyon University] down there last year," coach Dollar said. "So you can expect they're going to be ready for us. So let's go have some fun and see what we can do."
Yesenia may be reached at
[email protected]
Leave a Comment