Learning What We Haven't Been Taught: News Media Literacy Among Millennials
Faith Hlavac thought for a moment when asked what part of the world she knows least about.
"Anywhere that isn't here."
---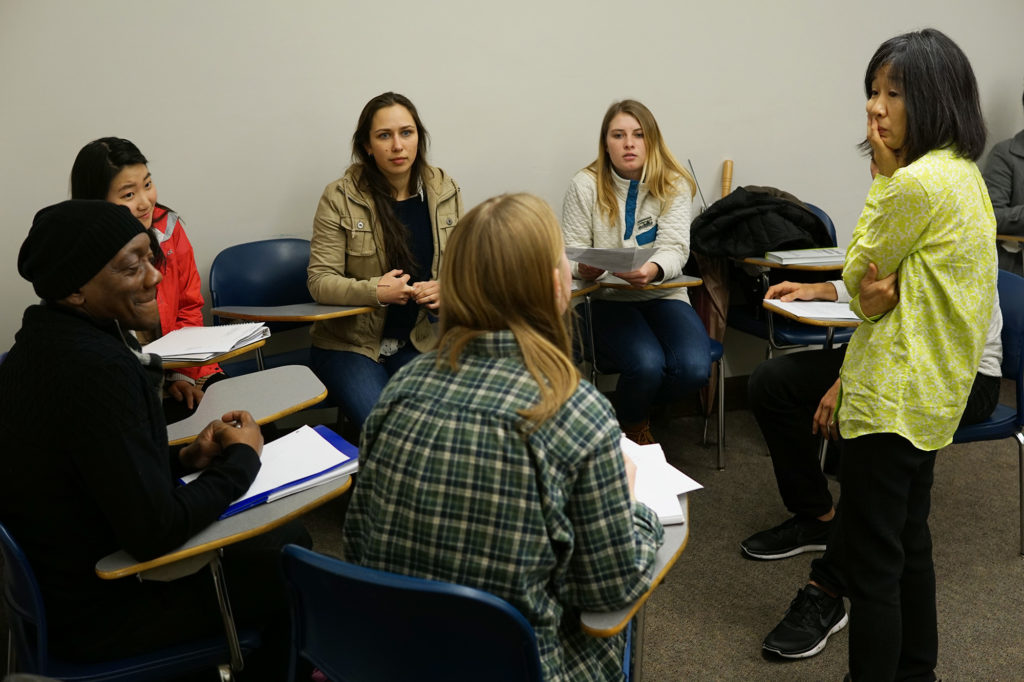 Professor Hahn prepares her students for a refugee simulation that will be held this upcoming Saturday.
---
Many Seattle University students relate to Hlavac's sentiment, feeling clueless about what exactly is happening in our world, and what our country's role is in global events.
"I remember in my history classes, they were so focused on the past, that when we got to current events it was [just] 9/11," said Hlavac, a freshman international business student. "The focus should be more current."
Students feel frustrated and unequipped to deal with a changing world without being provided the framework to understand it.
"How are we supposed to function as a country or a population if we don't know what's going on outside of our borders?" said Sarah Wineski, also a freshman international business major.
As the first generation raised in the digital age of technology, young people are consuming media much differently than in any previous era. The news' relationship with technology has changed drastically, making it increasingly complicated for millennials to develop perceptions of the world around them.
"Not only is [the news] hard to filter, I don't really know what's reliable anymore because so much is being thrown at me, that there's no use for me to read it because I don't know if it's true." -Ashley Catanyag
Many believe that America's youth do not engage with the news as much as older generations. Considering humanity's evolving relationship with technology, it isn't a question of whether or not they are engaging with current events, but how. Millennials tend connect with their environments through social media.
"Because so many of us get our news on social media, we are able to engage in selective exposure more now than ever. We can avoid news we disagree with and engage only with content that reflects our worldview," said Dr. Caitlin Ring Carlson, an assistant professor of strategic communications. "The more of a certain type of story we like, the more of that same content the algorithm feeds us. As a result, our media diets are more partisan than ever."
According to a study by Smart Insights, over 85 percent of adults aged 18-29 use social media. Social media apps like Snapchat, Twitter, Facebook, Reddit and Tumblr offer news-based content as a feature of their product. Studies suggest millennials aged 16-30 spend approximately 3.2 hours a day on these sites, yet there remains a trend of uneducation around national and international crises (TNS Global). Why does a population so ingrained in social media not have the diverse enough exposure to educate themselves on current events?
"Personally I definitely want to be more informed, and I think the focus of social media is really not directed on news. Snapchat has  stories from different magazines that are usually about celebrities, so there's really not as much of a focus on it [news], and I wish there was," said Hlavac, "It's so hard to filter through it."
Ashley Catanyag, a freshman criminal justice major, agreed that it's difficult to know what to read.
"Not only is it hard to filter, I don't really know what's reliable anymore because so much is being thrown at me, that there's no use for me to read it because I don't know if it's true," Catanyag said.
Some students feel the sea of clickbait and hashtags can augment the reality surrounding global and domestic affairs. "A lot of stories—if they're not really huge nation-wide—don't really get heard about, even though they're as important, if not more. Especially with news happening in other countries, I feel like it's not as prevalent," said Hlavac.Ring Carlson said she thinks people are overwhelmed by the amount of content available and, as a result, they  rely on gatekeepers to tell them what information is most important.
"We also engage in a process called 'satisficing'; in other words, saying that information is 'good enough' because we don't have the time or energy to keep searching," Ring Carlson said.
Catanyag and Hlavac said that even though the news is readily available, they aren't always engaged with it. "I get emails with news everyday, but that doesn't necessarily mean I read the news everyday," Catanyag said. Hlavac relies mostly on app to notify her of important news updates. "On my phone I have an app, so I'll get notifications, and if I want to read more, I read more," she said. Despite having all the resources to educate ourselves, this confusion surrounding news beg the question: do we carry the responsibility for our ignorance?
"I think that the primary goal of media organizations is to make money. Therefore, we should not be surprised when sensational news or click bait becomes popular," Ring Carlson said. She elaborated, explaining that media companies want eyeballs, users and readers, which they can then sell to advertisers. She said that recognizing this makes it easy to see why news organizations will sensationalize news or cover a tweet instead of spending weeks on an investigative piece about local government spending.
"I think media has limited effects on society, so no, I do not think it has 'too much power'," Ring Carlson said. "I think media frames issues, sets the agenda and helps create our understanding of what is and isn't socially acceptable."
Professor Hanh of the Global Awareness Program speaks individually to a student.
Communications professor Dr. Rick Malleus said that ill-informed people fall into a segment of the population that doesn't even know what it doesn't know, a segment that can't contribute any meaningful contributions to a debate on issues of national and global importance.
"The harm from being either ill-informed or misinformed is that you have a segment of the population who are not engaged in a meaningful way in the democratic process," Malleus said.
Sophomore Sam Schultheis, Secretary General of the Model United Nations Club, argued that it's up to readers to seek out the news. "I try and read the newspaper each morning, and when I go through The Seattle Times, in the middle of the paper you'll only have a couple stories [about] international events," Schultheis said.
"You need to go to non-American news sources to get some of that stuff. American news is very focused on stuff that's happening in the U.S." Schultheis said  that the news sources that we use can either be limiting or empowering. He explained that it's important to seek out a variety of international sources.
"I think we all have a civic duty to be informed so that we can engage in the process of self-government," Ring Carlson said.
Schultheis mentioned the hazards of being passive consumers of news media, saying it takes effort to become actively engaged and people don't really want to do that. "But I think it's sourced in that people tend to view receiving news as a passive act," he said. "It comes to you, on the TV, in the Newspaper, on Facebook. We need to realize that sometimes you have to go in and find it [news], and you'd be surprised the things that you don't see."
Opportunities to become better informed global citizens are available with events like the Refugee Simulation, which is a chance for all volunteers to experience what it is like to be someone taking refuge in the United States. While participating Seattle U students recognize that the experience could never replace how refugees from around the world are treated, the event offers a chance for those to consider the hardships of non-American individuals fleeing their home country.
The Refugee Simulation is set to take place Jan. 21 from 10 a.m. to 12:30 p.m. at the St. James Cathedral in Seattle. The event is free, but space is limited. Spots can be reserved by emailing Chris Khoeler at [email protected]
"The internet gives us the power to go and do these things so much easier, but if you let it, it can put you in a bigger echo chamber than you were without it," Schultheis said. "For a country that has so many entanglements abroad, and sees itself as a world leader and as a watchdog, the American populous in general is shockingly uninformed about what's going on."
Editor's Note: Sam Schultheis is a member of the Spectator staff.
Madeline may be reached at
[email protected]
Leave a Comment